"Before I paint, I pray," artist Daniel tells me.
ALL ARTWORK BY DANIEL
TEMPEST:
For Daniel, whose large abstract paintings currently hang at Paso Robles' PierceModern Gallery, the creative process is nothing if not a spiritual endeavor, a channeling of the divine onto the canvas. Of course, Daniel's pretty comfortable being human, too, adding, "That's not to say that I don't chase my prayer down with a glass of whiskey and a cigar, but…"
Daniel, 42, has been painting and drawing all his life, though he only recently devoted himself to making art full-time. (Daniel who? you ask. Daniel what? Don't worry about it.) And in keeping with the relaxed demeanor he instantly projects, Daniel's paintings exude the kind of spontaneous beauty that only comes with letting go. A piece like Tempest, with its roiling, fiery sea, could only have come from a veritable storm of its own. The explosive force of Blue Volcano, like most of Daniel's work, isn't something that can be sketched out in advance.
Born in Miami and raised in L.A., the Cuban-American artist has called San Luis Obispo County home for over 20 years. He moved to town in the late '80s to pursue architectural design at Cal Poly, though the course of his life changed when he rescued a woman from getting trampled at a mosh pit, and later married her. More on that later.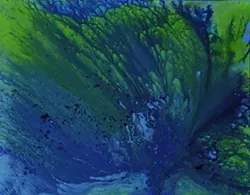 And yes, Daniel's only got the one name. To explain why is to delve into his childhood stories filled with accounts of violence and abuse, starting before the artist was born, and ultimately leading to his mother moving with her son to California to start over.
But L.A. held many poor father figures, each of whom, following their departure from his life, left him their names like a scar.
"By the time I left high school," he says, "my identity was a source of mixed emotions. I basically dropped all the last names because they didn't resonate with me; they didn't define me."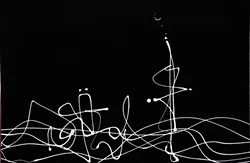 All that was left was the name Daniel—after the great seer; the survivor of the den of lions. And much like the art he creates—large-scale works that engulf the senses—the single moniker can't help but inspire an immediate sense of intimacy. Everyone's on a first-name basis with Daniel. And now, rather than identifying himself by the names of hateful men, his creativity has become his defining feature: Daniel? Which Daniel? Oh, you mean Daniel the artist.
As the years have gone by, Daniel says, his work has loosened considerably. Though capable of rendering the sort of tight, realistic drawings demanded by architectural design, the artist has come to prefer abstract, intuitive lines and shapes. His pieces might evoke celestial bodies, murky pools, or natural disasters (or unnatural disasters—get a load of the putrid, unholy green of Diablo Canyon). Many of the mysterious scenes he paints could be happening under a microscope or lightyears away. He calls them "interpretations of the unseen," claiming that his best work comes on the heels of intense communion with God.

THAT'S NOT MY NAME: The work of abstract painter Daniel hangs through the month of November at PierceModern Gallery, located at 617 12th St. in downtown Paso Robles. The gallery is open Thursday-Monday from 4-9 p.m., Saturday from 12-9 p.m., and by appointment. For more information, call 975-4860 or visit piercemodern.com. Daniel is available for commissions. View more of his work at newworldcubist.com or on Facebook (Daniel TheArtist.)
Daniel's work was not always so contemplative. During his college years, the artist enjoyed a brief foray into something closely resembling performance art, except that it was meant to be fun. While working as a bouncer at a now-defunct local club called Loco Ranchero, he began organizing a series of bizarre happenings, he explains. (Well, he doesn't actually use the word "happenings.") At midnight, he'd cut the music and make something outlandish happen. Maybe it would be a Cal Poly English professor suspended from the ceiling, reading a creepy poem. (Daniel got school credit for that stunt, he explained, since it counted as an "art installation.") Or maybe it would be a surprise concert by Social Distortion, like the night he met his future wife. (Their accounts of the mosh pit rescue differ: "She says, 'I was instantly sober and I knew he was the one.' I'm like, 'Hey, I was just picking you up to avoid an insurance claim,'" the artist laughs.)
But while the days of Loco Ranchero are long gone, Daniel's interest in artistic exploration hasn't dimmed.
"There is a tremendous amount of value in the courage to explore," he says, adding, "I think we should push ourselves and push each other."
"In a mosh pit!" I add, jokingly.
"In a mosh pit," he agrees.

Arts Editor Anna Weltner can be reached at aweltner@newtimesslo.com.