In late summer 2013, Shavaun Scott began getting headaches.
Not too long before, Scott, a marriage and family therapist who works in San Luis Obispo, had undergone an intensive thyroidectomy at the University of Pittsburgh Medical Center (UPMC). There, the surgeon used an advanced robotics system, known as the da Vinci, to operate with minimal invasiveness and maximal precision. The device has been around since 2000 and uses a complex setup of interactive robotic arms controlled by the surgeon at a nearby console.
"I was out after six hours," she told New Times during an interview at her downtown office. "I took one Vicodin that night. Two days later, we were at the science museum, and three or four days later, I was back here at the office seeing clients."
The thyroid removal was the first major medical procedure Scott had been through. Then, the headaches grew worse.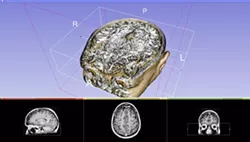 IMAGE COURTESY OF MICHAEL BALZER
CROSS SECTION: Using a free medical software program created in Brazil, Balzer was able to convert Scott's MRI and CT scans into useable 3-D images.
Her husband, Michael Balzer, insisted she get an MRI. Perhaps it could be related to the thyroid; perhaps it could be something else altogether. They found the initial results disappointing.
"Finally, when we saw a neurologist, he said, 'No, we believe it's the thyroid.' And I said, 'Can we not at least make sure?' I was pretty emphatic at that point," Balzer said.
Years prior, he'd encountered medical troubles of his own. There was some scarring on his gallbladder, scarring that prompted him to have the organ removed. He opted for laparoscopic surgery instead of having his mid-section opened and half his liver taken out. The experience was a formative one. It encouraged Balzer to learn how to access and read his own CT and MRI scans, known as DICOM (Digital Imaging and Communications in Medicine) images for standardized purposes.
In December 2013, Scott got another, higher contrast scan. Sure enough, her headaches had nothing to do with the thyroid. Wedged beneath her brain and behind her left eye was a 3.5-centimeter mass—a benign tumor known as a meningioma. She immediately began research.
"When I initially got the first radiology report that indicated 'meningioma,' it was 4:30 in the afternoon at a doctor's office in SLO," she recalled. "I was home at 5:00 and immediately Googling research on meningiomas. I started with a basic Google search, but honed in on sites like UCLA, UPMC, Mayo, Johns Hopkins, etc. Places that do actual research. I consider them trustworthy. By 5:15, I had this fabulous video from [a] UCLA neurosurgeon that covers all the basics of what meningiomas are and basics of surgery."
The usual surgical route for meningiomas is a procedure called a craniotomy. Basically, a surgeon opens the skull and temporarily removes the brain flap to gain access to the tumor. It's massively invasive and, at best, risks severe brain damage including short-term memory and speech loss. Scott and Balzer both knew there had to be another option.
The Central Coast wasn't the place for that option, whatever it may be. They found it lacking in both the specialized care that Scott required and in basic knowledge of up-to-date techniques.
"I mean, I was appalled at the different levels of ignorance I found," Scott said.
"They're not even on the same page," Balzer added.
So, what next? Neither Scott nor Balzer is the type to sit back and wait for an opportunity. For a $5 fee, they'd already acquired her digital medical files—a small price to pay to control their own records.
PHOTO BY KAORI FUNAHASHI
MEDICAL TEAM: Michael Balzer (left) and Shavaun Scott (right) have been married for nearly 10 years. He founded and runs SLO 3D Creators, a 3-D design business, and she's a marriage and family therapist in downtown SLO.
For months, Scott continued her research. She's been in the medical field for several years, so she knew the jargon, where to look, and whom to trust.
"Basically my research went pretty full time," she said. "If I was not here, I was reading, studying. I got into medical journals, I watched procedures, videos, and stuff. And there were consultations with like eight different doctors around the state and around the world. … Medical research is fun."
At the same time, Balzer had an idea. He had these scans of Scott's skull, brain, and tumor. But what to do with them?
For most of his life, he's been an avid techie. Balzer worked as an IT manager for the SLO-based architecture and engineering firm RRM Design Group. Before that, he designed personal computer products. He and Scott even met through the use of technology. About 10 years ago, they found each other on Match.com. Now, they live in Morro Bay and have a mini husky called Ridley Scott (appropriately named after the director of sci-fi classics Bladerunner and Alien). But Balzer's primary passion is 3-D graphics and printing.
In 2013, he founded SLO 3-D Creators, an all-purpose 3-D design studio equipped with printers, scanners, and an Oculus Rift headset. It's a technology nut's dream. For a range of prices, he has the tools to create prototypes and models for local entrepreneurs, engineers, and just about anybody with an idea in their head and the wherewithal to transform that idea into a tangible object.
Along with Chris Kopack, founder of the Paso Robles-based 3-D design company Parts Oven, Balzer hosts a podcast, "All Things 3-D." Every week or so, they speak with people involved in the burgeoning 3-D field. Guests so far have included the CEO of the popular 3-D design software company Autodesk, Cal Poly biomedical engineering professor Robert Crockett, and Dr. Scott Klioze, a radiologist with his own YouTube series about CT, MRI, and 3-D technology.
Surrounded by the most current news in 3-D printing and medical technology, Balzer became aware of just how integrated the two had become over the past few years. In March 2014, a 22-year-old woman from Holland became the recipient of a 3-D printed skull replacement. The year before, an American patient underwent a similar type of procedure where an implant, made of a biocompatible material called polyetherketoneketone thermoplastic, replaced 75 percent of his skull. The FDA had approved the surgery only a month beforehand. Though more common in Europe and other parts of the world, 3-D medical technology is becoming more and more commonplace in the United States. Doctors are using 3-D printers for a wide range of applications, from prosthetics to models to tissue research.
Balzer had the same equipment and the expertise to use it. Up until that point, he'd been dissatisfied with their medical options. Why not print out a 3-D model of his wife's skull and brain?
So that's exactly what he did.
It was easier said than done, however. First, Balzer had to find a way to convert his wife's DICOM images into a format useable for 3-D printer software. He soon found InVesalius, a free medical software program developed in Brazil in 2013.
"That was the first program I used," he said. "It's literally a hierarchical step progress. It's kind of like a Swiss army knife. You don't know which tool until you actually play with it 'cause there's tons of them, so you don't know which one does what."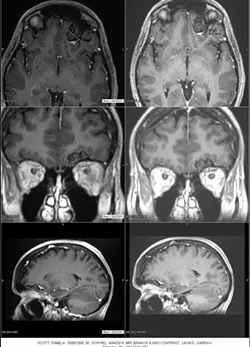 IMAGE COURTESY OF MICHAEL BALZER
HEAD CASE: A series of Scott's MRIs revealed a mass behind her left eye known as a meningioma—a benign tumor.
InVesalius can generate the file formats necessary to print a 3-D model, but there was still some tedious labor involved.
"A CT scan is basically X-Ray, but they're sliced," Balzer explained. "So you have to make this, a volume render, and the slices can be done mathematically. But to extract a model you can print, you literally have to go in and use tools like Photoshop. Ever try and cut an image out? That's what you have to do with this. It's something like 300 to 500 images. A very lengthy process."
Balzer wound up with 3-D sagittal models (left and right cross sections of the skull) and various renderings of her intact skull and brain.
"It freaked me out," Scott recounted of seeing her brain and skull in 3-D form. "I mean, I'd seen it on the flat, printed paper, which also freaked me out, but seeing it that way was weird because it was full scale. So when I saw that, when he first printed that, I was like, 'Well ...'"
On the 3-D models, you can clearly see how obstructive the tumor was in a way that wasn't as apparent on the scans. Though benign, it required removal. So Balzer uploaded the 3-D sagittal renderings onto Sketchfab, an online 3-D content sharing site. There, neurosurgeons from across the world could review Scott's case.
Three months later, the couple narrowed their choices down to Johns Hopkins and UPMC, the hospital where Scott had her thyroid surgery not too long before.
Eventually, they chose Dr. Paul Gardner at UPMC. He offered a minimally invasive surgery that's only been in use for the last couple of years.
Scott's tumor was ideal for the procedure.
In May 2014, the couple flew to Pittsburgh. Together with oculoplastic surgeon Susan Stefko, Gardner and crew went through Scott's left eyelid and used a micro drill to remove the tumor.
"The main thing about it," Dr. Gardner told New Times over the phone, "is most surgeons and nurses work by themselves, so they have a certain area of the head they are comfortable cutting through: the scalp and the muscles. For this, we combine with an oculoplastic surgeon. When you combine the two, it makes it easy. You look at where a certain tumor is, find where the closest distance is. Going through the eye is the fastest way."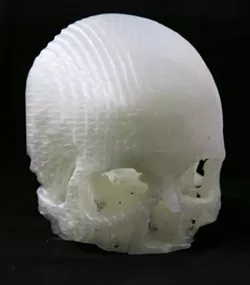 IMAGE COURTESY OF MICHAEL BALZER
SKULL AND BONES: The actual 3-D printed models of Scott's skull revealed the location and detail of her tumor with more precision than the MRIs and CT scans.
All in all, the surgery lasted eight hours. Within weeks, Scott was back to work. And even under close inspection, there's hardly any sign of a scar.
Since the surgery, life's been a little different for the couple. On the one hand, Scott didn't have to have her head cut open.
"I think loss of memory was a huge fear and of course having cognitive function," she said. "I didn't want to lose my eyesight; I didn't want to lose my sense of taste and smell; I didn't want to have seizure disorders. But I think having my personality no longer be me was scary, and in many ways I'd rather just be dead than not be me."
For Balzer, the experience has kickstarted his enthusiasm for 3-D medical technology even more than before. In October 2014, he played host to a free seminar at the SLO Library called "3-D in Medicine." He's working on an application that makes it easier for doctors and patients to share 3-D images.
And the story of Scott's surgery and his use of 3-D printing has gained some national attention. On popular 3-D websites Makezine.com and 3Dprint.com, you can find their story under the somewhat misleading headline, "Man Saves Wife's Life by 3-D Printing Her Tumor." Even CBS News called them, asking to see "the device" Balzer used to save his wife's life.
To clarify, there was no "device." And Scott was certainly no "damsel in distress," as she jokingly describes herself.
She did the research; Balzer did the printing. They worked as a team, and that was one of the reasons Dr. Gardner initially became interested in their case.
"A lot of times," he said, "you don't see both people as involved with the whole process."
One of the other things that intrigued him is what drew readers and newspapers to the couple's story in the first place: the 3-D models.
"I've never had someone do that or present a model like that," he noted.
Indeed, the use of 3-D models for surgical preparation is fairly rare in the United States. Only recently, in May and October of last year, has the FDA held workshops to discuss the wide-ranging use of 3-D printers in the medical field. And, about two weeks before New Times spoke with Scott and Balzer, a four-part video series that chronicles the use of a 3-D printed skull for surgical prep on a young girl at Boston Children's Hospital was posted to YouTube.
Gardner didn't use the 3-D model of Scott's skull for his own surgical prep, but he noted that the couple has hit on something big.
IMAGE COURTESY OF MICHAEL BALZER
PICTURE PERFECT: In order to create the full 3-D render, Balzer had to use Photoshop for some of the more detailed work. What resulted was an accurate, full-scale model of Scott's skull (including the tumor) made out of layered plastic.
"Usually what you do over time, you look at a scan that is slices of pictures," he said. "You kind of recreate it in your head, what you think the tumor looks like, but you're doing it based on a bunch of points."
A 3-D model allows for more accessibility and flexibility in ways that have yet to be explored. The applications are seemingly endless. For Dan Copp, a dentist based in SLO who participated in both Balzer's October seminar and his podcast, 3-D printing has become part of his everyday practice.
"We use it for a bunch of different stuff," he said. "It's especially, in this community, getting to be pretty prevalent."
Instead of using the goopy, old-fashioned molds to make crowns for teeth, Dr. Copp and his colleagues simply scan the area and have an accurate and comfortable crown printed to the patient's specifications. It's been common practice in the dental industry for years now because 3-D printing offers convenience, durability, and efficiency.
The same goes for biomedical research. At Cal Poly, professor Robert Crockett and his colleagues have used the campus's many 3-D printers (or, as they are sometimes known, "rapid prototyping machines") to fabricate synthetic structures that hold mammary cells for producing milk—something that couldn't be done in the restrictive environment of a petri dish.
"The human body acts like a rapid prototyping machine," he explained. "To build structures as complex as tissue, you have to build things in the way the human body does in the squishy world. … For bones, you have to create pores, and you can't make that by any other process. The key to rapid prototyping is you can create any shape with arbitrary complexity."
For Scott and Balzer, it allowed them the means to control their own medical destiny, to be active in their own diagnosis and treatment.
"There seems to be this mindset of, 'I really like my doctor; he cares about me; I care about him; he says this is the best way ... .' Well, the local endos didn't know about this surgery," Scott said.
3-D printing seems to be the solution to these limitations—the lack of local, specialized medical care and the practical restrictions of current medical practice.
As Dr. Gardner expressed, "To feel it in your hands and turn it around—it's hard to describe what that provides. It's like nothing else."
Contact Arts Editor Jessica Peña at jpena@newtimesslo.com.