We begin and end in Purgatory. A blue light shines pale and sickly on Doll Common and Nell Gywn, as they recall a life spent equally reviled and revered on the London stage. This old theater, recalls Doll—played wonderfully by Anita Schwaber—was once a bear pit. She still winces as she remembers how the animals used to dance for a whip. But they danced, and her family ate.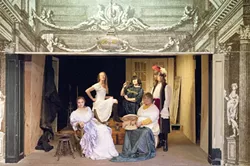 PHOTO BY BRETT WHITE
THAT'S SO 1670 : Pictured (left to right, and then down) are Kirstie Siebert, Jill Garcia, Janice Peters, Sharyn Young, and Anita Schwaber of Playhouse Creatures.
It's as good a starting point as any for Playhouse Creatures, April de Angelis' tale about 17th century actresses staged at Cambria's tiny Pewter Plough Playhouse. The theater these creatures knew was a raucous, putrid place, where performers could scarcely make themselves heard over the drunken clamor. In winter you froze, in summer you cooked, Doll tells us. An actress' standing in society was rather unclear: Her performance might be honored with the presence of the king, but out in the street she might get filth rubbed into her hair.
But as Doll and Nell (played by a wide-eyed, winningly offensive Kristie Siebert) reminisce, the inevitable questions tumble forth: Where are we—and are we dead?
They are dead. But they weren't always that way.
And so we move on to the show's real beginning,
which finds a livelier Nell enjoying a brief respite ("I'm 'aving a fucking break!") from her job at a tavern. She encounters actress Elizabeth Farley, played by Jill Garcia, and first expresses her desire to work at the playhouse across the street.
It's interesting to note that we never see any men in this play, but we hear them a lot—in the case of this particular performance as canned, barely distinguishable voices from offstage, clamoring at the door of a dressing room, hollering unseen from the audience, or boasting loudly from the tavern where Nell works, a reminder that her break is up. You can generally count on the Pewter Plough to deliver prerecorded offstage sounds—it's one of their many charms—but in this case, the muffled man-sounds have a similar effect to the mom in Charlie Brown: We never see the source of the sound, but we are acutely aware of its power over our characters' lives.
Nell has no theatrical experience beyond singing bawdy ditties on the street as a means of peddling oranges, but she manages to wheedle her way into a part in the playhouse's upcoming production. Unfortunately, orange peddling hasn't prepared her for the sea of expectant faces that greets her upon her stage debut. She spends several minutes blinking stupidly, stunned, like she's just been smacked by the blunt side of an axe. But a quick, improvised jig turns looking stupid into a plus, and the audience erupts in cheers!
Thus, Nell is inducted into the world of playhouse creatures, London's first generation of actresses allowed onstage, after decades of men and boys in drag. Among them is Rebecca Marshall, played by Sharyn Young, who is by turns quick tempered and deadpan. As Elizabeth, Garcia is sometimes guilty of overacting, but when called for, her performance is extremely moving, her emotional reach impressive.
PLAYHOUSE CREATURES, THEY CALLED YOU: April de Angelis' comedy comes to the Pewter Plough Playhouse Fridays and Saturdays at 7:30 p.m. through July 24. Sunday matinees are at 3 p.m. July 3, 10, 17 and 24. The Playhouse is at 824 Main St. at Sheffield in Cambria. Call 927-3877 or visit

pewterploughplayhouse.org

. Tickets cost $15 to $20.
Janice Peters is in her element as the matronly, self-respecting Mrs. Betterton, who is quite ridiculous in her own way, and she is hilarious when instructing Nell to express rage, bliss, shame, contrition, and death by mechanically positioning her head at different times of day. (After Rebecca runs in screaming, hair smeared with human excrement, Mrs. Betterton makes sure Nell takes note of the position of her head, cocked in such a way as to indicate "anger, and a desire for revenge.")
Doll Common, the only non-actress of the play—her job description is more like scene-changer, corset-tightener, chamberpot-emptier, etc.—is possibly the most fun to watch. Schwaber's performance breezes from dry wit to the somber narration that effectively opens and closes the play.
Nell, Elizabeth, and Mrs. Betterton were real people, and knowing this brings a certain weight to the performance. Nell's low beginnings and obscene, f-bomb dropping coarseness are historically accurate. That Nell was also the mistress of King Charles II is faintly alluded to, but not elaborated upon.
Much of Playhouse Creatures, directed by Sandy Bosworth, is composed of short scenes from the actresses' onstage lives, and their costumed fakery contrasts sharply with the drama in the wings. Gender issues like abortion, equal pay, and sexual harassment still resonate with modern audiences, and these topics unite the show's five characters, despite their individual rivalries.
But after every drama is lived out on the stage, we're back in that blue light, like nothing ever happened. This old theater, Doll is telling us, used to be a bear pit. She remembers, wincing, how the bears used to dance for a whip.
How fortunate they've been to have avoided its sting.

Arts Editor Anna Weltner is historically accurate. Contact her at aweltner@newtimesslo.com.