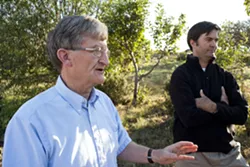 PHOTO BY STEVE E. MILLER
FOOD NETWORK : Cal Poly Organic Farm's retired faculty adviser John Phillips (left) and sustainable agriculture proponent Terry Hooker (right) miss the connections between the community and the farmers created by the farm's vegetable-subscription program.
Outside the hilltop gate of the Cal Poly Organic Farm, a few ripe heirloom tomatoes sat smashed into the gravel of the deserted parking strip, October's flies crawling in the oozing red tire tracks. The sight could be a metaphor for the Organic Farm itself, after Cal Poly officials abruptly shut down the farm's popular vegetable-subscription program mid-season in August.
Their action renews consumers' questions about what food to eat, where to get that food, and who cared for it before it landed on the plate—questions that arise at the Organic Farm and far beyond the campus boundaries, throughout San Luis Obispo County and around the nation. But while participants saw the Organic Farm's Community-Supported Agriculture, or CSA, program as an extensive and valuable community network, a faculty adviser viewed it more as a relentless chore, an unending parade of nearly 200 boxes a week that needed to be filled with fresh produce.
For Cal Poly, one of the biggest agriculture colleges in the United States, the issue has also been perceived by some as a conflict of paradigms, a power struggle between conventional, energy-intensive agribusiness and sustainable, localized organic farming. That perception was heightened by events on campus a year ago, when leaked correspondence indicated that Harris Ranch Beef Company, a Cal Poly donor, successfully pressured college officials to add agribusiness speakers to a planned lecture by noted food-supply author Michael Pollan.
An accreditation report issued by the Western Association of Schools and Colleges a few months after the Harris Ranch episode expressed concern over "undue influence of donors in the operation of the university" and recommended an independent review of the issue.
Faculty members in the crop science department, however, believe Harris Ranch had nothing to do with the changes at the Cal Poly Organic Farm.
One thing is certain: When prospective students show up at an open house at Cal Poly's College of Agriculture, Food, and Environmental Sciences on Oct. 15, current offerings for college majors will not include organic crop production. The words "organic" and "sustainable" don't show up at all in the college's website for the event, which is designed to attract future students while enrollment in agriculture production majors has taken a hit in colleges all over the country, including Cal Poly.
Students can take part in a student enterprise class in organic vegetable production, and learn to grow food crops on the Organic Farm's certified organic fields in a few campus locations. Thirty students from various majors have signed up for this fall's class. The vegetables they grow will take a different route from the field to the fork, foregoing the traditional CSA boxes altogether.
And the Horticulture and Crops Science Department remains "100 percent committed" to the Cal Poly Organic Farm, according to the college of agriculture's Dean David Wehner. Plans call for the farm's headquarters to be moved to a more visible location on Highland Drive, next to a new campus store where organic produce will be offered to the public for sale alongside conventionally grown crops and other agricultural products.
Budget woes were blamed for the sudden decision to terminate the CSA program, spelled out in an August e-mail to CSA subscribers signed by the dean, Horticulture and Crops Science Department chair Dr. John Peterson, and entomology professor Dr. David Headrick, who took over as faculty adviser to the Organic Farm last year when Dr. John Phillips retired after many years in that position. Other factors probably also played a role in the decision—fears over liability for food safety, the relative autonomy of the Organic Farm, and the sheer amount of work required for a successful CSA program.
The Organic Farm has always operated as a student enterprise project, with students from all over the campus taking part in learn-by-doing activities under faculty supervision. Ten years ago, the students started a CSA vegetable subscription program, where people from the campus and the community paid in advance or traded work-hours for a weekly box of seasonal produce from the farm's certified organic fields.
The CSA program grew, eventually supporting two full-time employees and becoming a vibrant hub for the community and other organic farmers to connect with Cal Poly. When the program was unexpectedly shut down in August, it had nearly 200 subscribers, many of whom enjoyed showing up at the Organic Farm, kids in tow, to pick up their weekly share of fresh organic produce.
"Even sitting and looking at the garden is therapeutic. Flowers eat my ego-driven sadness for a light snack," read a poem chalked on the blackboard at the farm's packing shed, while CSA members filled their bags with an assortment of freshly picked vegetables and fruit for the last time at the end of August. "Plants are our allies, our friends, our teachers. Cherish them so you may be present for the many offerings they bring."
People shared stories of the ways they had learned to be creative about healthy cooking, faced with an abundance of organically grown local vegetables in their refrigerators. Their kids, they said, took a greater interest in eating vegetables because they felt more connected to the tasty food they'd seen growing at the Organic Farm.
Long-time faculty adviser Phillips came to get his weekly allotment of fresh produce, too. He knows every inch of the Organic Farm, starting from the days his students experimented with garbanzo bean crops on the neglected hillside in 1980. The two-acre plot eventually became the Student Experimental Farm, where students led the charge toward sustainable agriculture on campus. They planted trees, installed silt-catching ditches and ponds to reduce erosion, and built up the soil with compost and manure.
The quirky, back-to-the-land vibe at the farm extends to its buildings. A straw bale building for seed storage was the handiwork of city and regional planning students, complete with a "truth window" to show the straw in the walls. Engineering students helped rehabilitate an abandoned greenhouse structure and set it up at the top of the hill. Others created a children's garden for visiting students to learn about growing food.
Phillips sat under the swaying branches of twin willow trees planted by students, recalling some of his memories while a red-shouldered hawk—"biological control," he observed—landed in the branches above his head.
"Many's the day I sat here and did a mini-lesson, telling the students about organic certification—or one of my favorite things, showing them how to trap gophers," he said with a smile.
He's proud that the Organic Farm attracted so many students from throughout the campus who wanted to learn about growing and marketing organic produce through the student enterprise project.
"Our aim is to provide hands-on learning experiences for college students to go out and be leaders who know how to produce food," Phillips said.
Although he was disappointed with the decision to terminate the CSA program, and the way that decision was made without utilizing holistic management principles, Phillips said, "I really don't think it's a case of conventional agriculture trying to squash organic.
"I'm very confident there's no subsurface conspiracy related to Harris Ranch and all that," he added.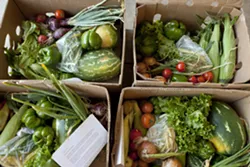 PHOTO BY STEVE E. MILLER
HEALTHY CHOICES : Boxes full of a variety of fresh seasonal produce were offered each week by the Cal Poly Organic Farm, until the program was unexpectedly halted in summer.
The Organic Farm "consistently struggled to make it into the black," plus the university faced possible liability issues related to providing leafy green vegetables because of concern about
e. coli
bacterial contamination of irrigation water, Phillips said.
The farm's current faculty adviser, Headrick, explained, "We don't want to grow leafies. We're trying to reduce our risk so the program stays around a good long time."
Watching as students riding on a tractor planted straight rows of perfectly spaced broccoli seedlings in a field next to Highland Drive, Headrick said, "The spinach scare changed the game, but not for the better. We've gone to 'Planet Food Safety.'"
Now, all produce grown in Organic Farm fields is washed with a dilute chlorine bleach solution as extra insurance. Those vegetables are sold to the public at farmers markets in San Luis Obispo and Morro Bay, and on campus on Wednesdays and Saturdays, as well as to local restaurants and the campus dining service.
"The pressure of the CSA was really hard," Headrick said. "It was a lot of pressure on the soil, pressure on the staff, pressure on the students."
The Organic Farm is "now part of the Horticulture and Crop Science family. We needed a clear line of responsibility," Headrick explained. "This situation is far more flexible, far more manageable. We're getting to a better place. This is about educating the students who are paying to be here."
Headrick's looking forward to the completion of a new campus farm store, with a recent $350,000 donation from the Salinas-based Oreggia Family Foundation. The store will offer the Organic Farm's produce, plus conventionally grown citrus and avocados, as well as Cal Poly eggs, dairy products, and possibly meat.
Headrick said the crop science department is hoping to eventually hire a PhD faculty member to take over the Organic Farm, an expert in organic and sustainable crop production. The budget is an ongoing issue, though—the department has lost 13 faculty positions in the last three years, and is now down to nine full-time faculty.
"There are so many challenges the public is not aware of," Headrick said. "We feel kicked in the teeth."
Still, he's emphatic: "Harris Ranch does not tell us what to do."
Holistic management professor Rob Rutherford said he does not believe there was "a sinister plot" behind the CSA closure. "My perception is that donor influence had nothing to do with it," he said. His "fondest wish," he added, is that the decision-making process used at Cal Poly would be a "new, improved version of the way we currently do it."
Under a holistic management decision-making process, "the living world functions as a whole, not as parts. If you view it as parts, right off the bat you're in trouble," Rutherford said. With a holistic model, all the people involved in making decisions about the Organic Farm and its CSA would gather around a table and jointly work out a solution that considers economic, social, and ecological aspects far into
the future.
Rutherford came under fire in a letter to former Cal Poly president Warren Baker from executives at the Harris Ranch Beef Company last year for requiring students in his "Issues in Agriculture" class to read and write a book report on Michael Pollan's An Omnivore's Dilemma. That class is no longer required for animal science majors, and Rutherford no longer teaches it—a decision he said was his own, because he "was already overloaded with teaching."
Rutherford said he was interviewed in late summer as part of the independent review of donor influence recommended by the Western Association of Schools and Colleges' accreditation committee for Cal Poly.
"I said, 'Nobody here put pressure on me.'" Still, he noted, "You see something like [the comments in the Harris Ranch letter] and it does influence you. The idea that people are critical of you, it didn't matter if they're a donor or not."
Even without a CSA program, Rutherford noted, "We will continue to produce food at Cal Poly, and we will market it. This is just a change—and we're going to move on from here."
Former student Terry Hooker helped start the Organic Farm's CSA 10 years ago. Now a sustainable agriculture consultant in SLO, he's been critical of the decision to end the CSA and the way it was made—and he's surprised there's been little reaction from students.
Hooker said in spite of signing a declaration of sustainability in 2004, Cal Poly officials are "taking the easy path of greenwashing rather than making a commitment to the hard work of supporting sustainability."
The CSA model represents a new paradigm of relocalizing food production, Hooker said. He's now looking at starting a new local CSA program, called Pacific Lucia Produce Company.
"There's room for a program based on holistic principles and supporting local growers," he said. "Cal Poly is going the other way, but that segment of the market is growing.
"That's the tragedy of the CSA cancellation," he continued. "It may have had management problems, but there's no problem with the model. Now Cal Poly is looking at building a brick-and-mortar store, with no need for connecting with the people who grow food—just get it off the shelf. That's a step backwards."
As for Phillips, the retired faculty adviser, after 10 years as a CSA supporter, he and his wife are now buying their fresh produce—and enjoying the community experience—at SLO's Saturday morning Farmers Market.
He's sad to see the Organic Farm's CSA close, sad for students and for the university: "It was a missed opportunity. It would have taken vision, but the opportunity was there to grab something really futuristic. Here's the type of agriculture that truly has a future, and we had a nice foothold.
"Cal Poly could have grabbed it and been truly unique among agriculture colleges in the U.S.," he said. "I think all of that is in question now. Possibly it might be lost."
Phillips and Hooker both believe the hilltop site of the original Cal Poly Organic Farm—even if the greenhouse and produce washing and packing facilities are moved to Highland Drive—could become a demonstration project for sustainable living, featuring renewable energy, rainwater harvesting, and, of course, organic fruit and vegetables—like those heirloom tomatoes that bit the dust.
As Phillips said, "We all have to eat."
Contributing writer Kathy Johnston can be reached at kjohnston@newtimesslo.com.