Late summer, early fall is prime apple-picking season, and SLO Creek Farms just off Highway 101 in San Luis Obispo offers 44 acres of organic apple trees for those willing and ready to harvest their own fruit.
PHOTO BY TREVER DIAS
PICKIN' SEASON: Apples are ready to be plucked from their branches, so pick your own at places like SLO Creek Farms.
On the warm, late Sunday afternoon of Oct. 2, I make the quick drive over to the farm to try my hand at some apple picking.
I pull up to the farm, park at the edge of a field, and walk over to a table where an employee is sitting, along with a golden retriever named Hudson—who is more than happy for you throw a tennis ball for him to fetch. I inquire about the type and price of the apples available, and the employee informs me that they are all Braeburn apples, and are $3 a pound. She hands me a wooden basket from a stack on the table, and I make my way over to the rows of trees.
The farm lies on a relatively flat stretch of land backed by golden, oak-scattered hills. Only a few other people are at the farm, which makes for a nice, peaceful stroll through the orchard. I scout it out a bit before I start adding apples to the basket. The Braeburns vary in size, from the smaller apples that are often sold together in bags at the supermarket to the larger size that most people would probably associate with the fruit.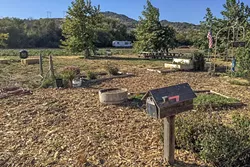 PHOTO BY TREVER DIAS
FARM TO TABLE: Some picnic tables near an herb garden make for a good place to enjoy an apple.
Because this is an organic orchard, some of the apples have been sampled by worms or birds, but nature happens, and I don't mind. It's a good thing, and they seem to have left plenty untouched fruit for us humans—plus a small wormhole can easily be avoided or cut out when eating an apple.
There's a nice breeze as I continue my search, and the turkey vultures seem to be enjoying it, soaring overhead. I decide to try for apples of different sizes, so I throw a couple of smaller ones in the basket, a couple of larger ones, and then take them back to the employee to be weighed and purchased.
PHOTO BY TREVER DIAS
APPLE AISLE: An orchard at SLO Creek Farms is one of the freshest produce aisles you can find.
Behind the table where the apples are paid for there are is handful of picnic tables and other seating that customers can use while visiting the farm. There are also raised beds where, at other times of the year, visitors can pick their own herbs, vegetables, and flowers. Crab apples, a smaller, more tart relative of the apple, are also available to be picked, typically in July through the middle of August.
After I pay for the apples, I thank the employee and say goodbye to Hudson, who is still more than ready to play some fetch. If you want your own basket of Braeburns they will be available for the picking through the end of November.
Feel the Braeburn
SLO Creek Farms is located at 6455 Monte Rd. in San Luis Obispo. Apple picking will be available through Nov. 30. Visit slocreekfarms.com, email slocreekfarms@live.com, or call (702) 245-3135 to find out more.
Calendar Editor and amateur apple harvester Trever Dias can be reached at tdias@newtimesslo.com.