The storm of allegations between the new and old guard in Atascadero is gathering still more energy.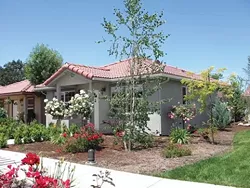 PHOTO BY PATRICK HOWE
COTTAGE CLASH : Forty-two Atascadero senior cottages were rented out and occupied before city inspectors gave their final permission and before developer Kelly Gearhart paid the required fees. Now a city councilman is asking for an investigation. This unit remained for rent as of June 5.
# Councilmember Mike Brennler a retired police officer and the mayor pro tem is calling on city police to investigate whether a developer broke state and local laws when dozens of people were moved into a senior cottage development before the city gave its final permission.
Kelly Gearhart is perhaps the most prominent developer in the area he and his wife Tamara were named the local Chamber of Commerce's 2006 citizens of the year. While the cottage project was already under scrutiny from city building officials and the city attorney, Brennler's request could elevate the issue from an administrative dispute to one with potential criminal repercussions.
"I would say it's politically motivated," Gearhart said of Brennler's action. "I would say it's absolutely ridiculous because it's something that could have been solved in about five minutes of him picking up the phone."
The fight is set against the backdrop of a shift in power after the last election, which saw a "smart-growth" faction take a majority of the city council seats in a contest that focused largely on efforts to build or stop a Super Wal-Mart development in the city.
Brennler and fellow new councilmember Ellen Beraud are the subjects of an ongoing recall attempt that charges, among other things, that they're hostile to the city's business community.
"I suspect that some people will think this is some kind of political ploy," Brennler said of the Gearhart matter. "I can assure you that's not the case. I'm doing exactly what I said I would do, and that's act in the interests of the people."
According to city building officials, Gearhart owed the city $292,500 in so-called impact fees, meant to pay for things such as fire and police protection. Gearhart said he paid the full fee on Wednesday, June 6. The city's attorney had threatened fines if the money was not paid by June 8.
Originally, city officials told Gearhart and media outlets that they believed he owed more than $400,000, but they revised those figures after Gearhart produced receipts showing he'd already paid the fees for some of the units.
Gearhart said he hasn't been treated fairly in the media, particularly by reports indicating that the money due was for "violations."
"I just want to make the point, everything I owe is an impact fee. It's not a violation or a penalty. It's an impact fee."
He blamed the late payments on a mistake, "believing they'd already been paid when they hadn't," caused by being too busy.
Building official Ken Forman said Brennler's contacts with police over the matter haven't affected the city's process with Gearhart.
Nestled behind Atascadero's Hope Depot and near the Salinas River, the cottages at North Ferrocarril Road called the DeAnza Estates are tidy, Spanish-style homes, without garages. Two large fountains on turnabouts are focal points of the tightly clustered development.
A recent visit found a DeAnza Estates model home open with a "For Rent" sign out front. Visitors to the model home said they knew nothing of the city issues but wondered why the homes were still being advertised if the matter hadn't been worked out.
Brennler, a retired San Luis Obispo Police Department investigator, declined in an interview to say exactly which laws he thinks might have been broken, citing the potential investigation. He turned over documents to Atascadero Police Chief John Couch, who said he was reviewing the materials and researching the request, but hadn't yet made a decision whether to launch an investigation.
Formally, Brennler's request has no more weight than would a request from any other member of the public, though Couch said that Brennler, as a former officer, had an idea of what police would be looking for.
Couch emphasized that the decision of whether to investigate would be based on the merits of the materials provided.
A citizen complaint brought the matter to the attention of the city in early May, and a letter was sent to Gearhart by Forman on May 8, warning Gearhart that he had 10 days to pay the outstanding fees and have all of the unapproved units inspected. That due date was later pushed back at Gearhart's request.
In addition to the money, Forman and Community Development Director Warren Frace said the city asked for proof that all of the occupants meet the project's minimum age restriction of 55.
As of press time, Forman said the age question had not been resolved, but Gearhart said he'd provided the requested information.
Frace said that the matter of renting out units before certifications of occupancy had been issued was "serious and unusual." But when asked why Gearhart was given an extension to pay, he said city staff opted for leniency once they were convinced there were no safety concerns with the units.
"He asked for more time and, in the spirit of cooperation, we granted more time," he said. "It's our objective to get them finalized, rather than go the punitive route."
Managing Editor Patrick Howe can be reached at phowe@newtimesslo.com.