It's Friday, Feb. 8, and I'm pre-gaming the Dr. John show at Sidecar with my wife Anna; former K-Otter DJ and live music maven Cyndi Hafley; and her paramour, former Bingo Nite guitarist Stormy Trevino. The ladies are drinking some of Sidecar's fancy cocktails, a "Paper Plane" and a "Blush," while we boys are drinking beers and rye whiskey.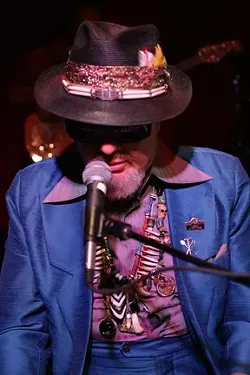 PHOTOS BY GLEN STARKEY
THE GOOD DOCTOR! : Six-time Grammy-winner Dr. John was dripping with New Orleans cool last Friday at SLO Brew, two days before he accepted the 2013 Grammy for "Best Blues Album."
Dinner is delicious (I love the fried brussel sprouts and beet salad!), and Sidecar even has organic Heinz ketchup. What will they think of next?
By the time we get to SLO Brew, people are lined up four deep at the bar. The energy is palpable! Dr. John's newest album, 2012's Locked Down, was a revelation and featured a guest appearance by The Black Keys' singer-guitarist Dan Auerbach, who played guitar, provided backing vocals, and produced the recording. Max Weissenfeldt of the Whitefield Brothers played drums. Two days after this show, I'll learn that Locked Down won "Best Blues Album" and Auerbach won "Producer of the Year" at the Grammy Awards on Sunday, Feb. 10—but I don't know that yet.
So here we are, about to see a performance by a 72-year-old New Orleans icon who will two days later win his sixth career Grammy Award. Awesome sauce!
And we're in good company. I see Howard Emmons, owner of The Drum Circuit. Then I see retired lawyer and full-time dancer Michael Kraut and his lovely wife Susanne, who I'm pretty sure go to every concert in SLO County. They're dancing machines!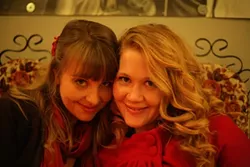 PHOTOS BY GLEN STARKEY
HERE'S TO THE LADIES! : Gorgeous friends Cyndi Hafley and Anna Starkey pre-gamed the Dr. John show at Sidecar.
Pepper Daniels of The Krush, KZOZ, and K-Jug is in the house, as is Adminds owner Finney Smith and his wife Stacy. And there's Dan Curcio, formerly of Still Time, who now plays under the name Moonshiner. There's Derek Senn of the husband-and-wife band The Wedding Industrial Complex. There's Shawn Hafley, who owns Flanders Bicycle Shop, local musicians Chad Nichol and Dan Keller, and professional volunteer Mary Kay Harrington and her architect husband Tom.
As I'm standing at the bar, I meet Steve Stern, who turns out to be my Facebook friend. The lawyer and band manager loves music as much as I do. This is definitely an eager crowd!
The band takes the stage and Dr. John shuffles out and—kapow!—the downbeat hits at 8:19 p.m. and we're off and running with Sugar Boy Crawford's much covered 1953 song "Iko Iko": Iko iko iko iko un day. Jockomo feeno ah na nay jockomo feena nay. My spy boy told your spy boy sitting by the bayou, my spy boy told your spy boy I'm gonna see your tail on fire. Talking bout hey now (hey now) hey now (hey now), iko iko un day. Jockomo feeno ah na nay jockomo feena nay.
MUSICIANS ON MUSICIANS! : Drummer Chad Nichol and multi-instrumentalist Dan Keller soaked up the Dr. John vibe!
The song's about a parade collision between two tribes of Mardi Gras Indians, not that I can tell from the lyrics! (Thank you, Wikipedia!).
Busting out first with a big hit? He's not pussyfooting around, people!
Next something swampy emanates from the stage, and I'm conjuring images of alligators gliding through green waters thick with algae and creepy crawlers. Dr. John has led us deep into the bayou, and I'm loving it.
He mixes up old material with new, playing a grand piano on stage with a foray into some guitar playing—something he doesn't do much anymore after he was shot in the finger trying to wrestle away a gun from someone who was pistol-whipping another musician. That's the kind of dude Dr. John is.
Born Malcolm John Rebennack Jr., tonight Dr. John's got on a porkpie hat and shades and some spooky-looking juju necklace. I make my way through the standing-room-only crowd to snap a few pictures up close. I think his shoes are made of alligator hide. He's a dude who's definitely comfortable in his skin, and his music exudes the sort of deep cool that can't be faked.
Congrats on the sixth Grammy, Dr. John. You earned it!

Glen Starkey takes a beating and keeps on bleating. Keep up with him via twitter at twitter.com/glenstarkey, friend him at facebook.com/glenstarkey or myspace.com/glenstarkey, or contact him at gstarkey@newtimesslo.com.