Writer-director Trey Edward Shults helms this horror story about Paul (Joel Edgerton); his wife, Sarah (Carmen Ejogo); their son, Travis (Kelvin Harrison Jr.); and grandpa, Bud (David Pendleton), who have hunkered down in a remote house, hiding from an unnatural threat that's slowly wiping out humankind. They follow a strict set of rules to protect themselves, but their tenuous existence is further threatened when a desperate young family consisting of Will (Christopher Abbott), Kim (Riley Keough), and their child, Andrew (Griffin Robert Faulkner), arrives seeking shelter. (91 min.)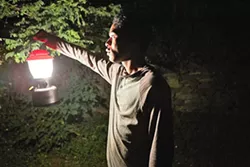 Photo courtesy of Animal Kingdom and A24
WHAT'S OUT THERE? Travis (Kelvin Harrison Jr.) is plagued by nightmares in a nightmarish world.
Glen It Comes at Night takes a very unusual approach to the horror genre, but it's impossible to review it without revealing some of its secrets, so if you're interested in seeing it—and you should be if you like scary movies—stop reading this now. Still reading? OK, here we go. The film's title suggests this is a bogeyman kind of horror story, but the actual thing terrorizing humankind is some sort of highly contagious pathogen that infects people, covering their bodies in sores, making them cough up blood, eventually killing them. No, they're not zombies. There's no cure, and the bodies must be burned to avoid spreading the infection. The few uninfected humans who remain struggle to find food and water, and their desperation pits one against the other, which is why when Will shows up, Paul is highly distrustful. In hopes of strengthening their chances of survival and protecting their respective families, however, they decide to join forces. Will and his family have some livestock while Paul and his family have a secure house and the ability to treat water and recharge batteries via solar panels. It's a good alliance, but both
families are paranoid and distrustful, and this film is filled with tension and dread as they warily go about their lives waiting for the inevitable—the end of humankind. It soon becomes clear that the threat from within themselves is perhaps as dangerous as the threat from outside. Instead of a gotcha horror story, this becomes a psychological thriller, and a good one.
Anna The title would suggest some sort of physical being, an actual "It" to be frightened of. Maybe there is, but even if some monster is lurking in the woods, the truly terrifying stuff happens within the minds of the small group of survivors. Paul is fiercely protective of his family, taking every precaution from gas masks to gloves when venturing anywhere outside their front door. The house has been boarded up, and only one ominous red door that locks from the inside leads outdoors. The soundtrack is key to the constant feeling of unrest and dread that this film oozes. My brain immediately recalled the feeling I got watching Ex Machina: the lone cabin in the woods, the ominous tones heightening the scenes' desolation. It's also reminiscent of The Road, though instead of moving from one location to the next, this family has instead walled themselves into a fortress. Seventeen-year-old Travis is battling some secret demons, and his nighttime terrors turn sleep into an unsavory prospect. He's seen far too much for a kid who should be planning for prom night and looking forward to graduation. The addition of Will and his family present them with a complicated problem—they can work together and build a better life as a group, but their loyalties still lie fiercely in their own camps. Paranoia runs rampant through the group, and for good reason—something is out to get them, even if they don't know what it is.
Photo courtesy of Animal Kingdom and A24
PATHOGEN Bud (David Pendleton) is the first member of a family living in a secluded house to become infected.
Glen My own expectations brought on by the film title and early sequences generated much of the film's dread, and Shults is clearly playing on the audience's need for there to be something out there. At one point we see Travis, who as you mentioned is haunted by horrible nightmares, making a charcoal drawing of two menacing masked figures in the woods. It turns out to be foreshadowing, except the menacing figures aren't outsiders—they're Paul and Sarah, who we're rooting for but whose paranoia turns them into a danger to everyone around them. Think of this as a quiet apocalyptic film, where the world ends not with some cataclysmic explosion, but softly and desperately and completely devoid of hope. Cormac McCarthy's The Road is certainly an excellent comparison. At a brisk 91 minutes and with just nine actors and one main location, It Comes at Night is artful low-budget filmmaking, and since Shults signed a two-picture deal with A24, it'll be interesting to see what he does next. This is only his second feature-length film, so I'm hoping he's not a M. Night Shyamalan-type of one-trick pony. I have to admit, I initially didn't like how he ended this film, but the more I think about it the more I think it was brilliant. This is a rare film indeed.
Anna It took time for me to accept the ending as well, and I certainly appreciate it much more after a few days than I did just as the credits rolled. I didn't do any research on this film before heading into the theater, and frankly I'm glad. I didn't know what to expect beyond the ominous title. Joel Edgerton gives a studied and layered performance as Paul, and the small cast weaves a tight and enthralling story. The constant state of mistrust between the families alludes to a cutthroat reality where people will lie, cheat, and steal whatever they need to in order to survive. We don't know what happened to the world, what is still happening beyond the scope of their fortress. It Comes At Night is atmospheric and engaging, with a tight focus on what inner demons can do when threatened. It's bleak and moody, managing to worm its way into the audience's head with unanswered questions and drastic consequences.
Split Screen is written by Senior Staff Writer Glen Starkey and his wife, Anna. Comment at gstarkey@newtimesslo.com.