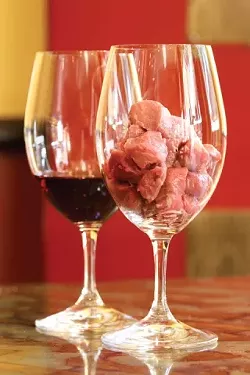 PHOTO BY STEVE E. MILLER
TOGETHER AT LAST : Food and wine, when paired properly, can team up to create an unforgettable dining experience. Thanks to Novo for help with these visual pairings: shellfish and Rose , goat cheese and Chardonnay, and beef and Cabernet.
# When I attended my first wine class at the California Culinary Academy in San Francisco, I was called upon by instructor Norm Roby to describe the flavors of the Chateauneuf-du-Pape we had tasted. Red-faced with embarrassment, I admitted: "I can't describe the flavors, I can only say whether I liked it or I didn't, and I did like this one." Rather than ridicule me, he boosted my confidence by saying: "Then you're off to a good start."
Most people start the same way. Though I've forgotten the producer's name, I've always remembered its appellation in France. Novices don't begin with the ability to wax poetic about a wine, but we know what we like and what we don't. When you're learning to appreciate fine wine, however, everything about it appears complicated.
When I was an aspiring chef, I didn't know anything about wine except that I believed it was an integral part of the fine dining experience. Roby's excellent classes motivated me to learn more about pairing wine with food. Nevertheless, my classes at the academy didn't provide me with any more advantage than anyone else has here on the Central Coast.
Want an unforgettable lesson about wine? Visit every Chardonnay producer from San Miguel to Arroyo Grande Valley and take notes so you can remember each one. You'll find that they vary from north to south in SLO County. Even Chardonnays grown in the same vineyard can taste remarkably unique when made by different wineries. After that, compare your favorites to Chardonnays from Napa, Mendocino, or Temecula. Don't like Chardonnay? Focus on Viognier, Syrah, or Cabernet Sauvignon they're all worth getting to know.
# When I started drinking wine, I preferred the rich apple, pear, honey, and spicy flavors of Chardonnay to the crisp, acidic flavors of grapefruit, citrus, and melon in Sauvignon Blanc. My taste preference was similar with red wines. I liked Merlots because they were so friendly and fragrant with sweet cherry and berry flavors and simple spice notes.
At first, I found it difficult to appreciate the mineral, earth, and herbal notes of Pinot Noir, or the leathery, smoky meat flavors of French Syrahs. But that was in 1986, a time when I couldn't have imagined my taste for those varietals would switch completely. I quickly learned that wines that seemed unlikable sipped alone were far more versatile than the "friendly" wines when it comes to food.
A decade later, I began teaching food and wine pairing to hospitality workers in SLO County. Sponsored by the San Luis Obispo and Paso Robles vintners' associations, I was invited by Vicki Carroll (now the director of Hospice du Rhone) to join winemakers like Clay Thompson of Claiborne & Churchill and Mat Garretson of Garretson Wine Co. to teach classes about SLO County wines. Many local wineries generously provided their wines for the free classes available to workers in restaurants, tasting rooms, and hotels. Of course, the basics I taught them aren't limited to restaurant service. The guideline I devised can help anyone who enjoys wine.
The cliche, "white wine with fish, red wine with meat," was one of the first things they taught novices. It was simple advice and easy to remember, but follow it rigidly and it will fail you. Choosing the right wine isn't just about the chicken, fresh ahi, or ribeye steak. It's about how the main dish is prepared. Is it salmon served with a rich butter sauce or a red wine reduction? Is it a grilled steak or a beef brisket stewed for hours in a highly seasoned sauce? These factors are more important in choosing a suitable varietal.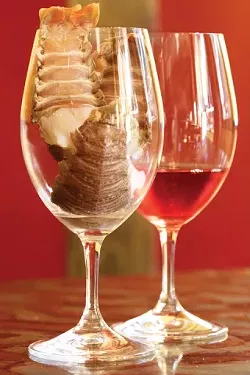 # Sauvignon Blanc is one of the most versatile whites for foods because of its higher acid notes. Chardonnay, on the other hand, is typically so rich and buttery with honey and spice flavors from oak aging, it's limited in its ability to pair with foods. For instance, it doesn't pair with tangy goat cheese because sweet flavors don't complement acidic foods. The Sauvignon Blanc is perfect because its acid complements that of the cheese.
Chardonnay is wrong for a shellfish-based Cioppino because the highly acidic tomato sauce makes the oak, vanilla, and tropical flavors of Chardonnay taste flabby. But give me a fruity Chardonnay with fresh Dungeness crab or lobster and butter sauce every time.
As a beef lover, I enjoy a good Cabernet Sauvignon or Cabernet blend with steak, but I know that a California Pinot Noir or Syrah can be every bit as interesting. If my steak is smothered in mushrooms, Pinot's definitely my choice.
Pairing wine with food isn't difficult it just takes practice. In fact, I always explain that a good wine will taste fine with most well-prepared foods, but I'm looking for something more. I strive to find those extraordinary combinations that are so delicious it takes me by surprise. It doesn't happen frequently, but that's the reward of seeking out exactly the right wine for every meal.
Reach New Times' Cuisine columnist at Kathy@GrapevineRadio.net.