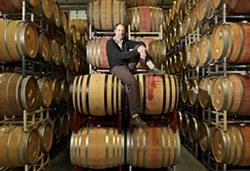 PHOTO BY STEVE E. MILLER)
TOP MAN : Stephen Ross Dooley owns Stephen Ross winery, which is especially notable for Pinot Noir.
ROLL OUT THE BARRELS CELEBRATION: Thursday, April 29 – Sunday, May 2


Thursday, 5:30 – 7:30 p.m.: Barrels in the Plaza will feature "grown here, made here;" a pairing of 27 wineries and chefs to provide the perfect food-and-wine pairing. It will be held in in the historic Mission Plaza and is the vintners' largest gathering yet. Master coopers will hammer out new wine barrels there and local musicians will perform. Tickets will be available at the gate starting at 4:30 p.m.; $30 per person for wine and food.

Friday Night Dinners: Times and prices vary at each winery, some of which sold out immediately, but do check out the list as there may still be space available at one of them.

Saturday and/or Sunday Passport Event: Open-house parties begin at 11 a.m. More than 20 wineries will participate in the passport weekend, providing special wine tastings, gourmet foods, and entertainment. Take note, not all wineries are open both days. Passport holders will be privy to specials treats not available to the general public, including extra discounts on wine purchases. Passports will be available for purchase Saturday morning beginning at 10 a.m. at Baileyana/Tangent wineries tasting room on Orcutt Road. For all the details about Roll Out the Barrels dates, times, and reservations visit slowine.com.
After talking with several winemakers in the Edna Valley—our south-county wine growing region that's known worldwide for the quality of Chardonnays and Pinot Noirs—I can't wait to taste their new spring releases. Most wineries in the Arroyo Grande, Avila Valley, and Edna Valley regions will introduce their 2008 wines during the upcoming Roll Out the Barrels Celebration (details follow). As you visit each participating winery—most of them produce Chardonnay and Pinot Noir—you'll begin to understand the effects each vintage has on wine. You'll also come to better know this region's rising star, Syrah.
According to Fintan du Fresne, winemaker at Chamisal Vineyard (formerly Domaine Alfred; the new owner, Crimson Wine Group, restored the historic estate's original name), 2008 was a very good year for winegrapes. "It may be our best vintage ever," winemaker Fintan du Fresne enthused. "It's a very good year for Chardonnay, and Parker (wine critic Robert M. Parker, Jr.) is a huge fan of '08 California Chardonnays." Describing it as an exceptional growing year that resulted in wines with great concentration, du Fresne admitted little had to be done in the winery, the Chardonnay was so flavorful. It's a great year for his Pinot Noir, as well. During a winemakers' tasting in Sonoma, du Fresne said the Chamisal 2008 was chosen unanimously as the best Pinot in the flight during a blind tasting (labels are covered so they can be tasted and judged without prejudice).
Another popular brand, Stephen Ross, is owned by Stephen "Steve" Ross Dooley who has been making Pinot Noir since 1987 when he was winemaker at Edna Valley Vineyard. He left in '94 to found his own label. "The 2008 vintage was surprisingly good after the '07 which was good statewide," Dooley explained. "I like the '08 better because it was the third year of the drought which resulted in a small crop with lots of concentration. They're very pretty, classic Pinot Noirs and the Chardonnays are beautiful." The lack of rain results in lower yields per acre, but Dooley says if it's too low, "It tastes more Syrah-like," referring to Pinot Noir.
But don't discount the 2007s; not before reading the opinion of winemaker Larry Brooks, a 31-year veteran originally from Napa Valley. He began consulting in Edna Valley in the mid-'80s. In 2000, he started consulting at Tolosa and became director of winemaking in 2005. He's a proponent of the vintage that's still widely available: "The 2007 vintage was of exceptional quality for both Syrah and Pinot Noir, but both are too young to be drunk now by my taste. My feeling is that it's a shame to drink this truly great wine in its infancy. The only solution is to lay some down while it's still available in stores and tasting rooms.
Brooks has worked with Edna Valley Syrah for a decade and says he's enthusiastic about its future, albeit limited to a few sites here where it can achieve full ripeness on a regular basis. "What I find really exciting about cool climate Syrah, such as Edna Valley's, is that when you manage to get it fully ripe, the volume of aromatics is astounding. Besides the expected white-and-black peppercorn aroma, there is an oily or resinous floral tone that's reminiscent of lavender." He describes the vintage as exceptional because of the deeply-extracted character and profoundly rich fruit and liveliness. "It's the only vintage where we didn't have one heat spell, that's why it has such intense flavor."
This year, the SLO Vintners' Association's annual Roll Out the Barrels (ROTB), a four-day, weekend event, celebrates its 20th anniversary, and it's better than ever. This passport event takes you out to their member wineries in all three American Viticultural Areas (AVA) where you'll be treated to a variety of special wine tastings, food pairings, live music, and, at some places, games you can participate in with the staff. The event is organized by Becky Gray, executive director of the SLO Vintners' Association. In keeping up with the preferences of Americans in current times, she said it will be a casual affair this year.
"Forget about stuffy, formal events, this year ROTB is about relaxing and having a great time," Gray explained. "Not only that, some of our wineries have made their event more value-priced: Ancient Peaks is featuring a Spanish paella and flamenco party on Friday night, pairing tapas and paella with their wines for $25 per person; and Edna Valley Vineyard is celebrating its 30th anniversary with pizzas by Two Cooks Catering to pair with their wines. They'll have live music and blackjack tables for guests priced at only $35 per person."
You'll meet the aforementioned winemaking experts during the ROTB celebration, and taste their wines. Beside Pinot Noir and Syrah, check out limited wines available only at their tasting rooms. Gray added she's quite pleased with the local restaurants for their participation this year. "I give our food vendors participating in Barrels in the Plaza a lot of credit as this is a huge undertaking for them," Gray said. She explained that they all worked closely with their partner winery to give ticket holders the ultimate food and wine pairing. "Food and wine pairings are such a dynamic part of the SLO life that local wine lovers experience all the time. But our guests from outside our area are not as highly exposed to these tastings, and they really enjoy the experience."
You can reach New Times' Cuisine columnist at khardesty@newtimesslo.com