I hate to tell you this, but if you're reading this, you are kinky. Oh, and so is the person sitting next to you, your chiropractor, the radio show morning person, your college professor, your neighbor andyour mom. It's a fact many don't want to acknowledge and it's been around since Zog romanced that first cavebabe by answering her taunt of "Hey Missing Link, show me what you're made of!" She feigned resistance in order to be dragged back to the cave by her hair, all the while her excitement building as she readied to play Jane to his Tarzan. As my grandmother once told me, "Every generation thinks they invented kink". History tells us that kink has been around long before Halle Berry donned cat spandex and got in touch with her inner dominatrix.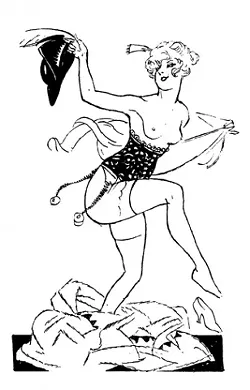 # Kink used to be the last taboo now that the gay and lesbian movement has succeeding in making homosexuality accepted, especially in the celebrity circuit. What could be cuter than two handsome, perfectly groomed men, who own their own hair salon, live in a quaint little Tuscan-inspired villa out in Seal Beach who just happen to be life-partners? OK, that's a stereotype but so is the leather-corseted dominatrix sticking a six-inch-heel into some corporate CEO's back in a dark room on the bad side of town for $250.00 an hour while he calls her "Mistress". Kink has evolved to be far more subtle and complex than that. It has come out from the darkest reaches of our personal dungeons and into mainstream media in a big way. Kink is everywhere so there must be an audience for it.
Still don't think you're kinky? Have you ever played Postman and Housewife? "No, my husband will be home soon, you bad man." How about Naughty French Maid and the Butler? "Monsieur, I did not do such a good job dusting, please Monsieur, do not spank me!" Ever used pantyhose to tie your loved one to the bed? Fur-lined handcuffs? Clothes pins as nipple clamps? Blindfolds? Shower curtain and baby oil? You're kinky! The key to good, healthy kink is that it is consensual. For every person whose kink is putting on faux fur cat ears, a rhinestone collar and drinking cream out of a saucer, there's a person whose kink is petting you.
Since we're all on the same page now and you're admitting that you're kinky, let's look at how advertisers and corporations are catering to your deepest desires. The lovely people who bring you the Mini Cooper get it. Check out their video ad on neverinneutral.com. Although they use the classic dominatrix-in-latex-with-a-whip (and paddle and crop), they get WIITWD ("What it is that we do") in spades. Watch this clip and I dare you not to want to buy three of these darling little cars AND a pair of thigh high lace-up boots.
Rolling Stone magazine had not one, but two ads in the last issue that made happy the kinkster in all of us. The first was a cute-as-a-bug's-ear couple, both dressed in bunny costumes, looking amorously at each other with the tag line "Whatever it is you're into-- Do it with a Trojan". The meaning was clearly that these two bunnies intended to do it like, well, bunnies. It isn't always about sex but it's much more fun when it is.
Take the second ad in the same issue. Dolce & Gabbana I think, but I really couldn't tell you for sure. The two-page spread of the nude oiled twenty-something shackled to the leather operating table/dungeon bed being attended to by three equally eroticized and nearly naked crop-in-hand, co-kinkspirators burned the vision right into my kinky little brain. Dolce and Gabbana, I don't know what you are selling, but I'll buy it.
So now that you know you're kinky and I'm kinky and we're all kinky, you can feel at ease shopping at the local horse and tack store. When the clerk asks you what kind of horse you have, just tell her it's an O'Malley (cause that's your boyfriend's last name). Now, when you are focused on picking out just the right collar at the pet store and the clerk catches you trying it on your own neck, just smile and ask "PLU?" (People like us?) 'Cause you know they are.
Contact writer Amy Mordan at mordan.amy@gmail.com.