I can't count how many times I've had people call me or e-mail me asking for information about this band or that band: Who should they hire to play their wedding? How do they book a band for a party? On and on with the questions! Frankly, it's annoying. Now I'll be able to point them to the Central Coast Musicians' Exchange, a new Web site (CentralCoastMusicians.com) debuting Tuesday, August 19 that will create a Web-based resource for musicians living and working on California's Central Coast.
PHOTO COURTESY OF TROPO, CRITICNUE, AXIA
TRIO OF ROCKERS! : Tropo, Criticnue, and Axia play the website launch party for the Central Coast Musicians' Exchange, a new website (CentralCoastMusicians.com) debuting Aug. 19 at Downtown Brew.
According to the site's creators—Rock Sisters Productions—"details of the new Web site are top secret; however, features will include a message board where area musicians can 'meet' to network, look for gigs, buy and sell gear, promote their bands, or just chat; free classified ads; individual pages that bands and artists can use to promote themselves and find gigs; detailed booking information for area venues; articles offering information and tips on every aspect of the music business; and booking and travel tips for out-of-area musicians."
To celebrate the new resource, Rock Sisters Productions thought a huge blowout party was in order, so this Tuesday, Aug. 19, the day of the site's launch, Downtown Brew will host an 8 p.m. kickass rock show featuring three of the area's stellar rock acts: Criticnue, Tropo, and Axia.
The new Web site took several years of research, planning, and development, and on Tuesday information will be provided to local bands on how to get the most out of this new resource. There will also be drawings and door prizes.
According to Rock Sisters, "While the primary goal of the Musicians' Exchange will be to provide local musicians with artist-to-artist networking, information, tools, and resources, many of the site's features will be valuable to music lovers, venues, out-of-area musicians, and other music industry professionals as well."
PHOTO COURTESY OF TROPO, CRITICNUE, AXIA
In addition, this is a not a for-profit venture, instead "intended to be an asset and a gift to the local music community," added Rock Sisters. "As such, all resources of the Musicians' Exchange are absolutely free to area musicians.
Future plans for the Central Coast Musicians' Exchange include its First Annual Rock'n'Golf Weekend, scheduled to take place in the spring of 2009. Eventual goals include being able to provide health insurance at group rates to working area musicians and their families."
Current Web site sponsors and supporters include Owens Music Company; Studio Sing, Sing, Sing; Faultline Music; MRP Clothing; Print & Copy Solutions; the McKiernan Law Firm; and the Crisptones. Learn more about Rock Sisters at www.rocksistersproductions.com.
Awww, ain't they good?
PHOTO BY BARRY GOYETTE
THE GREAT WHITE HOPE : Soulful jazz vocalist Inga Swearingen and the Awtet play two concerts of original and jazz standards on Aug. 15 at the Steynberg Gallery; and Aug. 17 at the Firefly Gallery.
I can't say enough good things about jazz vocalist Inga Swearingen. Setting aside her professional accomplishments such as winning the Montreaux Jazz Festival's first vocal competition and her many appearances on A Prairie Home Companion and her two excellent CDs—she's also a heckuva nice person who's way too humble about her prodigious talents.
This Friday, Aug. 15 will be a reminder of her world-class talents, not to mention a reminder of the amazing jazz scene we have here in SLO County. Inga Swearingen and the Awtet—saxophonist Aaron Wolf, guitarist Jeff Miley, bassist Dylan Johnson, and dummer Jason Harnell—play an 8 p.m., $15 show at the Steynberg Gallery. Expect an evening of original compositions by Inga and Aaron, as well as unique interpretations of jazz standards (Inga's an awesome scat singer!).
The group plays again at the Firefly Gallery in Paso Robles on Sunday, Aug. 17 at 1 p.m. Seating is limited at both shows, so reservations are recommended. Call the Steynberg Gallery at 547-0278 and the Firefly Gallery at 237-9265.
One for folk fans
PHOTO COURTESY OF CHRIS AND THOMAS
THE NEW SIMON AND GARFUNKLE : Chris and Thomas, a stunning folk duo, will play an intimate concert at Painted Sky Studios on Aug. 15.
According to Steve Crimmel at Painted Sky Studios, "About two months ago, I received an e-mail from a booking agent asking if I would like to host a concert with Chris and Thomas. Intrigued, I went to their Myspace page and listened to the song 'Take These Thoughts.' Before the song was over, I was e-mailing back asking, 'When would they like to perform?' These guys are really good—think Simon and Garfunkel good.
"Chris and Thomas became close friends at the historic art school in Liverpool where John Lennon and Paul McCartney had met up decades before. During their student years, they played the drunken Irish pubs till the sun shone and they sang for the Queen while they earned music degrees in film composition. Their music has been featured regularly on National Public Radio, and 'Take These Thoughts' won best song of the year in the Americana category at the Independent Music Awards in 2006. I could go on and on, but it would be better to go to their Web site at www.myspace.com/chrisandthomas."
See them this Friday, Aug. 15, at 8 p.m. Tickets cost $15, available at Boo Boo's and Cambria Business Center, or by calling 927-8330. If not sold out, tickets will be available at the door.
More music…
It's a busy week for Cuesta Ridge. The bluegrass and beyond band plays a Thursday, Aug. 14 in-store at Boo Boo Records at 5:30 p.m.; Concerts in the Plaza from 5:30 to 7:30 p.m. on Friday, Aug. 15; and Monday, Aug. 18 from 5 to 9 p.m. during Pallet to Palate (pallettopalate.com for details). Tight vocal harmonies, incredible virtuosity, and a sense of humor about themselves and their music make this one of the greatest live bands in the county.
PHOTO BY GUNTHER FRANK
SURF THIS! : The All Nighters hit the Frog & Peach stage on Aug. 16, playing ripping psychedelic surf rock.
Viper Six will swing the crowd on Friday, Aug.15 from 5:30 to 7:30 p.m. at the City Park in downtown Paso Robles.
DJ Spooky—That Subliminal Kid plays Friday, Aug. 15 at the Henry Miller Library during a benefit show for the iconic library that was nearly destroyed in the recent Big Sur fires. At the 8 p.m. show, DJ Spooky (ne» Paul D. Miller) will create a special audio and visual show amongst the redwood grove on the library's ground. Spooky's recorded a huge volume of music and has collaborated with a wide variety of musicians and composers,Üsuch as Iannis Xenakis, Ryuichi Sakamoto, Kronos Quartet, Kool Keith a.k.a. Doctor Octagon, Pierre Boulez,ÜKilla Priest from Wu-Tang Clan, Steve Reich, Yoko Ono, and Thurston Moore from Sonic Youth among many others.Ü
K.R.E.E.P is now ENSO, and they play at Monteleone's Rock on Friday, Aug. 15 at 8:30 p.m.
Get in touch with the Great Spirit at a "Native American Flute Workshop and Concert" with Lance Canales on Saturday, Aug. 16 from noon to 4:30 p.m. in Cambria. The workshop costs $80. Flutes are supplied or bring your own. The concert starts at 7 p.m. and costs $10 for the public or free to workshop participants. For info, registration, and concert tickets, call 927-7261 or playshops@jenniferstar.net.
The All Nighters hit the Frog and Peach stage this Saturday, Aug. 16, touring in support of a new album that'll be available for sale at the show. The Washington-based band plays psychedelic surf rock and cites Dick Dale, The Ramones, Devotchka, Miles Davis, and The Sex Pistols as influences.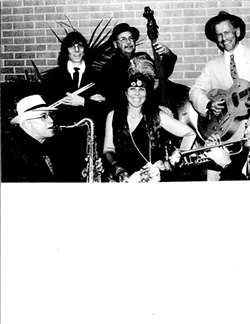 PHOTO COURTESY OF VIPER SIX
SWINGING TO THE STARS : Viper Six will swing the crowd on Aug.15 at the City Park in downtown Paso Robles.
The Grover Beach Sizzlin' Summer Concert Series continues on Sunday, Aug. 17 with the rockin' beats of Impromptu, and the show will also be the debut of the Grover Beach Farmers' Market. Impromptu plays an upbeat and dynamic blend of acoustic-electric rock laced with Caribbean rhythms, a dash of funk, and the occasional hint of country. ÜCheck it out at Ramona Garden Park from 3 to 6:30 p.m.
On Sunday, Aug. 17, former Woody Herman star trumpeter Ron Stout plays the next Famous Jazz Artist Series concert at the Hamlet in Cambria. Stout has long been recognized as one of the West Coast's best jazz trumpet artists. He'll be joined by the Central Coast rhythm section of Dylan Johnson on bass and Darrell Voss on drums, as well as concert series co-producers Charlie and Sandi Shoemake (piano/vibraphone and vocals respectively). There's a $15, 4 p.m. show, a $12, 7:15 p.m. show, or see both for $20. Reservations are recommended: 927-0567.
The Angel/Devil returns to Frog and Peach this Tuesday, Aug. 19, delivering music that's been favorably compared to Led Zeppelin, U2, and The Muse. The L.A.-based trio has played more than 600 shows in 60 cities and received airplay on over 500 radio stations. Their music appeared in films such as The Matrix: Revisited, Animatrix, We Are Marshall, Ice Age 2, an NBA Ballerz TV ad aired during the NBA Playoffs, and the Children of Men DVD.Ü
Americana rocker Ted Wulfers plays the Frog and Peach this Wednesday, Aug. 20, at 10 p.m. The Chicago-based singer-songwriter plays in the rock/pop/Americana/alt.country genre, touring nationwide in support of his brand new double CD Drivin' Barefoot. The record's first single, "Carl Rogers Blues," stayed at the top of the Nashville charts for seven straight weeks earlier this year, and for that Wulfers was inducted into the Nashville Independent Radio Hall of Fame.
CD Reviews
Prints—Just Thoughts EP
The beauty of the under-celebrated EP format is that when done right, you're sparred any exhausting filler and your attention is kept from the opening to the closing song, usually with a finger poised to repeat the whole affair. Just Thoughts EP by Prints started as developing b-sides to accompany the single "Too Much Water" (included here as a music video), but luckily they've allowed to these tracks to shine in their own light. Crafted at home by multi-instrumentalist Zac Nelson and Kenseth Thibideau, the four tracks here bubble with laptop pop, suggesting a middle point between the emotional heft of the Postal Service and playfulness of Hot Chip. "Me and Mrs. Archer" bounces to synthesized beat and frolicsome flute, as "Fire" is pulled along gently with a slow stepping computerized snare, moody keyboard and serene lyrics that suggests early morning coddling with windows dappled with morning drizzle. The album ends with an electro-disco remix by Hercules and the Love Affair producer Tim Goldsworthy; a strong punctuation on this perfect constructed statement.
Rodriguez—Cold Fact
Opening his 1970 debut Cold Fact with the deeply seductive lure of "Sugar Man," a tripped-out blues ode to his drug dealer, Sixtoo Rodriguez illustrates the working class, counter-culture of late '60s with a tongue that was dipped in Dylan lyricism. With heavyweight, fuzzed-out guitar work provided by Dennis Coffey (that's him on the Temptation's "Cloud Nine") and catchy psych-folk songs that stick to the inside of your brain after a single listen, this album, unfortunately, teetered on the lip of obscurity, despite being a sensation in foreign countries. In 2002, producer David Holmes re-introduced Rodriguez's gem "Sugar Man" with its inclusion on his curated compilation Come Get It, I Got It and caught the attention of listeners worldwide, which finally culminated in this re-issue. Rodriguez shuffles personal alienation with societal critiques as Marvin Gaye did on What's Goin' On, and like that classic, it still is refreshingly enjoyable, and unfortunately, quite topical. ?
—Malik Miko Thorne, of Boo Boo Records and KCBX's "Night Train."
---
Glen Starkey will now take your questions … not. Don't ask him at gstarkey@newtimesslo.com.