Remember Morris the Cat, the mascot for 9Lives brand cat food in the '70s and '80s? Well, regardless of whether you were old enough or television-savvy enough to remember that long-forgotten feline pop culture icon, there's a new Morris on the Central Coast, and he's the namesake of new Pismo Beach coffee shop Orange Cat Café, as well as a local celebrity in his own right.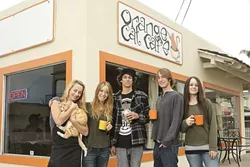 PHOTO BY STEVE E. MILLER
A CLOCKWORK ORANGE : Orange Cat Café's crew—(left to right) Karen Kennedy, Bronte Diaz, Noah Kennedy, Riley Kennedy, and Taylor Diaz—consistently provide excellent service, operating the business every day of the week from 6 a.m. to 6 p.m.
"Orange Cat Café is entirely a family business," says the café's proprietor, Shell Beach resident Karen Kennedy. Employees include her husband Sean Kennedy, her sons Riley and Noah Kennedy, aged 18 and 15, respectively, and her nieces Bronte and Taylor Diaz, who are 20 and 19 years old. The café is a small building with a maximum capacity of only 10 people, but the comfortable outdoor patio seats just as many.
In front of the coffee shop is a sign with a cartoon drawing of an orange cat in a teacup, a logo designed by Randy Torres, Bronte's boyfriend. Orange Cat Café supports other local artists, including Roger Fisher, whose wooden sculptures of a humpback whale and a duck-shaped wave adorn the café's shelves, helping to give it a coastal atmosphere. In addition, the main theme of the café is also represented in sculpture form.
"Many customers have given Morris-shaped art to our café, including an orange cat-shaped cookie jar, which resembles a friendly tiger more than Morris" (it has black stripes in contrast to Morris' white ones) "and a striped orange vase which is an even looser reminder of Morris," Kennedy said.
Featured beverages include cappuccino, java, mocha, and espresso, as well as iced tea. Kennedy has also entertained the notion of featuring musicians (acoustic only) to perform inside, but she worries about accommodating an audience in the small shop. For the time being, Orange Cat Café plays Hawaiian music, adding to the café's still-developing secondary theme, the surf culture predominant in Pismo Beach.
The aforementioned Morris lives in a shack next to the café. Throughout the years, the orange tabby cat developed a reputation as a gregarious town mascot, warmly greeting Pismo Beach pedestrians. Unlike most restaurants, which have a strict no-pets policy, Orange Cat Café allows cats and dogs to be walked within its premises, and even sells dog biscuits. Furthering the feline theme, the café's menu boasts Morris-related treats such as sugar cookies shaped and painted like orange cats, while the café brews what were originally known as Morris' Specialty Drinks, several delicious smoothies including Chunky Monkey and Milky Way-flavored cold drinks. However, the most popular item on the Orange Cat Café menu is currently the breakfast burrito, which consists of eggs, bacon, and cheese wrapped in a sizable tortilla.
Orange Cat Café is at 301 Cypress St. in Pismo Beach, a location that once was a florist shop neighboring the historical landmark and early 20th century tourist trap Tent City. The café can be reached by phone at 773-0544 or at theorangecatcafe.com, which also contains Mapquest directions.
Fast facts
The Exploration Station is host to the First 5 California's Hands-On Health Express, a bilingual children's exhibit that travels across California to inspire children younger than 6 to stay physically active and eat healthy. The exhibit features a variety of educational activities promoting children's well-being, including a make-believe farmers' market stand complete with toy fruits and vegetables, a large activity zone that encourages kids to exercise, and a coloring station to help kids build their fine motor skills while exploring their creative sides. The exhibit is free to access and will be presented on Thursday, Sept. 22, from 10 a.m. to 2 p.m. The Exploration Station is at 867 Ramona Ave. in Grover Beach and can be reached at 473-1421 or explorationstation.org. …
Hospice of San Luis Obispo County will be offering a suicide bereavement group on Wednesdays at 11 a.m. to 12:30 p.m. in North County. A start date and location will be announced when enough participants sign up for the eight-week program. The group will be facilitated by Rowland Tucker, an intern under licensed marriage and family therapist Anthony Huffaker. There will be no cost to participate. Those interested are encouraged to call Tucker at 544-2266 for more information and screening. For more information about Hospice SLO and its services, visit hospiceslo.com.

Intern Ben Simon compiled this week's Strokes & Plugs. Send your business and nonprofit news to strokes@newtimesslo.com.