At last, we're finally at that beautiful period where we face almost two years devoid of the maddening campaign ads, partisan mudslinging, and politicians laying wet ones on babies—as well as our behinds.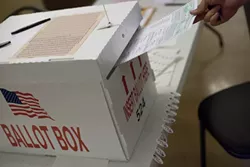 PHOTO BY STEVE E. MILLER
ELECTION AFFECTION : Last-minute voters exercised their civic right at the San Luis Obispo Veteran's Memorial Building just minutes before the polls closed on Nov. 6.
Yes, Election Night 2012 came and went. And yet, for many in San Luis Obispo County, not a lot changed. Here's how you and the rest of the nation voted:
Los quesos grandes
As you know, current Democratic President of the United States Barack Obama convinced voters to let him keep his job, defeating former Massachusetts Republican Gov. Mitt Romney 50 percent to 48 percent, according to the latest nationwide Associated Press results as of press time. Obama narrowly carried the day in San Luis Obispo County as well, bringing in 48 percent to Romney's 47 percent. (Peace and Freedom presidential candidate Roseanne Barr tallied 345 votes locally.)
In the U.S. Senate, Californians overwhelmingly re-elected long-time Democratic Sen. Dianne Feinstein 61 to 38 percent over GOP politician Elizabeth Emken. In SLO County, however, the race was much closer: 51 percent to 48 percent in favor of Feinstein.
In the hotly contested 24th Congressional District race, current Democratic U.S. Rep. Lois Capps overcame former Republican Lt. Gov. Abel Maldonado 54 to 45 percent. Locally, Capps narrowly took the cake 51 to 48 percent.
For your gerrymandering pleasure …
In the race to replace current GOP state Sen. Sam Blakeslee, current District 27 Democratic state Assemblyman Bill Monning defeated Republican businessman Larry Beaman for the newly redrawn 17th senate district—which encompasses SLO, Santa Cruz, and part of Monterey County—by a whopping 62 to 37 percent. Monning didn't fare so well in SLO County, however, where Beaman prevailed 51 to 48 percent.
In the newly created state Assembly District 35, the Republican incumbent, South San Luis Obispo County businessman Katcho Achadjian, defeated the Democratic challenger, Paso Robles activist Gerry Manata, in a landslide 61 percent to 38 percent victory.
You propositioning me?
California ultimately rejected a majority of the statewide ballot measures. However, when Dem. Gov. Jerry Brown passed the budget this summer, he did so under the assumption that Proposition 30, his much-maligned temporary tax measure, would pass. A defeat would have "triggered" some $6 billion in cuts, mostly at the expense of education. Fortunately for Moonbeam, his measure passed handily, 53 to 46 percent. SLO County voters followed suit.
Proposition 31, which would have established a two-year state budget, among other rules for new expenditures, and cuts in fiscal emergencies, failed to pass muster statewide and locally—60 to 39 percent, and 57 to 42 percent, respectively.
Proposition 32 didn't succeed either; it would have prohibited unions and corporate contributions to political candidates. Statewide, the measure was defeated 56 percent to 43 percent; locally, it was a nail-biter at 50 to 49 percent. Proposition 33, which would have reformed insurance rates, lost 54 to 45 percent, and fared nearly identically in SLO County.
Of the three criminal justice-related measures, all but the complete repeal of the death penalty passed; Proposition 34, which would have changed California's harshest sentence to life without the possibility of parole, was defeated 52 to 47 percent, and locally, 56 to 43 percent. The other two measures, one to revise California's controversial Three Strikes law, and another to create harsher penalties for human traffickers, each won the favor of the electorate, at 68 to 31 percent (identical in SLO County) and 81 to 18 percent (also the same locally), respectively.
The measure requiring labeling for genetically modified food products, Proposition 37, failed 53 to 46 percent. In SLO County, it lost 54 to 45 percent.
The tax measure to fund early education programs, Proposition 38, got stomped worse than any measure, a painful 72 to 27 percent. However, a tax measure for out-of-state businesses to fund clean energy projects passed with flying colors at 60 to 39 percent. Locally, it was much closer at 55 to 44 percent.
Finally, voters upheld last year's new political district boundaries, 71 to 28 percent, and SLO County voters favored the measure 75 to 24 percent.
Local butts in local seats
Moving on to city politics, the Atascadero City Council incumbents swept the election. Roberta Fonzi won another term with 41 percent of the vote, as did Bob Kelley (with 37 percent), though he was relieved of his mayoral title by Tom O'Malley, who became the city's first elected mayor. He ran unopposed for the position. Council members previously appointed a leader from their ranks every year.
The citizens of Grover Beach elected Debbie Peterson to replace Mayor John Shoals, who didn't seek reelection. She beat Phyllis Molnar 75 percent to 24, but Molnar will remain a councilmember until at least 2014. Incumbent Karen Bright was reelected with 28 percent support, and Jeff Lee joined the council with 24 percent. However, the city's biggest change came from the passage of Measure I-12, which transformed Grover Beach into a charter city. The move allows city leaders to bypass many state regulations, including requirements to pay workers prevailing wage, but restricts the city's access to some state funds.
In Paso Robles, Mayor Duane Picanco survived challenges from two write-in candidates, scoring 86 percent of the vote. Voters also approved a measure extending the mayoral term from two years to four. In a tight race for the remaining council seats, incumbent Nick Gilman lost his spot to challenger Steve Martin, a self-employed public relations person and former mayor of Paso Robles. Martin scored 27 percent of the vote, while Gilman had 22 percent. Incumbent Fred Strong barely held onto his seat, beating challenger Jim Reed by just 44 votes, roughly three-tenths of one percent. The reshaped council will oversee new revenues generated by Measure E-12, a half-cent sales tax that voters approved with a 59 percent vote.
The citizens of Pismo Beach reelected Councilman Ed Waage with 30 percent support and added Erik Howell to the city council. Howell, a proponent of smart growth with serious reservations about the Price Canyon development, garnered 26 percent of the vote. Mayor Shelly Higginbotham
ran unopposed and handily won another four-year term.
San Luis Obispo overwhelmingly reelected its incumbent council members. Mayor Jan Marx crushed her opponents with 63 percent of the vote, and incumbent councilmen Dan Carpenter and John Ashbaugh led the pack of council hopefuls by scoring 32 and 31 percent support, respectively. Their nearest challenger, Jeff Aranguena, garnered 19 percent of the vote, while Kevin Rice picked up 15 percent, and Matt Strzepek picked up 3 percent.
Last but not least, voters elected Barbara George over David Baldwin to sit on the Cuesta College Board of Trustees in place of Per Matheson, who didn't seek another term. George received 63 percent of the vote.
Whew!
With the exception of the presidential election, all election results are according to the California Secretary of State, as well as the San Luis Obispo County Clerk-Recorder's Office, and are unofficial results while absentee ballots and those with write-in candidates continue to be counted through November.