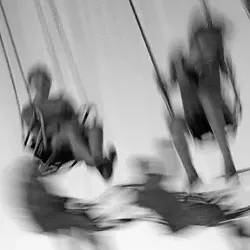 PHOTO COURTESY OF TOM PECK
WHEEEEEE! : Like much of Tom Peck's work, in many of "The Midway" photos there's an inherent sense of movement, a kinetic energy in his subjects.
A
s American cultural icons go, county fairs are the crème de la crème. But beyond the cotton candy and carnival rides there's more beneath the surface: a galaxy of emotion, chaos; there's the mother frantically controlling her children, the carnie lost in a contemplation among the revelry. And it's all packed into one thoroughfare—the Midway.
Paso Robles' resident photographer Tom Peck has compiled his favorite shots from four years of roaming the Central Coast's Mid-State Fair. And if you think they should depict face painting, horses, and hot dogs, you would be wrong.
"When people come in and see there is a show about the Mid-State Fair, they're already going to think they know what they're going to see," Peck told New Times. "This is going to be a different way of looking at it." Peck wants to present a new angle to something classic; something most people can recall from memories going back to childhood. And he wants to inspire new memories.
As the name suggests, Peck's Mid-State Fair show concentrates on the Midway, "the human element," of the Fair. "The thing about the Midway is there is so much texture and color and action and character, and you have all of these iconic vignettes there—the carnies, the rides, the colors, the excitement. It's like a funhouse: slightly scary but fun at the same time. That's how I see the Midway: the carnies are slightly creepy, but it's all fun. There's an interesting dichotomy."
In one photo, Peck captured the contemplative gaze of a young vendor at a crepes stand. Shot in black and white, and capturing the gleam in the young woman's eye, the portrait captures her zoning out in the middle of the chaos of the Midway. What is she thinking?
"I'm not going to shoot the fat lady eating a snow cone on a bench. No one needs to see another one of those. Or the little girl walking around with the big stuffed panda she just won," Peck laughed.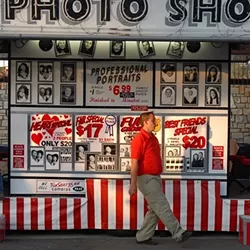 PHOTO COURTESY OF TOM PECK
DOING THE PHOTOSHOP WALK : Sure, cotton candy and stuffed animals are cute, but for Tom Peck it's the people and the structures of the fair that make it visually stimulating.
He catches subjects at their least guarded moments. In the four years he's been shooting the Midway, Peck has perfected his craft by spending entire days wandering the main drag, nonchalantly cruising, blending in. He hunkers down and waits for the moment when the shot reveals itself.
"When you're shooting you try not to be noticed. As soon as someone notices a photographer or notices they're being photographed, everything changes," he said. "They become self-conscious; posing, not posing, it's no longer an unguarded, natural moment. So I try to be as obscure as I can possibly be."
Peck admits he sometimes attracts unwanted attention. "Every time the sheriffs come up to me, they think I'm a pedophile or some weirdo skulking around, you know?" he chuckled. Last year, Peck said the carnival operators began recognizing him, waving at him and momentarily blowing his cover.
Peck's tactics have been tested in dangerous environments. For more than three years, Peck has been making trips to New York City to capture portraits of New York
subway riders.
While riding the subway for hours, camera on his knee, exposure pre-set, shutter speed slightly slowed, Peck waits for a subject to sit at close range. The results are often dark, grotesque."That's what I try to do with all my photography, whether I'm shooting rodeos or the fair or the New York subway: to shoot these things in a different, slightly skewed way," Peck said.
PHOTO COURTESY OF TOM PECK
INCOGNITO : The well-traveled and ultra-ballsy Tom Peck presents his show, "The Midway" at Studios on the Park in Paso Robles through July.
Like other guerilla art, the sense of impending danger seeps through.
"You really have to psyche yourself up," the artist said. "When I shoot someone in the subway I always look away because if you get busted photographing someone, it's not pretty. It's very scary."
Watch for Peck's upcoming exhibition of those New York subway shots. Meanwhile, catch "The Midway," running until August at Studios on the Park in downtown Paso Robles. Framed prints will be available, and the Midstate Fair has donated a display to complement the show.
To view more of Peck's work, visit his website at www.premeditatedshootings.com, or visit Studios on the Park at 1130 Pine Street in Paso Robles.
Staff Writer Matt Fountain can be reached at mfountain@newtimesslo.com.