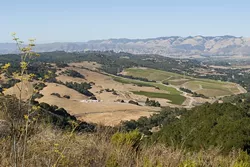 PHOTO BY STEVE E. MILLER
PRICEY : The 490-acre Spanish Springs South Ranch in Price Canyon is one of two properties named in a lawsuit against real estate honcho John King, who is being accused by a Rhode Island-based lender of fraud.
If John King's recent financial woes weren't stacked high enough, the prominent developer and hotelier—and one of the county's largest private employers—is now being sued by a lender for $9.5 million.
On July 1, attorneys for the Rhode Island-based Textron Financial Corp. filed a lawsuit in federal court against King, his wife Carol, and Palm Dunes LLC, a company owned by King. The lawsuit alleges that King transferred millions of dollars worth of real estate into Palm Dunes LLC two days prior to a hearing that approved Textron Financial Corp's application to recover debt it says is owed by the Kings.
King has spent decades building a name for himself by acquiring and engineering some of the most well-known properties on the Central Coast. He's the owner of the Cliffs Resort in Shell Beach, the Sea Venture Resort in Pismo Beach, and the Apple Farm Inn and Sycamore Mineral Springs Resort in San Luis Obispo. Until recently, he was part-owner of the Inn at Morro Bay. He owns properties in Desert Hot Springs, San Francisco, and Big Sur.
Textron Financial Corp's July filing follows an April 2010 judgment in its favor in which the court granted the lender possession of two of King's largest properties: the 490-acre Spanish Springs in Price Canyon and the nearly 400-acre Vaquero de los Robles in Paso Robles.
The Spanish Springs site has been under development as part of a projected 1,700-acre hotel and golf course resort. The ambitious Vaquero de los Robles project was intended to be North County's largest resort, and would have included hundreds of rooms including bungalows, a vineyard, a wine-tasting facility, and a visitor center, as well as a series of lakes and golf courses.
Textron Financial claims that by January 2007, it had loaned the Kings more than $14 million for development of the two properties. Amid the financial market meltdown, however, Textron abruptly decided to abandon the commercial real estate-lending business; in February 2009, the company filed two related lawsuits in federal court, claiming King had defaulted on the loans.
King argued that terms of the loans weren't made clear; that Textron had cross-collateralized both properties without notifying him. According to court records, King argued that using one property as collateral for the other forced him to completely pay off each loan for both properties in order to avoid foreclosure.
Before the impending foreclosure auction pegged for June, King filed for Chapter 11 bankruptcy for the Vaquero de los Robles and Spanish Springs properties in May 2009. In the bankruptcy filing, King listed Vaquero's assets at $11 million, with debts at $11.5 million; assets for Spanish Springs were listed at $17.5 million, with liabilities of $6.5 million. The declaration temporarily succeeded in putting the foreclosure proceedings on hold, but Textron was successful in obtaining a relief from stay in U.S. Bankruptcy Court, allowing the lender to proceed in its collection attempt.
According to a court filing, in December 2009 King owed Textron roughly $11.4 million for the Vaquero de los Robles property and $4.3 million for Spanish Springs. The two properties were also found to have dropped in value by about 20 percent when they were appraised in fall 2009: $10.4 million for Vaquero and $13.3 million for Spanish Springs, according to bankruptcy court transcripts.
According to the July 2010 filing by Textron, two days before the lender's application to recover King's debt was granted, King transferred all of the rights, titles, and interest in seven properties to King's associated entity, Palm Dunes LLC.
"The Kings transferred their interest in millions of dollars of real estate to Palm Dunes, and Palm Dunes knowingly and willfully accepted such transfer as part of a scheme to hinder, delay, or defraud [Textron Financial Corp.] and/or other creditors of the Kings," the lawsuit reads.
"The transfer was made at a time when the Kings intended to incur, or believed or reasonably should have believed that they would incur debts that would be beyond their ability to pay as such debts matured," it continues. "[Textron Financial Corp.] is informed and believes … that the Kings and Palm Dunes have acted with malice, oppression, and fraud justifying the imposition of punitive damages against them in an amount sufficient to punish such conduct and deter any such conduct in the future."
Textron Financial Corp. is seeking payment for the remaining balance of the loans—approximately $9.5 million—plus interest and attorney fees.
Attorneys representing the lender declined to discuss the lawsuit, as did attorneys for King. The only person New Times was able to reach for comment was King himself, who admitted that, given the pending lawsuit, "this is not the appropriate time to talk."
"As of right now, I'm just trying to work this out with Textron," he said.
In a separate development in mid-August, the Inn at Morro Bay, which King bought in 1993, was relinquished to Wells Fargo after no one met the $8.5 million asking price at a public auction on the steps of the county courthouse. According to the notice of default, King owed Wells Fargo $9 million for the 98-room coastal hotel, as well as an additional $5.5 million to another lender, Missouri-based Virtual Realty Enterprises, which had second position on King's loan for the 4,000-acre property. ∆
Staff Writer Matt Fountain can be reached at mfountain@newtimesslo.com.