PHOTO COURTESY OF UNFINISHED BUSINESS
ROCKING FOR IVY : Unfinished Business, an awesome '60s rock'n'roll cover act, plays a benefit concert for local girl Ivy Alvarado (right), whose family is struggling to cover her medical bills. Help out on Jan. 30 at the South County Regional Center.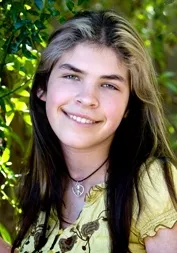 PHOTO BY KAREN MCLAIN PHOTOGRAPHY
The problem with the suffering of others is it feels like there's nothing you can do about it, but you try anyway. Maybe you text a $10 pledge to Haiti or give a few bucks to United Way at work—both good things, but it's hard to see and feel the results, and that's why when something terrible happens close to home, to a child, it feels especially good to reach out and lend a hand.
According to her mother Melinda, "On July 20, 2008, Ivy Alvarado, 16, collapsed while working at Subway Sandwich in SLO. She suffered a cardiac arrest; her heart and breathing stopped. Fortunately, good citizens quickly administered CPR until SLO Fire Station 3 revived her. She was transported by ambulance to French Hospital in a coma. Doctors found no apparent cause for her cardiac arrest. They speculated a mild arrhythmia. Ivy had never been seriously ill."
It turns out Ivy had a serious form of brain damage, and her neurologist said he'd "never seen anyone recover from something this severe." The prognosis was that Ivy would remain in a vegetative state for life, or at best be wheelchair-bound and possibly unable to recognize her family.
"We were told to consider 'going on' with our lives," said Melinda. "We rejected that suggestion."
After a 10-day coma, Ivy began to regain consciousness, though she was clearly disoriented and physically impaired due to a lack of oxygen to the brain. Well, things are looking up, sort of.
"It's been a year and a half, but improvement for Ivy has been remarkable," said Melinda.
Unfortunately, medical expenses already accrued—plus continuing expenses for physical therapy, treatments, and in-home tutoring to help her graduate from high school—are beyond what the Alvarados' insurance covers and the family can afford.
"The medical bills are still coming in for services not covered or partially covered," said Melinda. "Testing for prolonged QT syndrome to determine what happened cost $5,000; insurance only paid $1,200. Our $3,600 annual deductible isn't paid off from last year, and here comes a new year's deductible. Our savings are gone. Ivy is at about $700,000 in medical bills, and hospital bills continue. If they end up paying the entire amount billed by Children's Hospital, she will be over the lifetime maximum ($1 Million) in six months."
Local businesses have stepped up to offer some great silent auction items like a Sterling by Musicman electric guitar, a National Resophonic guitar, a Peavey Transfex Pro 212 guitar amp, and a vintage Rodgers drum set.
So how can you help? Buy tickets ($50 each or $25 for those under 21) to attend the dinner, auction, and dance event sponsored by The 5 Cities Men's Club and featuring the music of Unfinished Business at the South County Regional Center in Arroyo Grande this Saturday, Jan. 30. (For tickets call Candy at 481-1006.) To donate cash or auction items, please call Marcelle at 927-1017.
Ivy loves rock'n'roll and dancing. Let's get her back on her feet!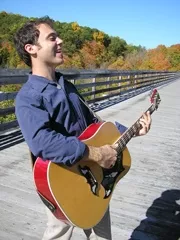 PHOTO COURTESY OF JUDE ROBERTS
HE'LL TAKE A SAD SONG AND MAKE IT BETTER NYC : singer-songwriter Jude Roberts plays three shows this week: Jan. 29 at the Los Osos Library; Jan. 31 at Temple Beth David; and Feb. 1 at Señor Sancho's.
Hey, Jude!
When I think "New York-based singer-songwriter," I don't think "John Denver," but that's what people are saying Jude Roberts sounds like.
After listening to his song "Amanda McRae," I can certainly hear the similarities in melody and phrasing,
but the lyrics remind me more of a Gordon Lightfoot composition. As Roberts writes on his MySpace page, "If you hear an influence or a similarity, you're probably right."
He's playing solo at 6 p.m. this Friday, Jan. 29 at the Los Osos Library and at 5:30 p.m. and this Monday, Feb. 1 at Señor Sancho's in Paso to promote his debut album Stained Glass Afterglow. But if you want to go to the really big show, join Roberts and friends at 3 p.m. this Sunday, Jan. 31 at Temple Beth David in SLO ($20, or $10 for students), where he'll be joined by Bob McAllen—noted author, composer, and well-known acoustic guitar performer.
McAllen will accompany Roberts in performing several new songs Roberts has prepared especially for the concert. In addition, noted flamenco guitarist and tango specialist Bill Freeman will present some of his special pieces written and made famous by flamenco and Gypsy performers in Spain.
Admission includes refreshments! Call 544-0760 for reservations, or email office@cbdslo.org. This concert is sponsored by Andi and Jeff Portney. The Temple Beth David concert series honors the memory of Dick and Rheta Ponemon, who were generous supporters of the Jewish community and lifelong patrons of the arts.
Jazz Mecca
For a county of our size, we have a ridiculously amazing jazz scene. Part of it is due to the excellent music programs at both Cuesta College and Cal Poly, which continuously churn out excellent players who simply don't want to leave town.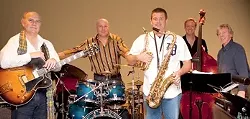 PHOTO COURTESY OF HUMAN NATION
JAZZ ALL STARS : Human Nation, a jazz ensemble comprised of several of SLO County's best local players, performs its diverse repertoire at the Paso Robles Inn Ballroom on Jan. 31.
But beyond that, there's just a lot of freaking talented players who've decided to make their home here, guys who eat, sleep, and breathe jazz. And because the community is tight knit, new groups are continuously forming, the newest being Human Nation
, formed last spring by guitarist-composer Adam Levine.
"I was a studio musician in L.A. before moving here about seven years ago and played on a lot of TV shows and films. I also taught at the Grove School of Music, Musicians Institute, and the National Guitar Workshop, as well as did guitar and music seminars around the country," explained Levine. "Our next big gig is a two hour concert at the Paso Robles Inn Ballroom on Sunday, Jan. 31 (3 to 5 p.m.)"
The group also features Dave Becker on saxes, clarinet and flute; Brett Mitchell on keyboards; Bill Wingfield on electric and acoustic bass; and Dean Giles on drums and percussion.
They play everything from Brazilian samba to urban funk, from Americana to the straight-ahead sounds of be-bop.
"You'll hear the influences of Pat Metheny, Tower Of Power, Steely Dan, and Miles Davis," added Levine, who composed much of the music, though compositions penned by Brett Mitchell and Bill Wingfield are sure to be heard as well. Local singers occasionally sit in for a tune or two."
Next, the group plans to hit the road and tour out of the county, and a CD is being planned for release sometime later in the year.

PHOTO COURTESY OF MINKA

RETURNING TO THE SCENE OF THE CRIME : Minka, shown here at Frog and Peach on Jan. 7, will get the crowd rolling again on Jan. 28.
More music…
Über-cover band extraordinaire Minka returns to Frog and Peach this Thursday, Jan. 28. I asked their saucy singer Amanda Johansen what was new with the band: "Well, I think I have a female stalker, I've bought a new dress for the occasion, and Dan's not planning on wearing underwear for the gig. Oh, and our new covers are by Carrie Underwood and Etta James, and we'll be playing our original song too!" Sam Sharp and the Trade-Ins, who I happened to see a few weeks ago, will open the show. Sharp, you may recall, fronted the popular local soul rock act Joose, and the Trade-Ins are the three members of Butch Boswell's old act Virgil Cane. Sharp's a proponent of recycling, though it doesn't hurt that the Virgil Cane guys are all top-notch players. The music kicks off around 10 p.m.
Downtown Brew has ska, punk, reggae act The Supervillians hitting the stage this Thursday, Jan. 28 (7:30 p.m.; all ages; $8 presale or $10 at the door). The band has been touring almost nonstop since the release of their sophomore effort, Massive, in 2008.
PHOTO COURTESY OF CASH'D OUT
THE MEN IN BLACK : Johnny Cash tribute act Cash'd Out returns to Downtown Brew on Jan. 29.
Johnny Cash tribute act Cash'd Out
returns to DTB this Friday, Jan. 29
(8 p.m.; 21-and-older; $10). They take on the Man in Black's early material with the sort of down and dirty aplomb that won Cash fans at prisons all over America.
PHOTO COURTESY OF THE DIRTY PINK SLIPS
JUMP FOR JOY : On Jan. 29, Sweet Springs Saloon hosts all-girl quartet the Dirty Pink Slips (pictured), with Tall Cans and Teenage Sex opening.
Girl rock is coming, and its battle cry is "No prisoners!" This Friday, Jan. 29
, Sweet Springs Saloon hosts all-girl quartet the Dirty Pink Slips
, with Tall Cans and Teenage Sex
opening the 9 p.m. ($5 cover; 21 and older). The Dirty Pink Slips "play indie-rock originals you can dance to, plus select covers from the halcyon days of rock and punk." Tall Cans and Teenage Sex is a "burgeoning punk-rock power-trio [that] grinds out hardcore originals reminiscent of Minor Threat, 7 Seconds, and the Adolescents."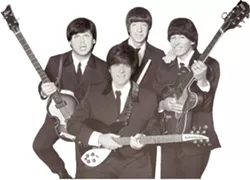 PHOTO COURTESY OF YESTERDAY
THE FAB FACSIMILE : On Jan. 30, see Yesterday—A Tribute to the Beatles at the Clark Center.
Who doesn't love the Beatles? This Saturday, Jan. 30
, Yesterday—A Tribute to the Beatles
appears at the Clark Center at 8 p.m. (Call 489-9444). Delivering Beatles hits from 1964 to 1970, Yesterday is considered the #1 Beatles tribute act in the world!
Get your jazz fix when sax and flute virtuoso Gary Foster plays the next Famous Jazz Artist Series concert at the Hamlet this Sunday, Jan. 31. Foster's considered one of jazz music's most honored exponents of the "cool school." He's won countless awards from the nation's leading jazz magazines, and will be joined by pianist Joe Bagg as well as local stars Dylan Johnson (bass) and Darrell Voss (drums). Series co-producers Charlie and Sandi Shoemake (vibraphone and vocals) will also be on hand. There's a 4 p.m. show ($15), a 7:15 p.m. show ($12), or see both for $20. Call 927-0567 for reservations.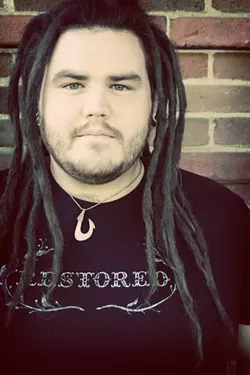 PHOTO COURTESY OF KYLE WILLIAMS
CHICO'S JACK JOHNSON : Kyle Williams will bring his original acoustic soul and pop tunes to Frog and Peach on Jan. 31; Señor Sancho's on Feb. 1; Steynberg Gallery on Feb. 2; and Linnaea's Café on Feb. 3.
Chico-based singer-songwriter Kyle Williams
will be bringing his original acoustic soul and pop tunes to Frog and Peach this Sunday, Jan. 31
at 10 p.m. He'll play again on Monday, Feb. 1
at Señor Sancho's in Paso (5 p.m.), Tuesday, Feb. 2
at Steynberg Gallery (6:30 p.m.), and Wednesday, Feb. 3
at Linnaea's Café (8 p.m.). Jack Johnson, John Mayer, Tyrone Wells, Jason Mraz, and Ben Folds are a few of his influences.
The Ragged Jubilee returns to Downtown Brew this Wednesday, Feb. 3, with opening act Candle (7 p.m.; all ages; $6 presale or $7 at the door). Though together for only a little over a year, Jubilee's Ethan Burns (guitar and vocals), Aaron Wick (drums), Chandler Jacob (bass), and Philip Wahl (banjo) have already developed a signature sound.
Glen Starkey is focusing his mind like a laser beam, but what's coming out looks more like a penlight with a weak battery. Recharge him at gstarkey@newtimesslo.com.
CD Reviews

Beach House—Teen Dream
While their moniker may suggest buoyant vibrancy and carefree storylines, Beach House is anything but. Balancing hypnotic, ethereal melodies over '80s synth-pop and reverb saturated guitars, the mood instead feels appropriate for rainy days and longing. With their third album, Teen Dream, the duo of vocalist Victoria Legrand and multi-instrumentalist Alex Scally continues the atmospheric haunting of their early records with a bit more sonic sophistication. Where their last album, Devotional, sounded like a ghostly dirge, Teen Dream offers a bit more aural radiance. "10 Mile Stereo" builds past its minimal opening of a shimmering guitar locked in repetition to the swelling grandeur of crashing cymbals. The heart of Beach House is still Legrand's suave, velvety vocals. On "Lover Of Mine," she displays a full-range, from a smoky tenor to feather-light upper registers. You surrender to siren romanticism helplessly and with no regrets. They're coming to town on April 15. Learn the album now and don't miss out.
DJ Shadow—Live From Los Angeles: October 31, 2009
DJ Shadow has covered a lot of musical ground. He jump-started DJs' investigation of funk 45s with a collaborative mix with Cut Chemist. His passion for Bay Area and old school hip-hop has filled a number of mixed CDs, and his own album production cross-stitches a number of musical genres together to create a flawless instrumental mix that's both modern and throwback in the same beat. So with a featured set for KCRW's Halloween party, Shadow forgoes over-played top 40 and dishes out a mind-blowing set, spun live across three turntables. After splicing the Zombie's "Time Of The Season" into Chuck Brown's "Busting Loose," he jumps right into Boogie Down Production's "Jack Of Spades," lifting the instrumental beat of Bowie's "Let's Dance." Everything sounds flawlessly executed as he peppers his mix with electro, dubstep, drum & bass, and even heavy metal as Metallica gets chopped up with Kayne West vocals floating over top of it. A brash mix that will isolate anyone without an open ear for musical diversity.
—Malik Miko Thorne, of Boo Boo Records and mikovision.blogspot.com, where you'll find archived reviews and soundclips.