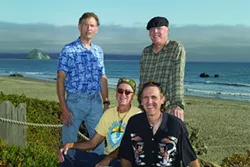 PHOTO COURTESY OF JAMES CONROY & THE MYSTERY BROTHERS
UNLOCK THE MYSTERY: Jim Conroy & The Mystery Brothers play Harmony Courtyard on Sept. 27.
When performer James Conroy first moved to the Central Coast in 1989, his first gig was as a strolling musician at the now defunct Harmony Pasta Factory (sidenote: That's where Christopher Moore was working just prior to the release of his first novel, Practical Demonkeeping). Harmony was a hip little spot, a dot of Shangri-La tucked among rolling hills and populated by artists.
"A sweet serenading time it was, and such a relief from the Gomorrah I had come from," explained Conroy in his press materials about his new album, Heart Searches, which he'll release to the public this Friday, Sept. 27 at 7:30 p.m. in the Harmony Courtyard ($15 includes a CD; reservations at 927-8330) with his band James Conroy & The Mystery Brothers.
"After each set, I would take a step outside into the country evening, breathe the fresh air and thank the Great Mystery for leading me here," he recalled. "Unfortunately, gigs don't last forever in Harmony, and I have witnessed several demises take place in the little town with a population of 18. For many years, I had a P.O. Box there (until the Post Office said bye-bye) and would keep track of the goings on in Harmony when picking up my mail. After one of those demises, there seemed to be a long dormant period, but recently I detected life returning to Harmony. So, I chose to have the Heart Searches release party there because it's still about the sweetest spot around. It feels a little like going home, and isn't that where we all want to be?"
James has certainly made the Central Coast his home these past 24 years. In addition to his many bands, he's written a memoir and appeared in several productions at Cambria's venerated Pewter Plough Playhouse. This Mystery Brothers album, however, has been long in the making.
"I witnessed several demises of my own while making Heart Searches," he continued. "There were several stops and starts for various artistic and financial reasons, and the whole process took about seven years. However, it would call to me from its digital universe, and I knew I must finish what I started. This year with three new songs and some newfound resolve, we made it. The CD contains 12 original songs mostly from recent times and are of some undefined style I will call my own, which is made from all the musical worlds I have camped out in over the years. The theme is centered in the heart and the search for love, both romantic and cosmic."
The album opens with "For You," with a light jazzy sound, vaguely Latin or Calypso, and punctuated by Dave Becker's flute and Darrell Voss's crisp percussion. The next song, "Where the Celtic Cactus Grows," also has a jazzy Latin sound.
As for Conroy, he has a warm, full baritone voice, and with harmony backing vocals by keyboardist Bruce Beck and bassist Billy Baxmeyer, there's an undeniable lushness to this sound. It doesn't hurt that Conroy has tapped some amazing guests for the recording, including Gilles Apap (violin) and trumpet players Randy Johnson and Mitch Latting.
"Gypsies by the Sea" features some of Apap's soaring violin. These are essentially adult contemporary sounds that often drift into musical theater territory. Sometimes the tunes border on kitschy, but Conroy's delivery is earnest enough to be forgivable.
"Volcano Lullabye" is an example of one of his more musical theater songs, and it could be a missing track from South Pacific. The same could be said for "Baja," a galloping tune with excellent keys by Bruce Beck. It's another missing track from a '50s musical.
"Raining in my Soul" borders on maudlin, but these are easy-to-listen-to songs. "High Road Home" really goes big thanks to Randy Johnson's trumpet. The sound on many of these songs is not unlike Joe Jackson's mid-career work on albums like Night and Day or Big World.
"Universal Prayer" is indicative of some of the broadly stated lyrics: Sailing on a sea of grace like a child at play, in a dream we all say a universal prayer: Oh maker divine, hold us now for we are thine.
It can get a little hokey, but if you set aside your cynicism and open your heart, you can lose yourself in Conroy's message.
I especially like Conroy's foray into a western blues sound on "Leavin'," which features Dorian Michael's slide guitar and Conroy's harmonica. "Light of Your Love" has great keys by Beck. "Mystery of Life" is another vaguely western sound layered with Apap's blistering violin.
All told, this is a fine album by a tireless performer who's become a real part of the artistic fabric of our community.
"The Mystery Brothers were born five years ago when drummer Tracy Morgan brought bass player Billy Baxmeyer to keyboardist Bruce Beck and me," continued Conroy. "It was love at first jam, and we've been getting together regularly since, with several changes in the drumming category. Currently we have Paul Trent on congas but will be adding Daryl Vandruff on drum kit for the release party. We have been less than aggressive in the gigging department, but our favorite ones this year have been the Sea Glass Festival in Cayucos and the Morro Bay Community Garden Party. With the release of the CD, we plan to be on the scene a little more often."
If you want to make a night of it, call the Harmony Café and make dinner reservations (924-1219). You can also buy concert tickets at the Cambria Music Box Shoppe and Boo Boo Records. If not sold out, tickets will be available at the door.
Jazz hands!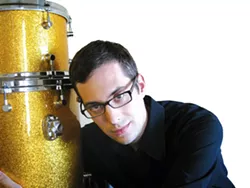 PHOTO COURTESY OF MATT SLOCUM
JAZZ PRINCE: azz drummer Matt Slocum leads his trio, with guest saxophonist Aaron Wolf, at Cuesta College's Experimental Theater on Sept. 27.
There's no denying SLO County is a jazz Mecca, mainly because between Cuesta College and Cal Poly's music departments, not to mention some excellent high school and community music programs as well as several exceptional private music studios, SLO County pumps out great jazz players like Stephen King pumps out scary stories. And along with all these jazz players comes a lot of jazz fans, who are in for a real treat this Friday, Sept. 27 at 7:30 p.m. when the Matt Slocum Trio with guest saxophonist Aaron Wolf plays Cuesta's Experimental Theater (tickets online at cpactickets.cuesta.edu; $12 general or $7 for students, seniors, and SLO Jazz Fed members).
"They will be playing new music from Matt's upcoming recording Black Elk's Dream (to be released early 2014)," said Wolf.
Slocum, an award-winning drummer and composer, is definitely hot on the jazz scene right now. His ensemble has toured throughout North America and Europe at venues such as Yoshi's, the Blue Note, the Saratoga Jazz Festival, Jazz at Lincoln Center, the Earshot Jazz Festival, the Twin Cities Jazz Festival, and the Jazz Bakery. His compositions have received grants and commissions from the American Music Center, the Puffin Foundation, New Music USA, and Meet the Composer.
Slocum was born in St. Paul, Minnesota, and though his first instrument was piano, he began playing the drums at age 11. In high school, he was introduced to jazz through recordings by Max Roach and Philly Joe Jones. A full scholarship to the University of Southern California led to studies with Peter Erskine, Joe LaBarbera, Alan Pasqua, and John Clayton. He graduated in 2004, stayed in California for three years, but eventually moved to New York in fall 2007.
His debut recording Portraits (featuring Gerald Clayton, Massimo Biolcati, Walter Smith III, Jaleel Shaw and Dayna Stephens) was released in January 2010. All About Jazz-New York raved, "With this excellent premiere, Slocum steps out of the box as the full package," while All Music Guide wrote, "This auspicious debut should put Matt Slocum's name firmly on the jazz map." After the Storm, his follow up recording, was released in October 2011, and again received high marks from Downbeat, JazzTimes, Los Angeles Times, and Jazzwise among others.
Jazz fans aren't going to want to miss this sneak peak into Slocum's third album!
Country royalty
Seeing Emmylou Harris or Rodney Crowell playing by herself or himself would be treat enough, but this Saturday, Sept. 28, Cal Poly Arts is serving up both these artists at 8 p.m. in the Performing Arts Center's Cohan Center (Call 756-4849 or order online at calpolyarts.org for $44 to $80 tickets).
The duo is touring in support of their new album of duets, Old Yellow Moon, which was released last spring to much critical acclaim. It spent two weeks atop the Americana Music Association's airplay chart, and NPR Music called it "classic in every sense of musical accomplishment: from their gorgeous singing and inspiring studio performances to their excellent choice of material. It hearkens back to classic recordings like Harris's Elite Hotel and Crowell's Diamonds and Dirt, and brings the best out of the two veterans."
The two have quite a history. In 1975, Crowell joined Harris's band a guitarist and harmony singer, but this marks their first "official" collaboration. Producer Brian Ahern (Johnny Cash, George Jones, Roy Orbison) was onboard, and world-renowned musicians Stuart Duncan, Vince Gill, and Bill Payne were special guests.
Harris is a 12-time Grammy winner and Billboard Century Award recipient with more 25 albums to her credit. She was inducted into the Country Music Hall of Fame in 2008. Crowell is a multi-Grammy Award-winner whose songs have been recorded by Johnny Cash, Norah Jones, Etta James, and Grateful Dead.
It's hard to overstate how important these two artists are in the scheme of American country music. Don't miss them!
She's still got it!
PHOTO COURTESY OF BONNIE RAITT
BLUES MAMA: Blues and pop superstar Bonnie Raitt plays the Vina Robles Amphitheatre on Oct. 3.
Bonnie Raitt was just 22 when she released her 1979 self-titled Warner Brothers Record debut, a critically acclaimed collection of mostly blues and pop covers that had scene makers predicting big things for her. Though her early albums sold respectably, her 1989 album Nick of Time proved to be the commercial breakthrough she'd been waiting for. After that, her career soared and is still going strong. She's nearly 64 now, but the years have done little to impede her fiery guitar work and richly nuanced voice.
She certainly comes from performer stock. Her father is Broadway singer John Raitt (The Pajama Game, Carousel). She picked up the guitar at 12 and immediately had an affinity for the blues. When she started performing in clubs after dropping out of Radcliffe after two years, she was one of only a handful of female bottleneck slide players. Soon she was performing with Howlin' Wolf, Sippie Wallace, Mississippi Fred McDowell, and other blues legends.
Some things you may not know about Raitt is she's a Quaker who's played hundreds … maybe thousands … of free benefit concerts. She also founded M.U.S.E. (Musicians United for Safe Energy). Maybe you remember in 1979 when she held a huge concert in Madison Square Garden with fellow eco-warriors Jackson Browne, James Taylor, and The Doobie Brothers. Later she founded the Rhythm & Blues Foundation, which dedicated itself to raising awareness and money for pioneering musical artists left impoverished in their old age. The woman is a real humanitarian!
Her most recent album, 2012's Slipstream, is her 19th, which marked her return to the recording studio after a seven-year hiatus. It sold more than a quarter of a million copies, proving that she's as relevant as ever. It also won the Best Americana Album Grammy Award for 2012, her 10th Grammy! Why'd she wait so long to get back into the studio?
"I took a hiatus from touring and recording to get back in touch with the other part of my life," she said in press materials. "On the road, under stress, it's hard to stay in balance and move forward."
The good new is, she's back on the road and headed to Vina Robles Amphitheatre on Thursday, Oct. 3 with opening act Marc Cohn. Better yet, tickets are still available, which is good news because her Oct. 6 show at Mountain Winery is sold out, as is her Oct. 9 show at the Marin Center and her Oct. 10 show at Laxson Auditorium. Tickets for the 8 p.m. show cost between $53 and $103. Visit vinaroblesamphitheatre.com to buy your tickets!
Get your New Wave fix!
PHOTO COURTESY OF GLENN TILBROOK
COOL FOR CATS!: Glenn Tilbrook of Squeeze plays Sept. 28 at SLO Brew.
Not only does SLO Brew have The English Beat returning on Friday, Sept. 27 (7 p.m.; 21-and-older; $21 presale or $23 at the door), but Glenn Tilbrook of Squeeze plays on Saturday, Sept. 28. Anyone who's read this column knows I'm gaga for Dave Wakeling and The English Beat. All the albums are packed full of incredible songs, and Wakeling's current band is tight, efficient, and mondo fun. They never fail to deliver an excellent show. Trust me, you'll lose 10 pounds dancing. The real question is, How will Glenn Tilbrook be?
He was the lead singer and guitarist of Squeeze, who with Chris Difford delivered amazing songs such as "Cool for Cats," "Up the Junction," "Tempted," "Labelled with Love," "Black Coffee in Bed" (a favorite!), "Another Nail in my Heart," "Pulling Mussels (From the Shell)" (another fav!), and "Hourglass." I still have all the vinyl, and I still pull it out and play it every once in a while.
I have no idea how he is live, what material he draws from, but who cares? He's an artist I always wished I'd seen in concert, and now's my chance! Joe Michelini opens this show.
In addition to these two New Wave icons, SLO Brew also has the return of jangly alt-rockers act The Ragged Jubilee on Thursday, Sept. 26 (7:30 p.m.; all ages; $10 presale or $14 at the door) with Solwave and King Walrus & The Magicians opening.
Heaps upon heaps of songwriters …
This is a good week for fans of singer-songwriters as the free, (mostly) all-ages Songwriters at Play showcases just keep on coming all week long.
Plastic Arts is the headliner at the Shell Cafe on Thursday, Sept. 26 (6:30 p.m.). Featuring Bay Area songwriter Kyle M. Terrizzi, Plastic Arts draws comparisons to Jeff Buckley and John Mayer. L.A.'s Kiki Ebsen will also perform.
Folk rocker Kristen Black headlines the showcase on Saturday, Sept. 28 at Alegria Wine & Ware (4 p.m.; 21-and-over for this one, kids). Black, a Cal Poly chemistry professor, has rocked the club scene, put out a folk album with fellow singer-songwriter Carol Lowell, and most recently has been getting back into the songwriter scene to showcase her smartly penned, often funny tunes. Stephen Teckenoff, and Ynana Rose of the Swingin' Doors are guest artists.
PHOTO COURTESY OF BRUCE KAPLAN, CLAUDIA RUSSELL, AND MARK PETRELLA
BAY AREA BALLADEER: Claudia Russell (with band mates Bruce Kaplan, left, and Mark Petrella, right) headlines the Songwriter at Play showcase at Sculpterra Winery Sept. 29.
Claudia Russell headlines the showcase at Sculpterra Winery on Sunday, Sept. 29 (1 p.m.). The Bay Area balladeer Claudia Russell is touring in support of All Our Luck Is Changing, her new album produced by Peter Case. On it, she "delivers a whimsical melting pot of traditional and contemporary styles, from earnest folk to sweet jug band blues, driven by her deft guitar work and a versatile, expressive voice that tips the hat to artists as diverse as Dolly Parton, Suzanne Vega, and Aretha Franklin," according to press materials. She is accompanied by the Folk Unlimited Orchestra, which includes Bruce Kaplan on mandolin, guitar, and vocals; and Mark Petrella on string bass. Mark Davis, Karoline Hausted, and L.A.'s Kevin Quinn will guest star.
Julian Temple headlines the showcase at Bon Temps Creole Café in SLO on Monday, Sept. 30 (6:30 p.m.). California native Julian Temple has released four albums with his New Zealand band, but since his return he's been playing lot of solo gigs. Special guests include Amie Richie, and Nick Motil of the duo Jane & Michael Banks.
More music …
Cosy Sheridan is coming to Música Del Río House Concerts in Atascadero on Friday, Sept. 27 at 8 p.m. (call 466-6941 or visit musicadelrio.org; reservations required; $15 donation at the door).
"We are blessed with Cosy Sheridan kicking off our 2013-14 season," said organizer Fred Munroe. "One of our key tactics has often been to get your attention in September with someone a little less conventional. Cosy may be the only singer-songwriter to join us at Música Del Río, who has been featured by Dr. Demento. She may be the only musician who was ever allowed back into Moab, Utah (her home), after being on the Dr. Demento radio program." The Albuquerque Journal described her as, "a Buddhist monk in a 12-step program trapped in the body of a singer-songwriter." The multi-award winner writes great folk songs about the absurdity of contemporary American society.
If you're in the mood for some great Dixieland, check out The Basin Street Regulars, The Mission Gold Band, and the Pacific Swing Band from 11 a.m. to 4 p.m. on Sunday, Sept. 29 in Pismo's Vets Hall. Admission is $10 ($5 for members).
Get your punk rock fix on Sunday, Sept. 29 when Frog and Peach hosts The Bar Fly Effect, Crying 4 Kafka, and Sexy Time Explosion ($5; 21-and-older).
Keep up with Glen Starkey via twitter at twitter.com/glenstarkey, friend him at facebook.com/glenstarkey or myspace.com/glenstarkey, or contact him at gstarkey@newtimesslo.com.