I wonder how many lives have been saved by music, how many lost souls pulled themselves back from the brink of nothingness thanks to the plaintive wail of a performer laying it all out—raw, naked, real. For Janiva Magness, that moment came more than four decades ago at a Minneapolis Otis Rush show, when the then-homeless and underage teen snuck into a club and was transfixed.
"Otis played as if his life depended on it," Magness said in biographical materials. "There was a completely desperate, absolute intensity. I knew, whatever it was, I needed more of it."
PHOTO BY JEF JAISUN
SHE SHALL OVERCOME : Janiva Magness used the blues to transcend her difficult life; she'll show you how it's done May 9 at the SLO Vets Hall.
At that point in her life, she'd already experienced too much. Born in Detroit, she'd lost both her parents to suicide by the time she was 16, and she was either on the streets or bouncing from one foster home to another until she got pregnant at 17 and was forced to give her baby up for adoption.
Her solace was music—her father's collection of Motown and more. After her experience with Rush, she attended every blues concert she could, drifting toward the music business slowly but surely, eventually studying to become a sound engineer as she worked in a St. Paul recording studio. It was there that she was encouraged to do some background singing for the likes of Kid Ramos and R.L. Burnside, and soon her singing took her to Phoenix where she formed her first band, the Mojomatics. By 1986, she was singing in Los Angeles, and more than a decade later she finally released her first album, It Takes One to Know One (1997). Last year she released Original, her 10th album.
Do people sing the blues to escape their problems or wallow in them? I guess that depends on the person, but for Magness—now 58—her music seems to have lifted her up and out of her life's early darkness and continues to sustain her despite the end of her 17-year marriage, the recent deaths of several close friends, and her own neck surgery. She's a survivor!
Her music is deeply emotional, delivered with conviction and passion. In a music industry all too often soaked in glitz and tarted-up like a cheap whore, Magness lays it down like she saw Rush do it: raw, naked, real.
"We need real music now more than ever because it gives us strength to pull through tough times," she said in her bio. "We need it in a real bad way. Blues is a ray of hope. It articulates what's lacking in peoples' lives."
This Saturday, May 8, the SLO Blues Society presents Janiva Magness at 8 p.m. in the SLO Vets Hall. Burning James & the Funky Flames will open the show (tickets are $20 for Blues Society members and $25 for the general public, at the door or in advance at Boo Boo Records and Cheap Thrills). SLO Dance offers free dance lessons at 7:30 p.m. You must be 21 or older to attend.
PHOTO BY MIKE MELNYK PHOTOGRAPHY
BLUEGRASS RUMBLE: The Parkfield Bluegrass Festival with Snap Jackson (pictured) and 14 other performers happens May 7 through 10.
Bluegrass shakedown!
It's not too late to roll out to Parkfield this weekend as the 17th Annual Parkfield Bluegrass Festival rumbles to life in California's earthquake capital. I mean, it's less than two hours away, and you'll quickly be transported into one of the best bluegrass festivals around, featuring acts such as Joe Craven & the Sometimers, Bluegrass Etc., Snap Jackson and the Knock on Wood Players, The Sonoran Dogs, The Hay Dudes, Next Generation, Steep Ravine, The Brothers Barton, Bean Creek Bluegrass, Sidesaddle & Co., Amaya Rose & The Gold Rush, The Honeysuckle Possums, Amber Cross, Wild Sage, and Gerry Higbies.
The four-day event runs from Thursday, May 7, through Sunday, May 10, and single-day passes are $25 for Thursday and Sunday and $35 for Friday and Saturday, or you can buy full festival passes for $105, which includes camping! Visit parkfieldbluegrass.org for more info or to buy tickets to this great, family friendly event. Tickets are also available at the gate.

More music …
Givers & Takers from Santa Barbara and King Cole from Lompoc invade SLO Town this Thursday, May 7, when they share the bill at Frog and Peach. G&T's psychedelic sounds will leave you tripping through swirling guitar kaleidoscopes. King Cole's indie dream pop feels like running through tall grass with your eyes closed. Don't take the brown acid!
The Harmony People—Anjalisa Aitken and Gary Garrett—return to the Central Coast for a series of shows starting this Thursday, May 7, at the Shell Café (6:30 p.m.; all ages; free). The duo's amazing story began in 2013 when Garrett was performing and Aitken began harmonizing from the crowd! They immediately knew they had something special. You can also hear them Friday, May 8, at D'Anbino Cellars in a tribute to Bob Dylan (7 p.m.; $12); on Monday, May 11, at Bang the Drum Brewery (6:30 p.m.; free); and on Sunday, May 24, at Sculpterra Winery (1 p.m.; all ages; free).
The Mission in San Miguel is haunting and amazing in its own right. Now imagine being there when the St. Petersburg Men's Ensemble, the renowned male vocal quartet from Russia, presents an a cappella concert on Friday, May 8, at 7 p.m. You'll hear a four-male-voice arrangement of Sergei Rachmaninoff's "All-Night Vigil" as well as traditional Russian folk songs. A goodwill offering of $15 for the artists will be greatly appreciated. They'll also appear on Saturday, May 9, at 7:30 p.m. in St. Benedict's Episcopal Church in
Los Osos.
PHOTO COURTESY OF PATCHY SANDERS
FOLK ORCHESTRA!: Oregon-based Patchy Sanders plays May 8 at Coalesce Bookstore and May 9 at Castoro Cellars.
Oregon-based folk orchestra Patchy Sanders plays two SLOfolks shows this weekend. On Friday, May 8, see them at Coalesce Bookstore (6:30 p.m.; $20; email coalescebookstore@gmail.com); and on Saturday, May 9, they'll play Castoro Cellars (7 p.m.; $20; email slofolksmusic@gmail.com). According to press materials, they "serve an incredibly unique soup of songs, from storytelling dreamlike ballads to foot-stomping bluegrass tunes and everything in between."
Multi-talented pianist and entertainer Mimi Blais plays ragtime, jazz, folk, blues, and classical pieces and has been called the new "Victor Borge" for her mix of music and comedy. This Saturday, May 9, the Queen of the Ragtime Piano plays a 2 p.m. house concert ($20; call 528-6557 or email sstern3126@aol.com for details).
Sometimes cruising down to the beach with your guitar and playing for fun can open up a whole world. Take Brian Jeffery, for instance. Near sunset, he would head down to a bench overlooking Shell Beach and play. After awhile, people stopped to listen. Then people showed up with instruments to jam. Now Jeffery and his cadre of cohorts have released an album, Living the Dream, which they'll release this Saturday, May 9, at Branch Street Deli (5 to 8 p.m.). Filled with earnest, folksy, and downright endearing songs, the album is a testament to the joyous nature of sharing music.
Is it really the 32nd Annual San Luis Obispo County Jazz Federation Piano Jazz Showcase? It is! And it happens this Saturday, May 9, in the new Unity Concert hall (1130 Orcutt Road, SLO) at 7:30 p.m. (doors at 7 p.m.; $20 general admission, $15 for Jazz Fed members, or $10 for students; at Boo Boo's, brownpapertickets.com, or the door). The showcase features some the finest jazz piano artists in the county in trio settings—folks like Bob Harway, George Garcia, Mark Bocchicchio, Janis Johnson, Madison Scott, David Manion, and Craig Updegrove. Drummer Darrell Voss and bassist Dylan Johnson will provide support.
Música Del Río House Concerts welcomes David Luning this Saturday, May 9 (7:30 p.m.; $20; call 466-6941 for info and reservations). The Sonoma County-based singer-songwriter "is part of the new generation of indie musicians who blur the genre lines of Americana/alt-country, folk, and blues," concert organizers say.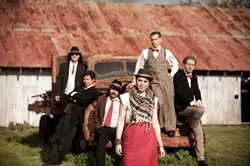 PHOTO COURTESY OF ROYAL JELLY JIVE
1940S' CALLING : Good Medicine Presents hosts Royal Jelly Jive on May 14 at SLO Brew. Expect "Gypsy rock and soul jive."
If you wanted to see melodic alt-rock/pop punk act Yellowcard this Friday, May 8 at SLO Brew, it's sold out. Instead, check out some hip-hop on Saturday, May 9, with Wynn (7 p.m.; all ages; $10 presale or $15 at the door) and opening acts How Flyy, Zee Will, Prolix, Kam Cooks, Dax the Aktivist, Kacey Family, and DJ Sevens. Then the club will be dark until next Thursday, May 14, when Good Medicine Presents brings in Royal Jelly Jive (7:30 p.m.; all ages; $10 presale or $11 at the door). According to their press materials, the band plays "an intoxicating mixed drink of Gypsy rock and soul jive" as they dive "deep into the old school throwback sounds of the 1940s with a groovy new twist. Rapturous horns, sleek bass, elegant keys, and swingin' cymbals are just some of the sweet tastes you may devour if you're lucky enough to catch them. All fronted by the sultry and soulful vocals of Lauren Bjelde, this band will have you stompin' your feet with crooked delight until the moon comes back up again. Go get yourself some of that Royal Jelly Jive now!" The Kenny Taylor Band and Jamie Kent will open.
Back Bay Betty is gearing up to release their debut album It's All Your World, but in the meantime, they'll play several shows featuring their all new originals, classics, and funky blues. See them Saturday, May 9, at D'Anbino's Cellars (7:30 to 10 p.m.; $10; 21-and-older); Friday, May 15, at the 97.3 The Rock fundraiser at Central Coast Music (7:30 p.m.); Saturday, May 23, at Morro Bay High School's Bands On The Run at 9:30 a.m. for the relay race; and Sunday, May 31, at Idler's Relay For Life Fundraiser at Opolo Winery (5 to 7 p.m.; $10), titled Red, White and Funky Blues night—A Benefit for The American Cancer Society.
LA-based Trio Olio calls themselves "a cross between Red Hot Chili Peppers, Dave Matthews Band, and Maroon 5," and this Tuesday, May 12, they'll play Frog and Peach (10 p.m.; 21-and-older; free).
PHOTO COURTESY OF THE PIANO GUYS
FOUR PIANOS! : YouTube sensations The Piano Guys play May 13 at the Performing Arts Center.
Four Utah dads tried to break the Internet with their series of highly original music videos, and they nearly succeeded! Called The Piano Guys, they're Internet sensations (3 million YouTube subscribers, yo!), and now they score gigs in big concert halls. For instance, they play Wednesday, May 13, at 7:30 p.m. at the Performing Arts Center. Tickets range from $40 to $75 (call 756-4849 or order online at calpolyarts.org).
Brazilian-born brothers Sérgio and Odair Assad, aka The Assad Brothers, will bring their brilliant guitar work to the Performing Arts Center as part of their 50th Anniversary Tour on Thursday, May 14 (7:30 p.m.; $24 to $45; call 756-4849 or visit calpolyarts.org). You hear the term "virtuoso" thrown around a lot. These two are the real deal. A free pre-concert lecture led by Dr. Craig Russell begins at 6:30 p.m. in the PAC.

Keep up with Glen Starkey via twitter at twitter.com/glenstarkey, friend him at facebook.com/glenstarkey or myspace.com/glenstarkey, or contact him at gstarkey@newtimesslo.com.