When the Lucia Mar Unified School District denied Jared Springer, an Arroyo Grande high school senior battling brain cancer, a chance to attend his senior prom, caring members of the SLO community knew they needed to give the story a new ending.
On May 8, Frank Springer, Jared's father, published a Facebook post titled "Jared's Journey Denied" that explained how the Springers were notified at the last minute by the school district that Jared was ineligible for school functions, including the May 7 prom, because of district policies related to medical absences.
"The last week in rehab all Jared could talk about was going to prom," Frank wrote. "As a parent I understand there has to be policies. I understand the need for rules. I just don't understand why there is no compassion or importance given to kids and families that are suffering."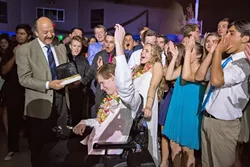 PHOTO COURTESY OF BLESSED BEYOND BELIEF PHOTOGRAPHY
PROM KING: Friends, family, and state Assemblymember Katcho Achadjian surround Arroyo Grande High School senior Jared Springer as he's crowned Prom King on May 27. Brighten a Corner ministry threw the event for Jared, who's battling brain cancer, after the Lucia Mar School District barred him from attending Arroyo Grande's prom.
Jared's difficult journey began in 2014, when he collapsed at school from a stroke that the family later learned was a result of brain hemorrhaging. Jared was in a coma for 20 days, and went on to endure 10 months of chemotherapy treatment for a brain tumor. He uses a wheelchair today and has limited physical mobility.
Soon after Frank's Facebook post, Brighten a Corner Ministry, a Central Coast nonprofit, went to work to organize a new prom on May 27—just for Jared. "Jared's Prom" gathered steam across SLO County, attracting hundreds of volunteers and local businesses to chip in services. Even national media outlets like Today.com caught wind of the story and published articles that went viral.
"The community wanted to do a prom for Jared," Frank told New Times. "By May 9, there was a 'prom committee.' It was crazy."
Brighten a Corner Ministry instructed the Springers to do nothing more than "just show up." Mouintainbrook Church volunteered to host the event. The 500-plus available tickets to the prom sold out in flash. An after party was added, and those tickets went in minutes.
AmericanStar donated charter buses to pick up Jared and his friends at the Springer house. Old San Luis BBQ, whose owner Matt Pearce is a family friend, cooked up tri-tip sandwiches, salad, and corn pies while SLO Momma's Sweet Treats dished out the ice cream. Epic Entertainment provided a DJ and lights.
State Assemblymember Katcho Achadjian attended and crowned Jared Prom King. Chipotle, Melt My Heart grilled cheese truck, and California Pizza Kitchen provided the after-party grub while LA band Jet Trash rocked the joint into the wee hours of the night. Blessed Beyond Belief Photography documented the special night.
"If you could pick one word, it was just surreal," Frank said. "It created such a big memory for Jared."
While the prom was an unforgettable experience, Jared continues his uphill battle. He goes to physical therapy multiple times a week in hopes of gaining some mobility and brain functioning back. Doctors have his brain tumor stabilized—they can't safely eliminate it—but it needs to be closely monitored.
"When he turns 21 and his body stops growing, the tumor will stop growing on its own," Frank said. "The goal is that the tumor stays stable."
Frank hopes that the lessons learned from the Lucia Mar prom debacle (the district later apologized) will ultimately improve how students in similar circumstances are treated in the future.
"Some people don't have a voice and they fall through the cracks and you just never hear about it," he said. "Hopefully some of the effects would be, let's be more conscientious, considerate, and compassionate about situations like this."
Thanks to the outpouring of generosity of the community, a disappointing decision turned into an inspirational experience for everybody involved.
"One thing that we learned from this is that people care about people—this was proof of that," Frank said. "We feel very lucky and blessed to live where we do."
Fast Fact
Arroyo Grande Summer Concerts kick off with Mama Tumba Dance Party on June 12 in the Village of Arroyo Grande.
Staff Writer Peter Johnson wrote this week's Strokes. Send tips to strokes@newtimesslo.com.