For a lot of rock music fans, Uncle Tupelo (1987-1994) was their introduction into alt-country. Yes, Jason and the Scorchers had already combined punk and country in the early-'80s and the Long Ryders had helped create the L.A. cowpunk scene in the '80s too, but Uncle Tupelo's 1990 album No Depression finally codified the alt-country sound into something tangible and recognizable. The album title became another name for the genre.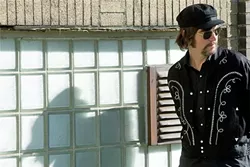 PHOTO COURTESY OF JAY FARRAR
SON VOLT RETURNS? : Son Volt frontman Jay Farrar will play songs from his former band's debut, Trace, in a trio setting at the Live Oak Music Festival on June 17.
Uncle Tupelo had two great songwriters in Jay Farrar and Jeff Tweedy, but rancor between the two led to Farrar leaving the band, whose remaining members led by Tweedy went on to form a "little" act called Wilco. Meanwhile, Farrar formed Son Volt, releasing Trace in 1995. The album only reached No. 166 on the Billboard Top 200 Albums chart, but it made the top 10 of Rolling Stone's critics' list and remains a groundbreaking and seminal album in the alt-country genre, which is why Farrar reissued the album last year on its 20th anniversary with eight additional demo tracks and a 1995 live-show recording.
On Friday, June 17, the Jay Farrar Trio will be playing songs from Trace at the Live Oak Music Festival at Camp Live Oak off Highway 154, about 80 minutes south of San Luis Obispo (visit liveoakfest.org for details and tickets).
This is a great album that still holds up. The lead track, "Windfall," is one of those ultimate driving songs you want blaring from your speakers as you sail along some deserted back road: "Now and then it keeps you running/ It never seems to die/ The trial's spent with fear/ Not enough living on the outside// Never seem to get far enough/ Staying in between the lines/ Hold on what you can/ Waiting for the end not knowing when// May the wind take your troubles away/ May the wind take your troubles away/ Both feet on the floor, two hands on the wheel/ May the wind take your troubles away// Trying to make it far enough/ To the next time zone/ Few and far between past the midnight hour/ Never feel alone, you're really not alone."
The lyrics are wonderfully impressionistic, the instrumentation punchy and potent, and Farrar's forlorn hangdog voice just right. The album's one radio hit, "Drown," reached No. 10 on Billboard's Mainstream Rock Tracks.
"Sky cracks open/ The walls falling through the floor/ Just as well to keep it/ A guessing game in store," Farrar sings. "You're with me now, will be again/ Other points in between/ And the cruel, cruel mornings/ Turn to days of swim or sink// If living right is easy, what goes wrong/ You're causing it to drown/ Didn't want to turn that way/ You're causing it to drown."
The album features one emotional gut-punch after another, with tracks like "Tear Stained Eye" and "Live Free." I can't wait to hear these songs live at Live Oak!
New Times spoke to Farrar by phone about the album and his upcoming concert.

New Times: You're being billed as the Jay Farrar Trio. Why not use the Son Volt name?
Jay Farrar: When we decided to tour in support of the reissue of Trace, I thought it best to present the songs in an elemental way, to boil them down to their essence. A lot of songs are, ah … we're kind of re-inventing them along the way.
NT: You're traveling as a trio, but on the Trace sessions you had a full band and a pedal steel and a fiddle. Now that you're playing the songs again, have you had to modify them to adapt to the more spartan instrumentation?
JF: Eric Harwood plays pedal steel and Gary Hunt is on fiddle, mandolin, and electric guitar, oh, and steel guitar on a couple songs where we do a dueling steel guitar thing that never happened on the studio version. It's a pretty expansive sound, and live it feels sort of like a Wild West shootout of steel guitars.
NT: When you decided to revisit Trace after 20 years, what surprised you most about the music? What kind of memories did it bring up?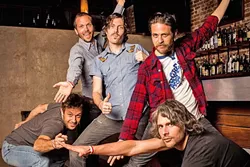 PHOTO BY ROSIE GUTIERREZ
WAKE UP!: The Brothers Comatose bring their Southwestern-tinged string band Americana sounds to Tap-It Brewing Co. on June 10.
JF: Listening back, I felt the band sounded really good, sort of visceral and not overly polished, which is the way a rock band should sound. I also remembered being ecstatic to be writing songs and getting to record with that kind of instrumentation—pedal steel and violin—which is the bedrock of so much of the music I had been listening to at the time.
NT: What did the song lyrics tell you about where you were at the time? Do you feel your sensibilities have changed over the years?
JF: Ideally everyone changes for the better, but I sort of hear the situation I was in at the time. I was in living in New Orleans and I see references to the all night radio station I would listen to, spending a lot of hours driving and thinking about music. Looking back, it was a good formative experience.
NT: After your work with Uncle Tupelo, Trace felt like a decided turn into somewhat more traditional country. Was that conscious?
JF: It was conscious in that I wanted to experiment with traditional instrumentation often found in country music, but I wasn't completely letting go of the background I'd come from—garage rock and lots of electric guitars.
NT: When you were recording Trace, did you expect "Drown" to be the hit single?
PHOTO COURTESY OF TOGETHER PANGEA
SNOTTY: On June 12, together PANGEA—a band that describes its music as "poppy, snotty, shitty, fitty, punky, stunky garage-pop and roll"—plays the Fremont Theater lobby.
JF: No, I never expected "Drown" to do well on radio. I thought maybe "Windfall" could be something, but ironically I think the instrumentation probably worked against it.
NT: You were born in Illinois where Uncle Tupelo formed. You still live in St. Louis. Do you think your Midwestern setting has influenced your sound?
JF: It does, particularly being located in St. Louis and doing a lot of touring. It's a good central location and the music of the region is omnipresent, so I suppose growing up here has an influence. I'm definitely happy living here from a logistical standpoint.
NT: One last question: Are you enjoying playing these songs you wrote 20 years ago?
JF: Absolutely, I'm enjoying it, but I think it goes back to the way they're being presented, which keeps them fresh for me.

Come down for the day or camp for the whole June 17 through 19 Father's Day weekend, but don't miss Jay Farrar at the Live Oak Music Festival!
Summer scenes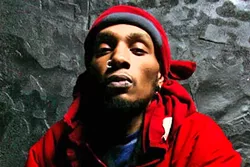 PHOTO COURTESY OF DEL THE FUNKY HOMOSAPIEN
GET FUNKY: Hip-hop artist Del the Funky Homosapien plays June 15, at Tap It Brewing Co.
Numbskull, Good Medicine Presents, or a combination of the two have once again teed up a huge slate of live music this week, the biggest show probably being The Brothers Comatose on Friday, June 10, at Tap It Brewing Co. (7 p.m.; 21-and-older; $16 presale at ticketfly.com or $20 at the door), with Moonshiner Collective opening.
They're touring in support of City Painted Gold on Swamp Jam Records, a terrific collection of bluegrass foot stompers and folksy mountain songs played with casual virtuosity.
"It's just one, big, extended Morrison music party," brothers and co-lead vocalists Ben and Alex Morrison (guitar and banjo respectively) said in press materials. Throw in bassist Gio Benedetti, fiddler Philip Brezina, and mandolinist Ryan Avellone and you've got a fiery string quintet that operates like a well-oiled machine.
"It all sort of started before we ever picked up instruments," Ben explained. "Our mom was in a folk quartet that sang beautiful songs in harmony. Alex and I would watch them rehearse for hours when we were kids."
The brothers began learning classic rock covers but soon drifted into Americana, added more players, toured relentlessly, and here they are!
PHOTO COURTESY OF MIKE RHODES AND HARD EIGHT
THE HARD WAY: Mike Rhodes and Hard Eight headlines a Songwriters at Play showcase on June 9 at Shell Café.
Good Medicine Presents and Tap It Brewing Co. also team up the day before when The Ragged Jubilee, the Shawn Clark Family Band, Happiness, and special guests play Thursday, June 9 (7 p.m.; all ages; $10). That's a whole lot of rockin' blues and country.
On Friday, June 10, Good Medicine Presents brings country act Truxton Mile to Tooth & Nail Winery for a pop-up concert (5 p.m.; free).
On Sunday, June 12, Numbskull and Good Medicine Presents bring together PANGEA—a band that describes its music as "poppy, snotty, shitty, fitty, punky, stunky garage-pop and roll"—with opening acts Meat Market and Royal Suns to the Fremont Theater (7 p.m.; all ages; $10 presale at ticketfly.com or $12 at the door).
And also on Sunday, June 12, Good Medicine Presents at Opolo Vineyards The Tipsy Gypsies (5 p.m.; free), an amazing blues, jazz, and pop act that can sounds like a combination of Django Reinhardt and Billie Holiday.
On Wednesday, June 15, hip-hop artist Del the Funky Homosapien and his Iller Than Most Tour with special guests Richie Cunning and Pure Powers comes to Tap It Brewing Co. (6:30 p.m.; all ages; $21 presale at ticketfly.com or $23 at the door) courtesy of Numbskull and Good Medicine Presents, who also have rapper Shwayze at Tap-It the next night, Thursday, June 16 (7 p.m.; all ages; $16 presale at ticketfly.com or $20 at the door), with Wildcard opening.
More music
PHOTO BY GUDMUNDOR VIGFUSSON
STRINGS AND THINGS: The Evie Laden Band brings their soulful American songs to the Red Barn on June 11.
Songwriters at Play hosts LA-based quintet Mick Rhodes and the Hard Eight on Thursday, June 9, (6:30 p.m.; all ages; free), at the Shell Café. They've been described "as AC/DC meets Lucinda Williams, then goes out on a bender with Paul Westerberg, only to find itself at a late night diner with Tom Petty, when out of the blue Ron Sexsmith sits down for pie, and they all somehow end up at Little Richard's hotel room listening to the Faces, watching the sun come up." Special guests include San Francisco's Hart Bothwell.
The Red Barn Community Music Series presents the return of the Evie Ladin Band this Saturday, June 11 (5 p.m. potluck, 6 p.m. show; all ages; $15 at the door). Ladin performs "soulful folk songs grounded in Appalachian old-time repertoire, seasoned in African-Diaspora roots, written from life in modern cities, blurring the lines between music and dance."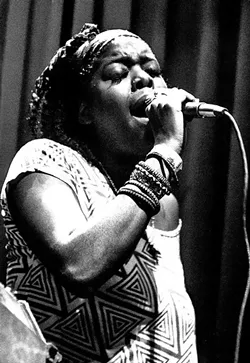 PHOTO BY DARWIN DENNY
THAT VOICE: The Monroe, featuring amazing vocalist Morgan Monroe, plays two shows at Hush-Harbor on June 11.
Newly revamped and sounding better than ever, The Monroe—a great pop, soul, rock, and beyond band—will play two shows at Atascadero's Hush-Harbor on Saturday, June 11 (seating at 6:30 and 8:15 p.m.; all ages; $20; call 540-0541 for required reservations). Fronted by Morgan Monroe and her stunning voice, the act also features the unusual musical genius of Dr. Isapony.
Get your punk rock on this Saturday, June 11, when Sleeping Tiger Fitness hosts Sex Stains (former members of Bratmobile), Bearcats, Hot Tina, and Off Center and the Holes play for your moshing or listening pleasure (7p.m.; all ages; $6).
The Central City Swing Band performs their annual Spring Concert in Orcutt's Unity Chapel of Light Church on Tuesday, June 14 (7:30 p.m.; all ages; donations accepted). Expect a program of swing and modern jazz performed by a 17-piece band with a vocalist.
Keep up with Glen Starkey via twitter at twitter.com/glenstarkey, friend him at facebook.com/glenstarkey, or contact him at gstarkey@newtimesslo.com.