The good news is, Jeff Bridges is every bit as cool as you hoped he'd be. When I heard he was returning to Fremont Theater next Friday, April 17 (7 p.m.; all ages; $30 to $55 at ticketfly.com), I begged and pleaded to get him on the phone for a minute. I had hoped to meet him when he first played SLO Brew a few years ago, but I couldn't even get near the stage much less get close enough to make out that familiar bearded mug.
This time around, I was told I could have a phoner as he was driving from L.A. back to his Santa Barbara home. He had my home number, and right on time I get a call from a private number.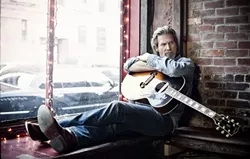 PHOTO COURTESY OF JEFF BRIDGES
ABIDE: Jeff Bridges & The Abiders play April 17 at the Fremont Theater.
"Hello, this is Glen Starkey."
"Hello," said that familiar voice. "How are you? Can you hear me? I have you on one of those speaker thingies."
"Yes, I can hear you," I lied, because I could barely hear him at all. I pushed the phone harder into my ear and tried to type his responses into my laptop one handed.
"First of all, I have to tell you my wife Anna says hello," I say, because she seriously said she'd murder me in my sleep if I didn't.
"Oh, that's nice. Tell her I said hello Anna."
Boom! Documented! Now I can sleep in peace! I wanted to start off with something near and dear to his heart, so I asked him about his work fighting hunger.
"Well, I started getting involved with the issue of hunger over 30 years ago. Back then, the intention was ending world hunger. We seemed to have had it handled here in the U.S., but 20 years ago domestic programs started to fade and hunger started to show up again so I started the End Hunger Network, and we shifted our focus to hunger here in America."
Bridges talked about how too many working people were in jobs that pay so little they can't afford food and rent, that 35 million people are food insecure, and that 13 million of them are children.
"Kids can't learn at school if they're hungry, so we recently got into cahoots to share our strength, and the campaign now is to focus not on new hunger programs but on hunger programs that already exist, raising attention and raising money so they can do their work."
Bridges is trying to focus on programs that feed kids but are careful not to stigmatize those in need, and he's also focusing on summer meal programs for when kids aren't in school, which is where most hunger programs are manifest, but only during the school year. He's also trying to ignite politicians to do more at the federal level. Charities do wonderful work, he says, but they alone can't end hunger. There has to be a national, governmental program to see real progress.
His newest hunger program is called nokidhungry.org, and Bridges made the Sleeping Tapes to benefit the program. "The world is filled with too many restless people in need of rest—that's why I made my sleeping tapes with intriguing sounds, noises, and other things to help you get a good night's rest," his site says, adding that 100 percent of the retail price from each album goes directly to No Kid Hungry.
"The Sleeping Tapes are a very bizarre thing. I don't know if you saw my Super Bowl ad, but we designed a website on squarespace.com, whose concept is that no idea is too bizarre not to make a beautiful website out of it. I had a great time making the tapes."
It seems like there's nothing Jeff Bridges can't do, from his early career on TV to films to photography to music. He's had an amazing and enviable career. I asked him if there's anything more he wished he could explore.
"You know, I'm still kind of blooming," said that familiar voice that brought Jeffery Lebowski, Otis "Bad" Blake, and Rooster Cogburn to life. "I'm 65 now, and my lifelong music dreams only just caught fire over the past few years since Crazy Heart. I put a great band together of really good Santa Barbara musicians, and my dreams have come to be realized. The Abiders are a wonderful band. I guess if there's one thing I'd like to explore more it's painting."
"Are all the paintings and designs I see on your website yours?" I ask.
"Oh yes."
"Wow, that's such wonderful, whimsical stuff."
"Well, thank you. My biggest concern is spreading myself too thin. My family is my first priority."
"Yes, I hear you have a new grandchild."
"I do, I do. It's really amazing," said Bridges ever so faintly through the phone smashed to my ear.
Yes, ladies, there are even more reasons to swoon. Bridges is a devoted family man and doting grandfather. Swoon away. I had one more question for him.
"The first time I saw you at SLO Brew, I tried to get to the stage to take a photo, but your were surrounded by a gauntlet of elbow-throwing women who refused to allow anyone to pass. You're 65, a grandfather, happily married, but obviously still a sex symbol. How does that feel?"
"Ha ha ha," he laughs. "That's very flattering, amazing to hear, but I don't think of myself as a sex symbol."
"OK, I lied. I have one more question. You're probably sick to death of talking about it, but your performance as The Dude ... what does it mean to you now?"
"Honestly, I'm so proud of being involved in that film and working with the Coen Brothers, who make filmmaking look so easy. It's such a well-made movie. I'm kind of a channel surfer, and when I occasionally run across one of my movies, I might watch for a minute or two and move on, but when I run across The Big Lebowski, I can't stop watching. I get sucked in, and I always see new things in it. That's the genius of the Coen Brothers and that film."
Trust me, Mr. Bridges. We can't stop watching either. See Jeff Bridges & The Abiders next Friday at the Fremont Theater. Damon Castillo will open the show.
Vino in season
Who wants to be front and center for the Steely Dan show (7 p.m.) on Tuesday, April 14, at Vina Robles Amphitheatre? It'll only cost you $713. Let that sink in for a minute and read on.
After lying dormant for the winter, Paso's Vina Robles Amphitheatre kicks off its new concert season this Friday, April 10 with Grateful Dead Tribute band Dark Star Orchestra (7 p.m.).
Now in their 17th year, Dark Star Orchestra (DSO) has actually played more Grateful Dead shows than the actual Grateful Dead did! Every living Grateful Dead member has performed with DSO, which has even toured with the Dead's soundman.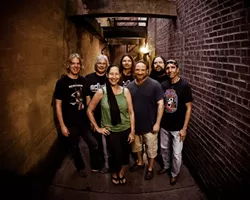 PHOTO COURTESY OF DARK STAR ORCHESTRA
MORE DEAD THAN THE DEAD: Grateful Dead tribute band Dark Star Orchestra plays April 10 at Vina Robles Amphitheatre.
"I can close my eyes and go back 30 years and have it be every bit as rewarding and satisfying," said Dan Healy, Grateful Dead sound engineer from 1966 to 1994, who toured as DSO's sound engineer in 2008.
The band recreates historic Dead set lists and performs on matching equipment with the same stage layout as the original band. This is as close as you're going to get to the original without a time machine.
According to the venue, they'll be $5 food and drink specials to celebrate the start of the concert season. That's good. You're going to need to save every penny.
DSO's base price was originally $32 on ticketmaster.com, but when I looked online, the only tickets available were from a resale marketplace starting at $49 and going up to $400! I guess this is legal scalping.
Steely Dan tickets began at $69 to $125 but now range from $86 to $713! It's ridiculous, but I guess what it really means is you should visit vinaroblesamphitheatre.com, see all their upcoming shows, and buy tickets right now for anything you want to see, because it looks like they're just gong keep going up!
Steely Dan will, of course, be awesome. The late-'70s jazz rock act is known for hits such as "Reelin' in the Years," "Rikki Don't Lose That Number," "F.M.," "Peg," "Hey Nineteen," "Deacon Blues," and "Babylon Sisters." Is it worth 700 bucks to see Walter Becker and Donald Fagen? Hey, man, if ya got it, flaunt it.
Viva Lila Downs!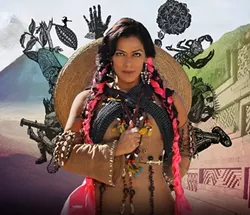 PHOTO COURTESY OF LILA DOWNS
AY, CARUMBA!: Lila Downs brings her Mexican-American sounds to the SLO PAC on April 14.
KCBX DJ Pedro Arroyo first turned me on to Lila Downs, the Mexican-American singer whose multicultural sensibilities and border-hopping sounds mix Latin music with American folk, jazz, and blues to create a mesmerizing sonic experience.
"This Oaxaca-born, Minnesota-raised singer dips into Mexican, American, and other roots traditions [and] the results are as daring as anything by Tom Waits," gushed Rolling Stone.
It's certainly appropriate that Arroyo will offer a 6:30 p.m. pre-concert lecture for Downs' Tuesday, April 14, concert at the Performing Arts Center (7:30 p.m.; tickets from $24 to $56, available at 756-4849 or calpolyarts.org).
Her smoky voice and magnetic performance is dripping in confidence, and it's hard not to be swept away in her emotive songs. This stop is part of her Balas y Chocolate 2015 tour.
And while we're on the topic of Latin music, mark your calendars for Adonis Puentes, who'll present an evening of Cuban music featuring his rich voice and all-acoustic orchestra, on Friday, April 17 (8 p.m.; $30.40 for students or $38 for the general public; 756-4849 or calpolyarts.org), in Cal Poly's Spanos Theatre.
More music ...
This Thursday, April 9, SLO Brew kicks off its week with High on Fire (8 p.m.; all ages; $15), which according to its press materials has "a heavy-handed approach and a sound that crashes like thunder [and] has put the power back in 'power-trio.' Less a band than a supersonic exercise in conquest by volume and sheer heaviness, the band has burned the metal rulebook and forged a new archetype." Bloodmoon opens. On Friday, April 10, check out some local rock with William H. Klink (7 p.m.; all ages; $8 presale or $10 at the door) at SLO Brew, with The Earthtones and Pleasantly opening. And on Saturday, April 11, '90s alt-rock act Built to Spill returns (7:30 p.m.; all ages; $25) with an amazing batch of new material, cascading, hook-laden rock for a new age.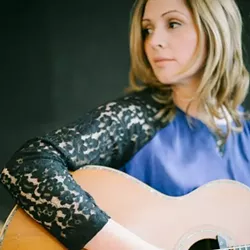 PHOTO COURTESY OF ARNA BEE
SUNSHINE R&B: Singer-songwriter Valarie Mulberry performs a free in-store at Boo Boo Records on April 11.
Vocalist Dawn Lambeth and guitarist John Reynolds play Friday, April 10 (7:30 p.m.; all ages; $15), at the Steynberg Gallery. "I'm so excited!" Lambeth said. "I'll be making my debut at one of SLO's nicest venues. OK, not quite a debut. I played one song there back in the fall as part of one Steve Key's great shows, but this is the first time I'll be bringing my own band. And what a band it will be. The wonderful Karl Welz on saxophone. The Sweetheart of California herself, Miss Katie Cavera on bass. And my very special guest, L.A.-based guitarist/banjoist/whistler/entertainer John Reynolds." If you like '20s and '30s jazz and swing, this one will be pure magic!
On Friday, April 10, check out Central Coast Music Works when they present a bassoon and string bass band concert of jazz, classical, and Brazilian style music in St. Benedicts Episcopal Church in Los Osos at 7:30 p.m. ($15; free for kids under 12).
Singer-songwriter Valarie Mulberry performs a free in-store at Boo Boo Records this Saturday, April 11, from 5 to 6 p.m. with Little Robbie Kimbell. Since the release of her CD The Simple Things, Mulberry has enjoyed success with her "Sunshine Rhythm and Blues" sounds. The title track is on Santa Barbara's KLITE 101.7 FM. She also has two other songs in regular rotation on Oregon's KYTE FM, plus she's been on KCBX in SLO and KCSB, Santa Barbara's college station.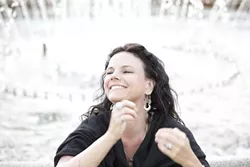 PHOTO COURTESY OF CORINNE WEST
GO WEST!: Corinne West returns to Música Del Río House Concerts on April 11.
Corinne West returns to Música Del Río House Concerts in Atascadero on Saturday, April 11, at 7:30 p.m. (call 466-6941 for reservations; $20). "Our favorite female balladeer, Corinne was the artist we selected for our inaugural concert in the winter of 2006," organizers said. "Since then she has blessed the stage at the Live Oak Music Festival and become a Central Coast favorite for many."

Keep up with Glen Starkey via twitter at twitter.com/glenstarkey, friend him at facebook.com/glenstarkey or myspace.com/glenstarkey, or contact him at gstarkey@newtimesslo.com.