PHOTO BY ANNA STARKEY
FIRST UP!: Jeremy Heller, the evening's first contestant, takes on Audioslave's "Like a Stone."
It's Friday, Aug. 1, and I'm watching, dumbfounded, as more and more people are streaming into SLO Brew for the karaoke contest! Seriously, there's a ton of people vying for a chance to be the king or queen of karaoke! Who knew?
Manning the judging table with me are disc jockeys Jeff and Jeremy from KZOZ and Suzanne, who's on a bunch of American General Media stations including The Krush. Since I have to concentrate on the singing, my wife Anna is doing photography duty. Thanks, honey! You're the best!
Jeremy leans over as he's eyeing the crowds coming in and says, "It's about to look like the bar scene from Star Wars in here."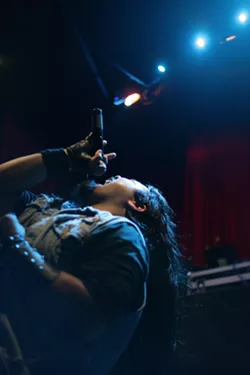 PHOTO BY ANNA STARKEY
WILD CARD!: Andres Arevalo, who bypassed the first round and was drawn as a second round wild card, performs Mötley Crüe's "Girls, Girls, Girls."
True that! These budding performers come in all stripes. After things settle down and everyone who wants to enter has had a chance to throw their tickets in the tin Corona bucket, Brotha "C," our emcee, starts drawing names, one after another, until there are 15 excited, quivering contestants across the stage.
First up is Jeremy Heller, who delivers a solid version of Audioslave's "Like a Stone."
The crowd's really supportive of all these performers, maybe because, before the competition began, Brotha "C" reminded everyone that it takes guts to get up in front of a bunch of strangers and sing your heart out. I wouldn't want to do it!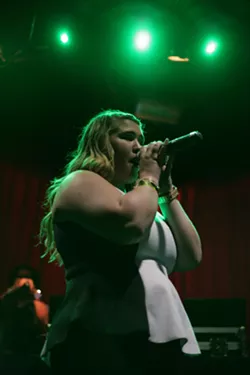 PHOTO BY ANNA STARKEY
SECOND PLACE!: Tori Roper made it to the final round, where she sang Keyshia Cole's "Let It Go."
After 14 more performers, our scorekeeper Suzanne does some math while Brotha "C" entertains the crowd by performing karaoke with various members of the audience he's pulled up on stage. Soon we've culled the participants down to the top four—Jeff Mitchell, a blonde gal named Adria who didn't provide a last name, Carlli Ruiz, and Tori Roper—but as promised, a fifth wildcard contestant is picked from the bucket, Mr. Andres Arevalo.
After another round of shots of event sponsor American Born Moonshine, we're ready for round two! Andres leads it off with a ripping version of Mötley Crüe's "Girls, Girls, Girls," and like the good sport that he is, fellow contestant Jeff Mitchell goes out into the audience and encourages five girls to get on stage with Andres as he sings. Pretty awesome moment!
Adria follows up with an effective version of Queen's "Somebody to Love," then Carlli takes on Amy Winehouse's "Rehab," followed by Tori singing Tracy Chapman's "Give Me One Reason," with Jeff ending round two with Guns N' Roses' "Paradise City."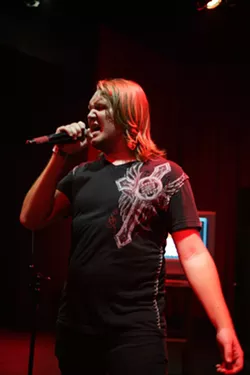 PHOTO BY ANNA STARKEY
THE BIG WINNER!: The $500 went to grand champ Jeff Mitchell, who finished the evening by performing Guns N' Roses' "Paradise City."
These performers clearly find a lot of joy in singing at the top of their lungs for a crowd just shy of 200. After some quick calculations, the final two are … Tori Roper and Jeff Mitchell! One of these two performers is just a song away from shoving five hundred bucks in his or her pocket!
Jeff unleashes an emotionally charged version of Poison's "Every Rose Has Its Thorns," followed by Tori's bumping version of Keyshia Cole's "Let It Go." It's anyone's contest, a real nail biter! Brotha "C" gets both contestants on stage, builds the tension, and then reveals the winner … and it's Jeff Mitchell!
When he gets off the stage, I congratulate him and tell him he was really channeling his inner Jack Black out there.
PHOTO BY ANNA STARKEY
EMCEE!: Brotha "C" kept the night moving along by performing karaoke in between rounds.
"I love Jack Black!" he gushes. "He's one of my heroes!"
"So how does it feel to win?" I ask.
"It feels awesome, dude!" he says, and I can tell he means it!
Glen Starkey takes a beating and keeps on bleating. Keep up with him via twitter at twitter.com/glenstarkey, friend him at facebook.com/glenstarkey or myspace.com/glenstarkey, or contact him at gstarkey@newtimesslo.com.