On Feb. 25, 2004, Jesus Christ was crucified in front of the American public.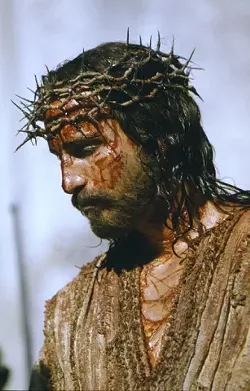 PHOTO COURTESY OF MOVIEWEB.COM
SUPERSTAR : The Passion of the Christ, which packed theaters when it debuted on the Central Coast in 2004, stands as one of the highest-grossing movies
# Mel Gibson's The Passion of the Christ a controversial film that drew both praise and fire for its vivid violence debuted in wide release 40 days before Palm Sunday and ultimately racked up more than $70 million opening weekend and almost $371 million during its five-month reign in domestic theaters. It stands by most accounts as the United States' 11th-highest grossing movie of all time, falling just short of the top 10 behind Spider-Man 2. The film's financial success is obvious to anyone who can add, but its cinematic impact also sent waves far beyond the box office.
Throughout the Central Coast, churches organized mission statements and plans of action in preparation for a suspected cinematic spiritual awakening, and pastors from San Luis Obispo to Lompoc crafted messages around the biblical blockbuster.
"It could change your eternity," read one print advertisement for the film, which also listed names and phone numbers for 14 churches.
On a drizzly opening night at Festival Theater in Arroyo Grande, lines of nearly Star Wars proportion stretched around the building. A scalper wandered up and back, seeking a buyer.
Some of the hype, to be sure, came from the much-publicized rumors of rampant anti-Semitism in both the movie and the director's personal life. The blood factor also contributed to attracting curious crowds, unsure of how graphic a "Christian" movie could be.
But the committed believers the preachers and the proselytizers emphasized that this film offered something more than Hollywood glitz and gore.
"It's a true story," said Rocky Tannehill, then pastor of The City Church in Nipomo. "It's very well documented. It's something that you would just have to consider as a person."
In early December of this year, Hollywood offered a sort of a second coming and a prequel rolled into one. The Nativity Story ushered in the holiday season with a Dec. 1 release, bringing Mary, Joseph, a few wise men, and of course Jesus to the big screen.
National media critics and commentators have agreed that Mel Gibson's epic success was the genesis for The Nativity Story or, at least, that the former created an environment that would naturally spawn the latter.
Response to the more recent biblical film, however, has lacked (ahem) passion. An evening showing on opening night at San Luis Obispo's Downtown Centre Cinema brought in about a dozen viewers. Maybe the small crowd was due to the fact that the Downtown Association's annual holiday parade was underway about a block away. Maybe the numbers reflected a general lack of national fervor. Or maybe it was fallout from the absence of an "It is as it was" statement from the Vatican.
A movieweb.com report for box office totals for the weekend of Dec. 1 put The Nativity Story at just slightly more than $8 million in gross receipts, directly behind Deja vu at No. 3, the James Bond prequel Casino Royale at No. 2, and the computer-animated penguin tale Happy Feet in the top spot.
Certainly, there are many factors at play that can explain the box-office disparity between The Passion and The Nativity. The former boasted a big-name director, a rising leading man, and plenty of publicity. The latter came from a director with a couple of other films under her belt, made use of a mostly low-key cast (though a couple had previous Oscar nominations), and slipped relatively quietly under the marketing radar.
Pam Kropp, one of the recently arrived new pastors at Nipomo's The City Church, said that the organization took a group of high schoolers, college students, and young professionals to see The Nativity Story a far cry from the church's 2004 effort that involved buying out entire showings and setting up a sound system so the pastor could address the crowds before and after the film. While The City Church will be telling the Biblical nativity story in its Christmas Eve service, it doesn't have any specific studies planned in relation to the movie.
Kropp pointed out that the two movies came from entirely different companies and marketing campaigns. One had a grand cinematic scope, whereas the other was simpler. Some of the difference, she theorized, might also come from the nature of the respective holidays. Christmas is significantly more secularized and commercialized than is Easter.
"You have people asking, 'What does Christ and The Nativity have to do with Christmas?'" she said.
Still, she pointed out, the Christmas story is significant.
"The dynamic of the birth of Christ was a tremendous event," she said. "It changed a calendar."
To that end, there was some local movement surrounding The Nativity Story on the Central Coast. In November, San Luis Obispo-based The Parable Group which offers Christian retailers marketing, merchandising, and operational services rented out a theater for a prescreening of The Nativity Story for local pastors and others. It also took out ads that still show in the theaters, offering a free copy of a recently written book Why a Manger? to people who bring their Nativity ticket stub to the Parable store downtown.
Keith Badger, manager at The Parable, said that he thought hype for the Christmas movie had been good, and was surprised when he saw the film's less-than-stellar national numbers.
Store employees have been talking to shoppers about the movie, he said, and he's seen people walk straight from the theater and across the street into The Parable to get the free book.
"There's actually a whole area devoted to Why a Manger?, as well as books directly related to The Nativity Story," Badger said.
Generally, he summed up, response has been positive.

And it came to pass
Despite some local interest, however, The Nativity Story has obviously posted a somewhat minor showing in relation to The Passion.
PHOTO COURTESY OF MOVIEWEB.COM
A STAR IS BORN? : The Nativity Story received some critical acclaim, but failed to draw blockbuster crowds this Christmas season.
# "I definitely haven't seen the mass of churches coming to the theaters in droves," said Gary Weyel, communication and public relations specialist for The Parable Group.
Weyel hypothesized that The Passion presented to the viewing public a rarely seen, raw image of Jesus.
"The local church community really rallied around that film, probably in large part because of the gospel message that naturally flowed from that," he said.
On the other hand, The Nativity Story while a wonderful story, Weyel said presented a tale that basically gets played over and over again every year. Anyone can see it in a pageant, or even in A Charlie Brown Christmas.
"The Passion was the salvation story," he said, "the core of Christian belief."
Still, the fact that The Nativity Story has been on the top 10 list for several weeks attests to the potential for biblical stories to play in the big leagues when it comes to the box office.
"I think major theaters have sniffed out that there's money to be made in the Christian market," Weyel said.
He explained that The Passion opened Hollywood's eyes to the idea that religious- or family-oriented films can and do appeal to large groups of people.
"The reality is some particular sects of Christendom, they kind of ascribe a conspiracy theory about Hollywood," he said. "I think the reality is that Hollywood just cares about making money."
In other words, if the Bible sells, expect to see more movies using it as a jumping off point. The precedent has already been set. One Night with the King brought the story of Esther to screens in October. The recent Facing the Giants, scheduled for DVD release at the end of January, told the story of a Christian football coach. Last year's The Lion, the Witch, and the Wardrobe carried author C. S. Lewis' themes of sacrifice, resurrection, and redemption. Buzz is already generating around a couple of faith-related movies including Thr3e and Amazing Grace scheduled for release soon.
FoxFaith, a new distribution label from Twentieth Century Fox, is focusing entirely on the Christian market.
"To be part of FoxFaith, a movie has to have overt Christian content or be derived from the work of a Christian author," according to the label's web site.
There's even a film industry rumor of something called "The Passion Playbook," which can help studios in their quest to get a piece of the faith-based viewing crowd an appealing market for many.
"You know we can vote with our dollars as to our preferences for films..." reads a posting on one local pastor's blog entry about The Nativity.
Weyel noted that Mel Gibson pioneered a sort of grassroots campaign that involved showing movie clips to pastors, which encouraged them to talk about the film with their congregations. Audience anticipation grew each Sunday morning.
While that movement might explain The Passion's out-of-the-blue success which, in turn, prompted similar projects it also raises questions of motive. Is the bottom line faith? Or something else?
The Parable's Badger admitted that the line between faith and marketing can sometimes get a little blurry, so distinctions need to be made.
"Marketing is getting someone to buy into something, believe in something, that some product will make them feel better about their life," he said.
Weyel echoed a similar sentiment, explaining that people of faith need to be vigilant in how they market, to be sure of what their underlying mission is.
"There's a point when you've got to be aware of your motives," he said. "If it's just about making money, believers involved in that need to ask themselves: 'Is that what I'm doing this for?'"
Ultimately, he said, everybody's a marketer on some level. What matters is what you're marketing: "Everybody's selling something. It's nice to be able to sell something you believe in."
Selling a movie like The Nativity Story or the upcoming Amazing Grace can connect the heart and mind, he explained, and business and ministry can come together.
Still, he admitted, there is a flip side.
"There's a potential for backlash," he explained. "People don't want to feel used."
In other words, churchgoers and people in general don't want to be made to feel like pawns pushed in selling a product or filling seats at the Cineplex. The distinction can be a fine one.
Years ago, various Christian clubs at Cal Poly banded together to wear T-shirts proclaiming, "I agree with Jimmy" a strategy intended to invite questions about who this "Jimmy" was: an average Christian student. Hundreds of people walked the campus, clad in matching mustard-yellow shirts with black text. Members of the organizing groups believed that the gimmick was a fresh approach to sharing their beliefs in a non-threatening way. Others weren't so keen on the idea, which prompted school-wide discussions on marketing and faith as well as parody red T-shirts that said "I agree with Satan" or "I slept with Jimmy."

Their eyes were watching God
While The Nativity Story brought one picture of Jesus to the Central Coast at the beginning of December, Jesus Camp brought another.
PHOTO COURTESY OF MOVIEWEB.COM
CROSS TO BEAR : HopeDance Bob Banner has been showing Jesus Camp around the Central Coast throughout December. Local turnout, he said, has been good. of all time in the Untied States.
# HopeDance's Bob Banner, who shows films around the area, presented the documentary about a North Dakota camp that encourages children to grow in their evangelical devotion. The controversial movie has prompted discussions and debates about the evangelical movement both within the religious community and without.
"You watch it, and you think it's got to be fiction," said HopeDance film editor Shawna Galassi. "To those on the left, it's kind of an appalling film."
Banner said that throughout the month, he's had three screenings in San Luis Obispo, which together drew about 170 people who watched and talked about the film and issues of indoctrination. He said that the discussions have been good, and have also explored diversity of beliefs and the relation between faith and business. He mentioned that four people who called themselves refugees of the megachurch mentality of Colorado Springs spoke about their experiences.
Despite the controversy, he said that reviews he's seen of Jesus Camp said that it was very evenhanded. He tried to stay neutral while he invited people to see the movie, which included handing out flyers at Farmers' Market.
This isn't the first time a HopeDance film has focused on Jesus. Banner said that about half a year ago, he showed The God Who Wasn't There, a film that explores among other things the premise that Jesus never existed.
"I was surprised that about 60 people came and saw that film," Banner said.
The movie has since gone on to spawn the current "Blasphemy Challenge," in which an activist group known as the Rational Response Squad invites young people to publicly renounce belief in the God of Christianity on YouTube in exchange for a copy of the movie. More marketing, different perspective.
Overall, Banner agreed that faith can be viewed from different perspectives, including as a marketing tool.
"Our whole culture uses Jesus in so many different ways," he said, citing a "What Would Jesus Drive?" campaign for eco-friendly cars. "If you need a God, he's there. If you need somebody to sell something, he's there."
Still, the draw toward movies that deal with issues of faith is undeniable. Banner noted that films with a spiritual slant tend to be quite successful on the Central Coast. They fare better than political movies sometimes do, he said.
"Because I've been showing the films, I tell you, the spiritual films, there's a big audience," Banner said. "There's hunger."
He explained that he feels there's a large community of spiritual people in this area. They may be Christians. They may be Buddhists. They may not ascribe to any belief system. But they're all hungry for a sort of revitalization and truth, he said.
And if they search even on the silver screen they might find it.
INFOBOX: The spiritual side
HopeDance FiLMs will show several spiritual films in the coming weeks. See Humanity Ascending for $5 at 7 p.m. at the SLO Library on Dec. 22, The Blue Butterfly for free at 7 p.m. at the SLO Library on Dec. 29, and 2012: The Odyssey sometime in January. Check www.HopeDance.org for more details.
Jesus Camp will be available for rent through the HopeDance Video Library, housed at Novel Experience Books in downtown San Luis Obispo. For more information, call 544-9663 or e-mail info@HopeDance.org.
INFOBOX: Get a free book
Still have a ticket stub from The Nativity Story in your pocket? Planning on seeing it with the family for Christmas? The Parable, located at 833 Marsh St. in San Luis Obispo, is offering a free book, titled Why a Manger?, to people who bring in a Nativity ticket stub. For more information, call 543-6146.
---
Editor Ryan Miller can be reached at rmiller@newtimesslo.com.