In cop lingo, a fence is a dubious character that accepts stolen property for resale and conceals the property's ill-gotten origins. But it was the jury that was on the fence following a two-week trial for a well-known San Luis Obispo jeweler accused by prosecutors of knowingly accepting stolen property from a pair of since-convicted burglars.
After a year and a half and with the help of eight officers from two police departments, the District Attorney's Office was still unable to stick its most serious charges against William McBurney.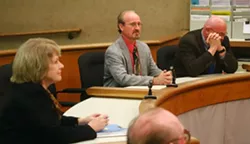 PHOTO BY MATT FOUNTAIN
NO INTENT: William McBurney, 57, pictured center, was acquitted of the most serious allegations against him Feb. 3 in San Luis Obispo County Superior Court.
A juror would later tell New Times that it took two full days of deliberations and three preliminary votes for six men and six women to ultimately find McBurney, 57, a long-time salesman at All That Glitters, not guilty of two felony counts that he received stolen property.
Jurors did, however, agree that McBurney initially stymied investigators' attempts to locate a 2.5-carat diamond ring stolen from a vehicle in Atascadero that McBurney purchased as scrap.
The District Attorney's Office alleged that McBurney knowingly bought the stolen ring reportedly worth more than $20,000 for $204, as well as a stolen sapphire estimated to be worth over $3,000, which he bought for $132. Prosecutors further accused McBurney of making the transactions without a license to deal in second-hand jewelry.
McBurney was initially arrested on June 29, 2010, after officers from the Atascadero and San Luis Obispo police departments found the items during a search of the Madonna Plaza business.
Evidence presented at the trial showed that McBurney did buy the ring from Eugene Kriewitz, Jr., 21, who remains incarcerated after pleading no contest to the theft. Prosecutors showed the jury the check made out to Kriewitz, signed by McBurney, and the receipt of the transaction, which clearly labeled the transaction for "scrap."
Deputy District Attorney Karen Gray argued that McBurney—a jeweler with more than 30 years of experience—should have known the ring was worth far more than the "pittance" he offered for it. Kriewitz's appearance, Gray said, should have raised the jeweler's suspicions. Kriewitz testified that he was under the influence of drugs and alcohol at the time.
Gray also said that while the ring was documented as scrap on the receipt, it appeared to be treated as valuable, and was placed in a black box designated for estate jewelry under the counter—not the scrap bin.
"It's hard for some people to pass up the chance at easy money," Gray said, arguing that McBurney left just enough of a paper trail to give the transaction the appearance of legitimacy.
In supporting the allegations, the prosecution called Teri Conrad—who McBurney's attorney, Ilan Funke-Bilu, later described as a "jilted ex"—to testify that she witnessed McBurney tell his eldest son, Travis McBurney, they didn't need a second-hand license in 2009.
But the prosecution's case was far from airtight. Halfway through the trial, Superior Court Judge Michael Duffy dismissed two charges of operating the store without a license after Funke-Bilu forced investigating officers Atascadero detective Fred Pflum and SLO detective Eric Vitale to acknowledge they made "a mistake" in identifying McBurney as the owner of the business in affidavits and investigative reports.
Vitale testified that All That Glitters is part of a "corporate veil," "layered" under various company names. However, Funke-Bilu pointed out the business is part of a single corporation, listed under the ownership of Travis McBurney. Funke-Bilu showed the organization could have been verified by a simple search on the state's online database.
All That Glitters has been owned and operated by Travis McBurney, 32, since 2002. As a sales associate, William McBurney was not responsible for licensing. The business has since obtained the license, and the year-long statute of limitation on the misdemeanor charge has expired.
"I was in charge of everything," Travis testified, adding that the business has notified SLOPD in the past when they suspected jewelry of being stolen.
Travis also said that the business dealt primarily in new jewelry, not used estate jewelry, and as such had operated without the license for "as long as [he] can remember." He said he was never told he needed such a license.
Keith Hamilton, of SLO-based Hamilton Estate Jewelers, who has known the elder McBurney for about 30 years, confirmed in his testimony that All That Glitters was known to primarily deal with new jewelry.
Travis also testified that his father is not a certified gemologist.
To top off the case, Funke-Bilu cast doubt on allegations that McBurney knew the property was stolen, pointing out that he left a paper trail for the transactions, and that the prosecution failed to establish he was trying to hide anything.
"What was said [at the transaction]? We don't know, because it's not in the evidence," Funke-Bilu said.
In closing arguments, he hammered on the point that none of the evidence showed Kriewitz knew the ring was valuable.
"There hasn't been a single day that's gone by that this hasn't been on my mind," McBurney told New Times prior to the verdict. "This has been my life for two years."
Gray later told New Times she respected the jury's decision, and added that proving a defendant's state of mind is often the biggest obstacle to a conviction.
As he was leaving the courthouse, juror Kyle Chubbuck, 19, of Paso Robles, told New Times the biggest hole in the prosecution's case was McBurney's intent to buy stolen property.
"We had a ton of circumstantial evidence, but we didn't know what the conversation between [McBurney and Kreiwitz] was—we didn't even have video of them," Chubbuck said. "We just didn't have that smoking gun."
However, the consensus within the jury was that McBurney wasn't forthcoming with officers when he failed to produce the receipt in his initial phone conversation with Pflum, Chubbuck added.
"It wasn't a comfortable verdict that we came to," he said. "It was a battle between good morals and bad business."
McBurney is due back in court for sentencing on the misdemeanor Feb. 14. Gray said the conviction carries a maximum of one year in jail.

Staff Writer Matt Fountain can be reached at mfountain@newtimesslo.com.