On Jody Mulgrew's new album As the Sun Reclaims the Sky, he keeps things decidedly simple—just an acoustic guitar with a touch of electric or viola or a smartphone drum machine app, and his voice, that tender, yearning tenor informed by the likes of the Everly Brothers.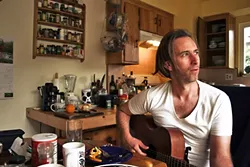 PHOTO BY ERIKA SWADENER
ESSENTIAL SONGS: Jody Mulgrew plays the Steynberg Gallery on Feb. 6 to officially release his newest album 'As the Sun Reclaims the Sky.'
Recorded mostly last year in Nashville on a simple four-track machine, the indie folk songs are immediately accessible, full of hooky choruses, comfortable melodies, and shambling rhythms. These are often breezy, sunshine-soaked tunes, mostly written by Mulgrew, though four of the eight tracks feature co-writers. (One song, the opening track "On the Line," gets a reprise with a whole new sound on track seven, for a total of nine tracks.)
This Saturday, Feb. 6, Jody Mulgrew plays his official album release party for the record beginning at 7:30 p.m. at the Steynberg Gallery (all ages; $15; call 547-0278 for reservations). The Harmony People will open the show.
Quietly released in October of last year, Mulgrew's new record has been getting airplay on KCBX 90.1 FM, but the Morro Bay native has become such a rambling man he hasn't had a chance to give it the full release treatment in his old stomping grounds, where he's built a reputation as an amazing songwriter. Last I heard, he was calling San Diego home, but he spent a lot of time in Nashville and he's frequently on the road.
Fiddler and singer John Nowel will join Mulgrew for this show, and they have quite a history. "The two have performed together at the 2015 Live Oak Music Festival, at the Folk Alliance Region West folk music conference, and have made two trips to Europe in the last year, performing in Switzerland and Germany," according to press materials.
It's also worth noting that two of Mulgrew's previous albums, 2011's Rocket Ship and 2014's Let Them Talk won Album of the Year at the New Times Music Awards.
"You are the sweetest little apple on the whole darn tree. I can't wait to catch you when you fall for me. I believe you'll fall into my arms eventually. You are the sweetest little apple on the whole darn tree," Mulgrew croons on "Sweetest Little Apple."
"If the ghosts of our happiest times themselves die, will you lie in the graveyard with me at the twilight of a memory?" he asks on "Ghosts of Our Happiest Times."
These are terrific songs from a gifted songwriter in full bloom. Let's hope that Mulgrew, no matter where he rambles, always comes home again.
Pardi time!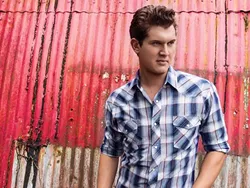 PHOTO COURTESY OF JON PARDI
RISING STAR : Country rocker and Capital Records hit maker Jon Pardi plays Feb. 11 at Fremont Theater.
Country rocker Jon Pardi isn't what's wrong with country music. In fact, he's what country music has been missing—a hit machine who (with the help of co-songwriters) has generated five charting singles: "Missin' You Crazy," "Up All Night," "What I Can't Put Down," "When I've Been Drinkin'," and "Head Over Boots." His debut album, 2014's Write You a Song, peaked at No. 3 on the Billboard country charts, and as proof of his crossover appeal, peaked at 14 on the Billboard 200.
"All I ever wanted to do coming to Nashville was to write rowdy, in-your-face, straight country music," Pardi said on his webpage, "and that's what this album is. If you can take a piece of life and put it in a song, it's going to be a good song—especially if it's from the heart."
Next Thursday, Feb. 11, Jon Pardi plays the Fremont Theater (7 p.m. doors; show at 8 p.m.; all ages; $18 presale or $20 at the door; ticketfly.com).
The California native is one of Capital Records' rising stars and has opened for the likes of Alan Jackson and Dierks Bentley, but he's on his way to headlining stadiums himself. He lists Dwight Yoakam, George Strait, and Alan Jackson as inspiration, and his laidback vibe has made him hugely appealing to audiences. In fact, his new tour has him crisscrossing the country between now and August.
"I really don't have any negative songs," Pardi said. "It always feels good with me, so when you come to a show or listen to the record, you're going to have a good time."
More music …
PHOTO COURTESY OF TRAVIS MEADOWS
HE WRITES THE SONGS: Travis Meadows, who's written hit songs for artists like Dierks Bentley and Jake Owens, plays Tap It Brewery on Feb. 4.
Rolling Stone magazine calls Travis Meadows "Nashville's Most Badass Songwriter," a guy who's penned hits like "What We Ain't Got" for Jake Owens and "Riser" for Dierks Bentley. Now, Tap It Brewing presents Travis Meadows on Thursday, Feb. 4, at 7 p.m. "Meadows will perform inside the tasting room to create an intimate setting, similar to one at The Bluebird in Nashville," Katelyn Egger, Tap It's event manager, said. (21-and-older; $15 to $20; online at tapitbrewing.com.)
Acoustic Cali rock and reggae act Headshine plays the Frog and Peach this Thursday, Feb. 4 (10 p.m.; 21-and-older). Nominated for Best Acoustic Band for the OC Music Awards last year, Headshine has opened for the likes of Ziggy Marley, The Wailers, Katchafire, Natty Vibes, and The English Beat.
The February First Friday Downtown Brown Bag Concert at San Luis Obispo First Presbyterian Church once again welcomes The Mudskippers, who'll deliver some Mardi Gras-style fun at noon in Wilson Hall this Friday, Feb. 5. Bring your lunch and enjoy this free event. Fair Trade chocolate and coffee will also be available.
Award-winning Americana string sextet Moonsville Collective plays the next Red Barn Community Music Series concert this Saturday, Feb. 6 (5 p.m. potluck; 6 p.m. show; $15 at the door). Playing old-time, folk, country, and R&B, the Orange County-based band, which formed in 2011, was named "2012 Best Country/American Band" by the OC Music Awards, "2012 Best Live Band" by OC Weekly, and named "Best Bluegrass/Americana Band in Orange County" by CBS Los Angeles. "Moonsville Collective is often spoken of as carrying the sensibilities of folk legends Levon Helm (of The Band) and Bob Dylan, the high energy of Old Crow Medicine Show, and clever lyrics like those of Hank Williams and Huddy 'Ledbelly' Ledbetter," according to press materials.
PHOTO COURTESY OF MOONSVILLE COLLECTIVE
OLD TIMEY : Award-winning Americana string sextet Moonsville Collective plays the next Red Barn Community Music Series concert on Feb. 6.
Folk, rock, and blues icon Freebo returns to play another Música Del Río House Concert this Saturday, Feb. 6 (7:30 p.m.; $20; reservations required; 466-6941). "Early in our first season, we got 'advice' from musicians we've known and respected for years, telling us about an artist who was headed our way and we needed to grab him on the way by," concert organizer Fred Munroe explained. "We received emails from LA, San Francisco, and locally telling us about this guy with the funny name and the great music. What could we do? We booked Freebo for our second concert ever and we weren't sure what it was going to be like. We vaguely knew of Freebo as the bass player with Bonnie Raitt and John Mayall & The Bluesbreakers, who also played the tuba. Well, he did not play the tuba or the bass that night. But the songs and guitar licks we heard that evening really became the benchmark for our series for years to come."
Rev up your Vespas and Lambrettas because The Inciters return to Frog and Peach this Saturday, Feb. 6 (21-and-older; 10 p.m.). "This is our first time back to SLO since we played the Rides of March scooter rally over at SLO Brew last year," lead guitarist Don Roland said. "Since that time, we completed a European tour and released four songs on two 45 rpm 7-inch vinyl [records] that include digital download options. Of course we're still busy running up and down the West Coast building our audience and having a blast along the way!" This is a great 11-piece British-style Northern Soul act with horns and four female vocalists, and how they all fit on the Frog's stage is anyone's guess, but they do.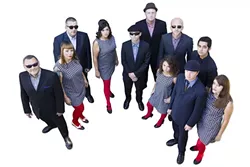 PHOTO BY TERRY WAY
SOUL TRAIN : The Inciters return to Frog and Peach on Feb. 6, complete with phat horns and four female vocalists.
"Mardi Gras may still be a dirty word for some people in SLO, but for those who know that it is more than bared breasts for beads, there are several events happening this year," pianist Brent Dannells said. "Saturday, Feb. 6, of course, will find Burning James & the Funky Flames at SLO's Masonic Hall (I'll be there, rocking the ladies lounge piano during set breaks), but what of Fat Tuesday, Feb. 6, itself? You'll have to travel a little south to Manrock Brewing Co. in Grover Beach, where Piano Brent & Friends will be rocking it from 6 until 9 p.m. I'll be drawing heavily from the Dr. John songbook as well as presenting some of my N'awlins inspired originals. Sure, you can stay home Tuesday night and go to bed early so you'll be the first in line to get ashes on your forehead, or you can come on down and join the party. Let the good times roll!" Piano Brent & Friends will also be playing Saturday, Feb. 20, at Wild Horse Winery from 1 to 4 p.m.
Keep up with Glen Starkey via twitter at twitter.com/glenstarkey, friend him at facebook.com/glenstarkey, or contact him at gstarkey@newtimesslo.com.