Joe Bonamassa opened for B.B. King when he was just 12 years old, so I'd say he's allowed to call his current series of concerts the "Three Kings Tour" in which he plays the music of B.B., Albert, and Freddie King—the three famous Kings of the blues.
At Vina Robles Amphitheatre this Monday, Aug. 24 (7:30 p.m.; vinaroblesamphitheatre.com for tickets), Bonamassa pays tribute to these famed bluesmen, covering the songs they made famous in a show that's being hailed by organizers as "action-packed" and "unlike anything [Bonamassa] has played before."
PHOTO BY MARTY MOFFATT
AXE SLINGER: Joe Bonamassa pays tribute to Albert, B.B., and Freddie King on Aug. 24 at Vina Robles Amphitheatre.
Anton Fig (drums), Michael Rhodes (bass), Reese Wynans (piano, Hammond organ), Lee Thornburg (trumpet, horn arrangements), Paulie Cerra (saxophone), and Nick Lane (trombone) will back Bonamassa, who since his 1989 debut has released 16 solo albums, 13 of which rose to No. 1 on Billboard's blues charts.
"A portion of the proceeds from this tour will go to the Keeping the Blues Alive (KTBA) foundation, a nonprofit Bonamassa founded in 2011 and oversees "to promote the heritage of the blues to the next generation, fund music scholarships, and supplement the loss of music education in public schools," according to press materials.
This Grammy-nominated performer is an amazing guitarist who also happens to play Theremin, mandolin, dobro, and banjo, and he's also a terrific singer-songwriter whose diverse body of work reveals an eclecticism not often seen in a primarily blues artist.
In an interesting aside, drummer Anton Fig (aka The Thunder from Down Under) just re-released Figments, an album that showcases Fig's talents as a songwriter and producer, "with 13 adventurous self-penned tunes that reveal his considerable melodic gifts and distinctive rhythmic sensibility … oh, and he decided to put together the music with a few of his fellow wizards—Brian Wilson, Richie Havens, Al Kooper, Donald Duck Dunn, Paul Shaffer, Ivan Neville, and even Sebastian Bach, to name a few," according to press materials.
Fig spent the last 29 years as the house drummer on Late Night With David Letterman and its successor The Late Show With David Letterman, and Figments, originally released in 2002 in a very limited edition, is the first album released under his name and only this year is now being widely promoted and released.
"At a certain point, I looked back and realized that I had accumulated all these songs," he explained. "So I decided that it was time to realize them by matching each song with the right musicians and singers, with my drumming and production as the through-line.
"About 80 percent of the record was done in my apartment in Manhattan," he added. "People just came over and sang and played. It was beautiful to have Richie Havens singing in the bedroom. The danger of working that way is that it's easy to fix everything and take the life out of the performances, so I worked hard to keep it sounding spontaneous and organic. I was interested in making it sound good, not making it sound perfect."
There's going to be a lot of talent up on stage this Monday at Vina Robles.
Ragged Lee!
PHOTO BY GLEN STARKEY
THESE GUYS! : Phil Lee (center) plays Shell Café on Aug. 20 for a Songwriters at Play showcase, with the duo Ragged Company (flanking).
The last time I saw Ragged Company and Phil Lee in concert together, I was blown away. What a hoot! Ragged Company delivered great vocal harmonies and charming and sometimes funny songs, and Phil Lee? He's like your dirty uncle filling your ears with blue jokes and harrowing songs of romantic derring-do.
"Ragged Company is pleased to be back at the Shell Café, playing a four-song set as part of Songwriters at Play on Thursday, Aug. 20," guitarist Tim Pacheco said, who with Cindy Myers makes up Ragged Company. "We're really excited that the featured musician will be The Mighty King of Love—Phil Lee!" (6:30 p.m.; all ages; free).
"Please make it to this show," Pacheco added. "You'll thank us later. Phil is a great and fun performer. We might even be joining him on a few songs after our set. Janine Rose will also be playing."
Music transcends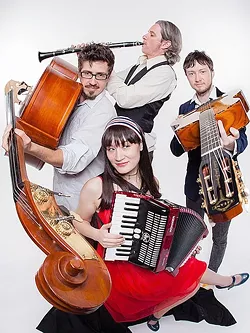 PHOTO BY ANDY SHENG
SHANGHAIED!: Multi-linguist Jessica Fichot performs songs from her new EP, Dear Shanghai, sung entirely in Mandarin Chinese, on Aug. 23 at Steynberg Gallery.
I can't read Chinese, but I can enjoy Chinese art through my eyes and Chinese music through my ears, because art and music transcends language, which is why they're both universal communicators.
I don't know what Jessica Fichot is singing on Dear Shanghai, her Mandarin Chinese EP that celebrates the 1940s swing era of her mother's hometown of Shanghai, but I know I like it! It reminds me of the scene in this Chinese nightclub from Indiana Jones and the Temple of Doom (1984).
Fichot, a multilingual singer-songwriter who was born in Paris and is ethnically Chinese, French, and American, usually sings in the French chanson tradition but has performed and recorded everything from Gypsy jazz to international folk music.
She'll be backed by PJ Wyderka (upright bass), Adrien Prévost (guitar), and Sylvain Carton (clarinet, sax), and she'll perform on accordion and toy piano, during a special concert this Sunday, Aug. 23, at Steynberg Gallery at 8 p.m.
You're going to love these covers of 1940s Shanghai jazz gems—exotic rumbas and pop classics to lovelorn ballads and joyful swing numbers.
Lone troubadour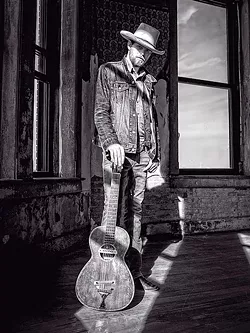 PHOTO COURTESY OF JOSHUA KLOYDA
ROAD WARRIOR: Joshua Kloyda brings his acoustic blues sounds to Old Cayucos Tavern on Aug. 26.
Think of Joshua Kloyda as an Old West gunslinger, except instead of a gun he's got a guitar, and instead of riding into town and cleaning it up, he's going to dirty it up with songs about "hard-knocks, hard-times, love and passion, despair, longing, beauty, and tears."
"This young man sings about life, about the ups and downs we've all faced along the way," according to his bio. "He bares his soul. Honest, stark, and raw. A wandering troubadour worth hearing. One man, one guitar."
Hailing from a small Minnesota town, his raw, bluesy songs take you down the many roads he's journeyed.
"Joshua was 13 when his folks bought him his first guitar; the stories have been flowing from his soul ever since. Coffee shops, old clubs and bars, opera halls, dirt roads, riverbanks, and the miles of steel rails he's walked all define his music and bring his lyrics to life. He's got a lot of stories to tell, touching each of us in different ways, under the skin where life is really happening."
See him at Old Cayucos Tavern on Wednesday, Aug. 26, with a set at 4 p.m. and another at 7 p.m.
More music …
Aside from a Tooth & Nail Winery pop-up concert on Friday, Aug. 21, with LA groove machine Soul Scratch (5 p.m.; free), Good Medicine Presents and Numbskull Productions are taking a much-deserved break this week. In fact, SLO Brew is dark except for a mountain bike film next Thursday, Aug. 27, and music doesn't return to the club until Friday, Sept. 4, with !!! (which is supposedly pronounced "chk-chk-chk"), a dance-punk act out of Sacramento. Enjoy your much-deserved break, Todd and Korie Newman and Eddy Burgos!
Ed Gerhard is simply one of the best guitarists in the world. The Grammy winner plays 6- and 12-string, slide, and Hawaiian lap steel with equal skill, leading Scott Alalrik of The Boston Globe to declare, "Gerhard does not write instrumentals. He writes songs only a guitar can sing." This Friday, Aug. 21, he'll play Coalesce Bookstore and Garden Chapel (7 p.m.; all ages; $22; call 772-2880).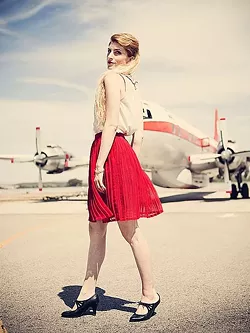 PHOTO COURTESY OF NICOLE STROMSOE
CHANTEUSE: Jazz and blues singer Nicole Stromsoe plays D'Anbino's on Aug. 21.
Nicole Stromsoe brings the same sort of experimentation and fresh interpretation to her jazz and blues music as, say, a Cassandra Wilson. The acoustic instrumentation provide by Dorian Michael (guitar), Ken Hustad (bass), and Dean Giles (drums) offers just the right touch to her evocative voice. You can hear her at D'Anbino's this Friday, Aug. 21 (7:30 p.m.; 21-and-older; $10; RSVP at 227-6800). "This is a rare opportunity to see the four of us play this material together," Stromsoe said. "We recently opened for 2Cellos at the Performing Arts Center (back in March), and did a live audience studio recording in Harmony a couple months back. We're really looking forward to this show and spreading the music."
Lance Canales & The Flood play an album release for The Blessing and the Curse this Friday, Aug. 21, at The Pour House. The roots-blues trio frequently concerns itself with the travails of migrant workers of the Central San Joaquin Valley.
Amy Obenski has been coming through SLO County for years now, delivering what she calls "ethereal down-tempo folk rock," but she's just added another weapon to her musical arsenal: live looping. "I've been live looping, and it's getting some attention, creating up to six-part harmonies in a solo performance," she said. She's got a gorgeous voice, and she's touring in support of her fifth album, Restless, which was a collaboration with a trio of French musicians called The Carbone Band. See her for free at the Vina Robles Hospitality Center on Saturday, Aug. 22, from 1 to 4 p.m.
Scott Cooper is returning to the area for a series of shows. "I'm finishing up recording my new CD Hat Trick and it's scheduled for a December release ... and it's kick-ass!" Cooper gushed. The singer-songwriter delivers thoughtful, literate tunes that stick with you. See him on Saturday, Aug. 22, from 1 to 4 p.m. at Peachy Canyon Winery as a duo with bassist Terry Shields, then later from 6 to 9 p.m. at Manrock Brewing again with Shields. He'll return solo on Saturday, Sept. 26, with a 1 to 4 p.m. Ragged Point show followed by a 6 to 9 p.m. gig at Manrock.
Damon Castillo brings his smooth urban pop sounds to Sea Pines Golf Resort this Saturday, Aug 22 (2 p.m.; all ages; free), for an outdoor concert. "We're kicking off the 'Indian Summer Concert's On The Green,'" Castillo said. "The lovely Ynana Rose opens! Boogie on the softest dance floor in the world."
PHOTO COURTESY OF AMY OBENSKI
LOOPER: Amy Obenski brings her "ethereal down-tempo folk rock" to the Vina Robles Hospitality Center on Aug. 22, using a looping machine to create layers of sound right on stage.
Fans, music lovers, and the many students he's touched over the years will send beloved artist, music teacher, and SLO Youth Symphony founder Wachtang "Botso" Korisheli off in style this Saturday, Aug. 22, during A Musical Memorial to Botso at 3 p.m. in the Performing Arts Center. The event is free and open to the public. Korisheli, 93, died of an apparent heart attack last month. The program will feature three pieces by Johann Sebastian Bach, one of Korisheli's favorite composers: "Double Violin Concerto in D minor," "Double Piano Concerto in C minor," and "Little Fugue in G minor." Other selections include the "Adagietto" from Gustav Mahler's Symphony No. 5 and "The Great Gate of Kiev" from Modest Mussorgsky's "Pictures at an Exhibition."
"As an expression of cultural joy, you can't top an Irish wake," SLOfolks wrote. "And what is a wake but a celebration—a toast of appreciation—an expression of love—and a damn good party? It's with great joy we announce the return of one of our favorite groups, Wake the Dead! Their music is a romp that flows seamlessly from rock grooves to hot Irish reels, and from haunting airs to achingly beautiful melodies familiar to Deadheads everywhere. Imagine all this immersed in the unparalleled beauty of Castoro's outdoor amphitheater?" SLOfolks presents Wake the Dead at Castoro Cellars Winery this Saturday, Aug. 22 (7 p.m.; all ages; $22 by calling 238-0725 or online at castorocellars.com/events).
The SLO Museum of Art hosts the a cappella sounds of the Bald Spots this Sunday, Aug. 23, at 3 p.m. Not only will you hear barbershop-style singing, but the group throws in corny jokes for free with your $15 admission (online at sloma.org). If you like sweet-natured nostalgia, this is the show for you, and stick around after to meet the singers and enjoy refreshments.
Jazz and pop vocalist extraordinaire Inga Swearingen and the Real Times Jazz Group perform on Sunday, Aug. 23, at 3 p.m., in Los Osos' St. Benedict's Episcopal Church. The $30 admission includes wine and refreshments. Get advance tickets at the Abundance Shop, Boo Boo's, or brownpapertickets.com. Proceeds benefit St. Benedict's ministries
Danny Rockett calls his act Bad Teenage Moustache a "comedic melodic punk folk duo" whose music is "irreverently silly, like [if] Weird Al, Ween, and George Carlin had a baby together." The duo plays Frog and Peach on Sunday, Aug. 23 (10 p.m.; 21-and-older; free). "Bad Teenage Moustache was originally based in NYC, but we're touring out of Chicago as I write about the Chicago Cubs baseball team. We're following the Cubbies from San Francisco to Los Angeles on a 'Gig and a Game Tour.'"
Keep up with Glen Starkey via twitter at twitter.com/glenstarkey, friend him at facebook.com/glenstarkey, or contact him at gstarkey@newtimesslo.com.