PHOTO COURTESY OF JOHN FOGERTY
LISTMAKER!: Rolling Stone magazine named John Fogerty No. 40 on its 100 Greatest Guitarists list, No. 73 on its 100 Greatest Singers list, and his songs "Proud Mary" (No. 41) and "Born on the Bayou" (No. 53) on its Greatest Pop Songs and Guitar Songs lists respectively. See him Oct. 11 at Vina Robles Amphitheatre.
The John Fogerty story is a classic rock fable, a story of raw talent, hubris, rises and falls, and ultimately perseverance. Born in Berkeley, John was the younger brother of Tom Fogerty, who led the first incarnation of the band that would become Creedence Clearwater Revival.
Called Tommy Fogerty and the Blue Velvets, the late-'50s group also included Doug Clifford and Stu Cook—all four then students at El Cerrito High School. By 1965, they'd signed to Fantasy Records, which changed their name to The Golliwogs. Their single "Brown-Eyed Girl" was their biggest hit, selling 10,000 singles in '65, but it wasn't until they changed their name to CCR in 1967 that their string of hits cemented their place in rock history.
A few early hits were covers, such as Dale Hawkins' "Susie Q" and Screamin' Jay Hawkins' "I Put a Spell on You," but soon "Proud Mary" and "Born on the Bayou" found an audience and CCR was soaring. The songs "Green River," "Fortunate Son," "Down on the Corner," "Travelin' Band," "Up Around the Bend," and "Lookin' Out My Back Door" dominated top 40 radio in the '60s and early '70s.
By then, however, John's ego started interfering with band chemistry. His brother Tom felt taken for granted, and Doug and Stu wanted more credit and creative control. John allowed them to write songs but refused to sing on them, and their rise to the top became a slow slide into irrelevancy. Tom left and the band struggled on as a trio, but their days as a unit were numbered.
John went solo in 1973 under the name The Blue Ridge Rangers, and while a few of his songs broke through, the success he enjoyed with CCR eluded him until 1985's Centerfield, his first Warner Bros. Records release that included the top 10 single "The Old Man Down the Road" but which also contained the songs "Zanz Kant Danz" and "Mr. Greed," which were considered attacks on his former Fantasy Records boss Saul Zaentz, who responded with a lawsuit leading to a re-issued version "Vanz Kant Danz."
By the time he released the Centerfield follow up Eye of the Zombie, he was touring but refusing to play any CCR material. When CCR was inducted into the Rock and Roll Hall of Fame in 1993, Fogerty refused to play with his remaining living band mates Doug and Stu (Tom had died in 1990).
Fogerty enjoyed a second—but short-lived—comeback in 1997 with Blue Moon Swamp, which won the Best Rock Album Grammy Award. Yet, it wasn't until 2004's Déjà Vu (All Over Again) that he found himself again the spotlight. In 2005, John was inducted into the Songwriters Hall of Fame.
His 2007 album Revival was again nominated for a Grammy, but it lost to the Foo Fighters. More recently, he's softened his resistance to his early CCR material, in 2011 performing two CCR albums, Cosmo's Factory and Green River, in their entirety at the Beacon Theater in NYC, the same year he started recording his most recent album, Wrote a Song for Everyone, which was released in May of this year and includes collaborations with the Foo Fighters, Keith Urban, the Zac Brown Band, My Morning Jacket, Kid Rock, Bob Seger, Brad Paisley, Alan Jackson, Jennifer Hudson, and others, covering a wide variety of his CCR and solo work.
Make all the old fogy jokes you want, John Fogerty sounds great on the record, and I imagine when he plays Vina Robles Amphitheatre this Friday, Oct. 11, he's going to knock you right out of the stands. Tickets are $48.50 to $98.50 for the 8 p.m. show. Visit vinaroblesamphitheatre.com for tickets.

PHOTO COURTESY OF THE HAY DUDES

FEELING GRASSY?: The Hay Dudes—(left to right) Wally Barnick, Mike Mullins, and Kenny Blackwell—play Oct. 10 at Steynberg Gallery and Oct. 12 at Painted Sky Studios.
More music…
Hey, dudes, guess who's playing four shows this week? Yeah, it's The Hay Dudes—Kenny Blackwell (mandolin, guitar), Mike Mullins (mandolin, guitar), and Wally Barnick (Fender bass)—three guys who've been friends and musical collaborators for 35 years and who sing amazing harmony vocals together on their bluegrass and beyond repertoire. Even better, they'll be joined on this four-date mini tour by master multi-instrumentalist Dennis Caplinger, whose impressive resume includes album and live performance appearances with Eric Clapton, JJ Cale, Byron Berline, Chris Thile, Kevin Welch, Vince Gill, Chris Hillman, Rita Coolidge, and more! They're touring in support of their self-titled album. Some shows are close, but a couple are a little out of our area. See them Thursday, Oct. 10 at Steynberg Gallery in SLO; Friday, Oct. 11 at The Barn in Gilroy (e-mail ebehlmer@yahoo.com for this house concert); Saturday, Oct. 12 atPainted Sky Studios in Harmony; and Sunday, Oct. 13at the 42nd Annual Old Time Fiddlers' Conventionin Goleta (fiddlersconvention.org). Prepare to be "wowed!"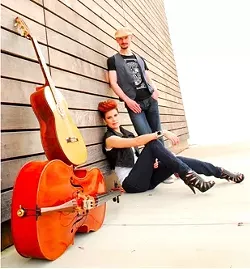 PHOTO COURTESY OF MONTANA SKIES
WIDE OPEN: Montana Skies plays Oct. 11 at Coalesce Bookstore and Oct. 12 at Castoro Cellars.
SLOFolks has done it again, setting up a couple great folk concerts with the fun-filled Montana Skies, a duo that refuses to be reined in by genre conventions and happily delves into music from rockers Pink Floyd and Rush to classic composers like Vivaldi to folk traditionals like "The House of the Rising Sun" to their own original compositions that have been featured everywhere from NPR to the Travel Channel. "Jonathan's guitar wizardry and Jenn's blazing electric cello combine to create a sound that is truly remarkable," according to their bio. "While the music defies simple categorization, it is a fusion in the truest sense of the word. It's been called everything from chamber rock to psychedelic strings." See them Friday, Oct. 11 at 7 p.m. in Coalesce Bookstore (772-2880) or Saturday, Oct. 12 at 7:30 p.m. at Castoro Cellars (238-0725). Each show is $20.
After some trepidation of whether it was on or off (Thank you, Congress, for the government shutdown and your utter uselessness!), I can confirm that the 22nd Annual Big Sur Jade Festival is indeed on this Friday, Oct. 11 through Sunday, Oct. 13 at the Pacific Valley School located 40 miles north of Cambria on Hwy. 1 in Los Padres National Forest. The event is free but acts as a fundraiser for the smallest school district in California. On Friday from noon to 6 p.m., hear The Turkey Buzzards, Julian Temple, Mowtowners, and others. On Saturday from 10 a.m. to 6 p.m., hear Choro de Ouro, Gillie Wheesels, The Mighty Croondogs, and others. And on Sunday from 10 a.m. to 5 p.m. hear Songs Hot Box Harry Taught Us, Rough House, Naked Soul, Lee Koch, and others. This is a great event for a great cause.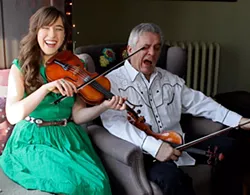 PHOTO COURTESY OF CLELIA AND RAFE STEFANINI
FATHER/DAUGHTER: Old Time Fiddle Reunion featuring Rafe Stefanini and his daughter Clelia play Oct. 12 at the Red Barn.
The Red Barn in Los Osos is the site for the Old Time Fiddle Reunion this Saturday, Oct. 12 (potluck at 5 p.m.; concert at 6 p.m.; all ages; $10 donation; BYOB). If you like old time Americana music on fiddle and banjo, this concert is essential! Old Time Reunion is the first-time-ever combination of Rafe Stefanini and his daughter Clelia with Tom Sauber and his son Patrick. Rafe has been the leading edge of the traditional rural south music revival for more than 30 years. Whether on fiddle, banjo, or guitar, he's been a member of such influential bands as the Wildcats, Big Hoedown, and The Rockinghams. His daughter Clelia has followed in his footsteps, demonstrating talent on fiddle, guitar, and vocals. This year, she placed first on fiddle at the revered 24th annual Appalachian String Band Music Festival at Camp Washington-Carver in West Virginia. This one ought to be a hoot! Doors open at 4:30 p.m.
It's boobie time again, friends, that time to raise awareness about the real danger of breast cancer. On Saturday, Oct. 12, Penny's All American Café hosts Steppin' Out in the Pismo Beach Vets Hall for their 7th Annual Breast Cancer Benefit titled Penny's Steppin' Out for Breast Cancer. As usual, proceeds go directly to the Jacqualyn Palchak Cancer Fund, the only local breast cancer fund that provides research, support, consultation, and wellness programs to those with a cancer diagnosis.
There's also a raffle and Santa Maria style barbecue. Tickets can be purchased online at pennysallamerican.com for $45, which includes a cocktail or beverage, a raffle ticket, and dinner plate in addition to access to all the night's festivities. The doors open at 5 p.m.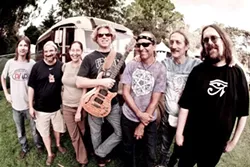 PHOTO COURTESY OF DARK STAR ORCHESTRA
DEAD HEADS!: Experience a Grateful Dead flashback on Oct. 14 when Dark Star Orchestra plays the Performing Arts Center.
Dead Heads, are you still out there? Because if you are, you're going to want to get your Dead fix with a tribute band the Chicago Tribune once gushed over, saying, "Dark Star Orchestra often sounds more like The Dead than The Dead sometimes did." The ensemble has played more than 2,200 shows, closing in on the Grateful Dead's own 2,350! "A couple of times when I had my back to John (Kadlecik) onstage and he started to sing, I had this weird sense that it was Jerry," said Grateful Dead founder Bob Weir. "This is a great band, and I had a great time." Get your Grateful Dead flashback on this Monday, Oct. 14, when Dark Star Orchestra plays a 7:30 p.m. show at the Performing Arts Center's Cohan Center. Student and adult tickets for the performance range from $22.60 to $35 (call 756-4849 or order online at calpolyarts.org).
Looking for a misogynistic, gory, psychotic, and necrophiliac rap blast from the past? Well, here it comes anyway when Houston-based '80s hip-hop act Geto Boys comes to SLO Brew on Wednesday, Oct. 16 (8 p.m.; all ages; $26 presale or $48 at the door). The group helped usher in the Dirty South style, but they really hit the big time when they and other gangsta rap bands were attacked by politicians for their lyrics and message, and then when Bushwick Bill lost an eye in a shooting, the group's 1991 album We Can't Be Stopped blew up, in part because of its disturbing cover image of the injured Bushwick being rolled on a gurney through a hospital. Willie D. Anthony Ray will join the Geto Boys. There's a bunch of other cool shows at SLO Brew this week, including The California Honeydrops on Friday, Oct. 11 (7:30 p.m.; 21-and-older; $15 presale or $18 at the door); and Fucked Up on Tuesday, Oct. 15 (10:30 p.m.; 18-and-older; $12 presale or $14 at the door); but visit slobrewingco.com for a complete listing of shows.
A note to those who submit to the music column…
I appreciate and welcome all submissions for the music column, but from week to week, space can be tight. I give preference to shows I think are historic or of special importance to readers, shows that are for a cause or benefit, and shows whose information reaches me in a timely manner.
If I am unable to include your show, I apologize. Your show is important too! Please remember that you're always welcome to submit your event via our online submission system at newtimesslo.com/calendar_add_event.php. That way, in case your event doesn't make the music column, it will at least be in our online calendar, a highly convenient way for readers to learn about all the upcoming events in SLO and Northern Santa Barbara counties. Select "music" from the pull-down category menu, and then fill in the blanks!
Keep up with Glen Starkey via twitter at twitter.com/glenstarkey, friend him at facebook.com/glenstarkey or myspace.com/glenstarkey, or contact him at gstarkey@newtimesslo.com.