If you've seen a flier with a can of Campbell's tomato soup wearing a Stalin mustache, chances are you've already been invited to the May 19 Fascist Art Party at The Establishment. The exhibit began as something of a joke an opportunity to poke fun at the authoritarian political ideology but quickly developed into a thoughtful, though still whimsical display of various artistic media from local artists. One of the organizers, to whose tune would-be fascist and anti-fascist artists are marching, is student/narwhal painter/journalist Kylie Mendonca, regular New Times contributor and resident of the Establishment since January.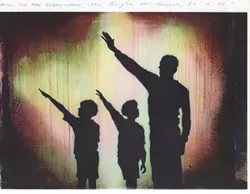 IMAGE BY ROBERT EADS
WE ARE EVERYWHERE : by Robert Eads
# "The Fascist Art Party started out as a joke between a roommate and myself in that he was insisting that our art show needed a manifesto, and I, in a fit of rage, yelled out, 'We're not having a fascist art party!' and immediately we realized how well that could work as a theme for an art show," Mendonca explained. "We did eventually decide on this theme as more than just a joke. The primary artistic goal was to show something different. One of the things that really influenced this was that I was talking to this local artist and he said, 'It's not the responsibility of the art galleries to be putting on really adventurous shows because they're a business.' And I realized that I have this space that could be used for that kind of art show."
The Establishment is a two-story housing co-op with 19 residents, a Steve Irwin memorial bathroom, and narrow hallways. Though the house doesn't have very much indoor open space, residents plan to take full advantage of the backyard as a venue to display the art. The Establishment isn't necessarily a space that evokes the feeling of a clean, spacious gallery, but it's easy to imagine a riotous band of colors, ideas, and shapes emerging.
Establishment residents' first real challenge was rounding up artists with a sense of humor and an appreciation of the fascist aesthetic. Armed with a broad definition of fascist art anything pro- or anti- fascist or evocative of the various tenets of fascism was welcome the housemates posted bulletins on craigslist and in newspapers, also relying heavily on word of mouth.
"I definitely didn't want it to be restricted," Mendonca said. "We wanted to take the theme and let people do whatever they thought applied to it. We're not going to be fascists about it."
IMAGE BY GLEN STARKEY
MARCHING ON BAGHDAD : by Glen Starkey
# Despite the loose definition of fascist-related art, finding artists proved to be the show's biggest challenge. Dozens expressed interest, but were reluctant to actually commit a particular piece. A few simply decided that their work didn't mesh well with the theme.
"I had more than one person say something to the effect of, 'I only paint happy things,'" Mendonca said. "But it doesn't make any sense to have an art show about rainbows and sunshine."
Of course, sunshine and rainbows could have found their way into the show through plein air paintings or some similar artistic medium expressing the glory, strength, and natural beauty of the homeland, but few plein air painters seemed to want their work identified with fascism.
Despite the difficulty in rounding up a diverse assortment of artists, house residents ultimately corralled about a dozen different contributors, each with a very different spin on fascist art. Photographer Eric Distel has a forbidden fruit series depicting fruit in bondage, journalist/Cal Poly instructor/painter Glen Starkey provided several paintings inspired by the United States' occupation of Iraq, and Robert Eads has several paintings that look, for all intents and purposes, like Nazi propaganda. The art party will also feature a fascist propaganda video starring Disney cartoons and the governator, work by Tall Bike Posse Sheriff Bill Mulder, and public artist Allen Root.
Bananas in bondage aside, there's another great reason to
PHOTO BY ERIC DISTEL
BANANA IN BONDAGE : by Eric Distel
# attend the Fascist Art Party. Tolosa Winery is sponsoring the happening, so there will be some quality libations to make the entire exhibit experience a little more standard. A little. This is still a Fascist Art Party.
Mendonca has as of yet to write a manifesto and probably won't, though that little detail won't deter organizers and guests from making references to the non-existent pamphlet. And the 19 roommates haven't yet decided whether the Fascist Art Party will be the Establishment's only foray into San Luis Obispo's world of art, or whether future exhibits will soon follow.
"We want to wait and see how this one goes. It's kind of scary to open up your home like this. You're inviting strangers into your space in good faith and hoping something good comes out of it," Mendonca concluded.
INFOBOX: Somewhere, Mussolini's smiling
San Luis Obispo's favorite hippie house the Establishment is hosting a Fascist Art Party on May 19 from 1 to 6 p.m. The Establishment is located at 1703 Santa Barbara St. Be sure to wear your favorite fascist mustache and be mindful that you don't violate any aspect of the manifesto.
---
Arts Editor Ashley Schwellenbach contributed the propaganda video with Arnie's voice and Walt Disney's dancing chickens. Send comparisons of your propaganda to aschwellenbach@newtimesslo.com.