As he waits to stand trial for the murder of 62-year-old Paso Robles resident Nancy Woodrum, 42-year-old Carlo Alberto Fuentes Flores will begin meeting with experts who could testify in his defense.
Just who those experts are won't be provided to the SLO County District Attorney's Office.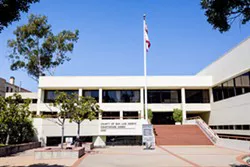 File Photo By Steve E Miller
CAPITAL CASE? Carlo Fuentes Flores is charged with the premeditated murder of a Paso Robles woman, and could face the death penalty.
On Feb. 7, SLO County Superior Court Judge Dodie Harmon granted a request from one of Flores' attorneys, William McLennan, to allow confidential jail visits between Flores and unnamed defense experts. The order stated that those experts will be able to meet with Flores at the jail and will be allowed to bring a computer and cellphone. The order also requires the SLO County Jail to implement procedures to maintain the confidentiality of the visits and prohibits jail staff from revealing the experts' identities or even the dates and times of the visits to any members of the prosecution or its investigative team.
"It is essential for the proper representation of the defendant that is consistent with his Sixth Amendment rights that his visits with defense experts be confidential and the identity of those experts not be disclosed to the prosecution team, including the investigating agency in the case, the [SLO County] Sheriff's Office," McLennan wrote in his motion.
In his request to the court, McLennan noted that such confidential procedures were approved in other high-profile capital murder cases, including the prosecution of murderer Rex Krebs, who received the death penalty after being convicted in 2001 of abducting and killing two young women in SLO County. McLennan represented Krebs in that case.
McLennan's motion is yet another indication that the case against Flores could be a capital one, which means the SLO County District Attorney's Office could seek a sentence of life without parole or the death penalty against Flores should he be convicted. As of Feb. 13, the DA's Office had not made any public announcements of what punishment it would seek in the case against Flores.
Flores, who was reportedly working as a housepainter on Woodrum's property, was arrested for her murder shortly after he allegedly led Sheriff's investigators to her body at a remote spot near Highway 58 in December 2018. At the time, Woodrum had been missing for more than seven months.
Flores is facing a charge of premeditated murder with two special circumstances alleging that he committed the murder while in commission of a rape and residential burglary. Flores pleaded not guilty to the murder charge in early January.