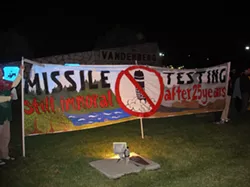 PHOTO BY NICHOLAS WALTER
TAKING A STAND : Dennis Apel, McGregory Eddy, and Father Steve Kelly were arrested during a protest against missile testing such as the one pictured.
Most people try to avoid standing before a judge in court, but Dennis Apel's been hoping to get in front of one for a while now. Apel, along with Father Steve Kelly and McGregor Eddy, are no strangers to being arrested. The three of them have been arrested numerous times while protesting in front of Vandenberg Air Force Base.
And while they're still protesting Vandenberg's mission, there's a new issue they're fighting: whether or not the base commander can issue "ban and bar letters" to individuals for standing on what's designated as a "public forum." In this case, that public forum is the grassy strip along Highway 1 outside of Vandenberg's main gate, where people have gathered to demonstrate for the past 14 years.
Vandenberg officials say it's base property and they can do what they want based on the commander's discretion. The protesters claim that because it's a public forum, the First Amendment applies and they're free to assemble there.
"We're not contesting whether the base can exclude certain individuals with the ban and bars—they're certainly valid on base," Apel said. "But is it valid on open public forums? That's what we're trying to have ruled on."
Apel and the others have been hoping to have the issue decided by a judge. After multiple arrests, they finally got their day in court at the federal bankruptcy courthouse in Santa Barbara on July 15 with concurrent trials covering trespassing charges from four different dates.
The two trials were exercises in déjà vu—the first was for Eddy and Apel, the second for Apel and Father Kelly. All were charged with the same violation: trespassing. The heart of the issue, however, was the use of the ban and bar letters, Eddy said.
"The base commander has the right to restrict access," she explained. "The question is: Do they apply ban and bars in an arbitrary and capricious manner, which is prohibited by law?"
During the trial, Apel called Scott Fina, a former New Jersey State trooper with SWAT experience, as a witness for the defense. While on the stand, Fina, who had also taken part in protests, said he couldn't understand why the base was so focused on people who obviously weren't security threats.
"We're peaceniks," he said. "I think there are plenty of other security risks that, frankly, I'm surprised that the base overlooks."
When asked to elaborate, Fina said anyone who was interested in causing "mischief" on base would be smarter to approach one of the launch complexes out near Point Sal, rather than announce their presence at a planned protest.
When it came time for sentencing, the government, represented by Air Force captains Dan Ridlon and Aimee Haney, recommended a week in jail and a $4,000 fine, partially to send a message: "The defendants, Mr. Apel especially, are repeat offenders. Generally speaking, they know the rules, therefore we feel a short amount of confinement is acceptable."
During their sentencing, the two men had differing views on the possibility of jail time. Apel, who is unemployed, said he would rather face incarceration than pay any fines.
"With all due respect, the money to pay this fine would be money given to us to feed the poor," he said.
Kelly, on the other hand, had no opinion on the fines, but was matter-of-fact regarding jail time.
"I would consider myself a political prisoner if incarcerated," he said.
During her ruling in the first trial, Judge Rita Coyne-Federman said she recognized Apel's reason for wanting to appear in court, but for the issue at hand—trespassing—the facts weren't in dispute.
She noted that Apel's challenging the banning of individuals was more about the commander's discretion—and on that basis, the commander's decision to ban people with previous ban and bar letters was valid.
The judge then added that there were valid issues being brought by the defendants, and that perhaps they needed to be heard at a higher level.
"There are important First Amendment issues in this case. Although I've ruled against the defendants, I've been persuaded by Mr. Apel that the whole reason for going to court was this issue. I think it's important his issue gets addressed," the judge said.
All three defendants were found guilty. Fines of $250 plus court fees were assessed against Eddy and Apel for the first trial. Speaking after the trial, when asked if he intended to pursue an appeal or civil suit against the Air Force, Apel was still letting the ruling sink in.
"This has been a long process," he said. "It's been draining. I have to wait and see what the written ruling from the judge says. After that? We'll see."
Nicholas Walter is a staff writer at New Times' sister newspaper the Santa Maria Sun. He can be reached at nwalter@santamariasun.com.