There are a variety of terms you'll hear when people talk about this money issue, including "unsecured debt" and "debt buyers." Among those who've felt the business end of a related lawsuit, it's usually called "junk debt." But for Diane Gillett, "it was the perfect storm of crap."
"I said I was a shit magnet," she said.
In the backroom of her barbershop on the main drag in downtown Cayucos, Gillett eased into a worn, tan easy chair opposite an old barber's chair.
"I had four credit cards; I had like beaucoup credit," she said. "I could walk on water."
That was back in about 2007, before the economy tanked and before Gillett said her credit limit was lowered while at the same time her creditor jacked up the interest rate. Gillett said she was doing well financially, supporting four sons, and regularly paying off the debts she owed while keeping up with the mortgage, car, and rent payments on her business, which she's owned for 22 years. But the new financing meant Gillett went from making monthly payments to chip away at her balance to making monthly payments that were covering little more than her new interest rate.
PHOTO BY HENRY BRUINGTON
PERFECT STORM OF CRAP: For Diane Gillett, a slumping economy and dual knee surgeries led to a long sequence of battles with her creditors that ultimately resulted in a lawsuit brought against her.
Gillett speaks firmly about her experience with the hardened, gravelly voice of a woman who doesn't put up with a lot of crap. As she spoke—excitedly retelling a story she said her friends and family are now sick of hearing—the bracelets on her wrists jingled, revealing a small red-heart tattoo on her left wrist.
"I never was a big spender," she said. "It was just one of those things that was ugly; I couldn't pay."
After her rates went up, Gillett said she consolidated her debt to keep afloat. Then, in 2009, she had ACL surgeries on both knees over a one-year period. She said casually that she now has "cadaver parts."
Unable to work or generate a steady income beyond the rent she received from one of her haircutters, Gillett called her creditors and told them she wouldn't be able to pay until she was able to get her finances in order and work regularly.
Most of them were fairly accommodating—at first. During that time in her life, she cut back expenses, even going to the local senior center for food donations for a time. By about late 2009, she started getting calls. When Gillett was able to go back to work, she said her creditors started calling again. Some wanted $100 per month, which she said she couldn't accommodate, but she offered $25.
"You can't take blood out of a turnip, so come on," she told New Times.
But the companies she was dealing with, for the most part, weren't the same companies that had issued her the original credits. One such company, Cach LLC, ended up becoming the most aggressive—and the company that would eventually take her to court.
"I didn't realize that credit card [companies], once they felt that you were a deadbeat, they just shitcanned you," Gillett said.
Cach, a subsidiary of Denver-based SquareTwo Financial, is one of a handful of large debt buyers that often bring debt collection cases to court. In San Luis Obispo County, a civil records search returned 189 records for Cach. Likewise, another large company, Midland Funding, has filed 190 cases against local consumers. When asked for comment, a spokesperson from Midland Funding's parent company, Encore Capital Group, declined to comment on broader questions about the debt-buyer industry and referred New Times to a trade organization. SquareTwo Financial didn't respond to a request for comment; nor did a representative of a California law firm that represents the company.
However, one local attorney who files lawsuits on behalf of some large creditors agreed to speak on condition of anonymity because he wasn't authorized to comment about his clients.
"The typical reason for not paying is something bad happened in their lives," the attorney said.
In only a few rare occasions did he come across debtors who were trying to skirt their financial obligations. More often than not, the people he sues know they have a debt to pay—they just can't pay it. And there are a lot of those cases. The attorney said he'd been in court eight times already the week of the interview, and he had another debt collection case the following day. He added, "My experience on these cases is that, in truth, the debtors owe the money."
The debt-collection industry generated about $55 billion in 2010, according to a March 2014 paper, "The Economics of Debt Collection: Enforcement of Consumer Credit Contracts," published by the Federal Reserve Bank of Philadelphia. Encore Capital's total assets grew from about $1.17 billion in December 2012 to about $3.43 billion in March of this year, according to filings with the Securities and Exchange Commission.
In many cases, the original creditors aren't the ones that handle delinquent account for debts such as credit cards, student loans, and medical expenses. Rather, many creditors may attempt to collect on a debt, but after 180 days of the last payment, the creditor can write off the loss, package the debt with hundreds if not thousands of others, and sell them for a fraction of the amount owed.
Peter Holland is a consumer rights attorney based in Maryland who's written extensively about debt collection in such papers as "Defending Junk-Debt-Buyer Lawsuits" for the University of Maryland Francis King Carey School of Law.
"The basic business model is buy thousands of accounts with little to no documentation, and just file lawsuits on all of them and understand that most people are not going to defend and you're going to get a default judgment," Holland told New Times, adding that most debts are sold for "pennies on the dollar."
The origins of this type of debt collection can be traced back to the 1980s Savings and Loan Crisis, Holland said, when federal regulatory changes paved the way for creditors to sell off bad debts. In the years since, the practice exploded into a growing industry in which creditors can offload bad debts—ranging from debtors who won't pay, can't pay, or can't be found—rather than absorb the financial hit. Today, third parties can purchase thousands of delinquent accounts that, while difficult to collect, have the potential to net huge returns.
"One of the reasons it's sold so cheaply is because it's really bad stuff," Holland said. "And when you look at the contracts of sale between the banks and the debt buyers, which they will never turn over, they consider them trade secrets."
Critics say that such debts are packaged en masse and sold off with little to no documentation about the consumer or the exact amount of money owed. Often, according to Holland and other attorneys who spoke for this story, debt buyers receive nothing more than a spreadsheet.
"They're selling them in huge bundles, like thousands of accounts at a time," said Arroyo Grande attorney Matt Loker.
Loker, a consumer rights attorney who has taken several cases to federal court and countersued debt buyers who overstep federal and state regulations in their collection practices, said some debt collectors will toe along the edge of the law if it means a consumer will submit.
Based on his experiences dealing with debt-buyer cases, Loker said it's often a cost-benefit analysis for the companies. In effect, depending on the potential payout, some companies will risk being penalized for overly aggressive practices given the potential payout when consumers cave.
"Filing a lawsuit is really the last-case scenario for a debt collector," he said.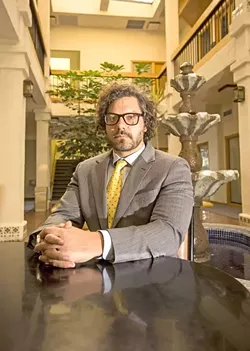 PHOTO BY HENRY BRUINGTON
KNOW YOUR RIGHTS: Even when you can't afford to pay on a delinquent debt, you have rights that protect you from overly aggressive debt collectors, said consumer rights attorney Matt Loker.
Debt collectors can send letters to consumers, but they can't lie and say that a consumer could face criminal prosecution, nor claim that a consumer is being sued when a lawsuit hasn't yet been filed. Debt collectors can't inflate the debt owed or flood consumers with phone calls. Additionally, a debt collector can only call the consumer's family, friends, and workplace once, and even then the collector is only allowed to ask for information that will help locate the debtor. Even with such rules in place, some collectors will push the boundaries in order to force a consumer to pay. In one case, Loker said a collector hacked a debtor's voicemail and put an outgoing message calling the man a "deadbeat nigger."
"It's really just a cost-benefit decision where they're going to harass a lot of people, knowing they don't know their rights," Loker said.
Those examples and anecdotes are the type from which large debt buyers are quick to distance themselves. Jan Stieger, executive director of the debt-buyer trade association DBA International, distinguished what she called legitimate debt buyers and the "criminals."
"Those that are criminals are the smaller companies," Stieger said. "The big, legitimate companies are not engaging in criminal behavior."
Many of the more egregious incidents that make the news—such as debt buyers threatening consumers, lying about the debt owed, suing a debtor twice for the same account, or going after the wrong person for an owed debt—come at the hands of smaller companies that DBA International doesn't represent and, in fact, weeds out through its certification compliance standards, Stieger said. Among those standards, a certified debt buyer must comply with all federal laws and regulations, maintain insurance to cover errors and omissions, conduct criminal background checks on employees, create policies to uphold dispute resolution, maintain a secure data policy, and create policies to keep an accurate paper trail of purchased debts, among other requirements.
Stieger took issue with statements that debt buyers purchase debts for pennies on the dollar, or with little information about the consumer. She declined to estimate the average purchase price of a debt, saying only that each company determines its price differently through a system of algorithms and "yes, they do buy it at a deeply discounted rate."
Debts are not purchased on an open market, but are handled between the creditor and approved debt buyers who must submit proposals when a portfolio is up for sale.
"We work with customers who have past due or over limit accounts and only as a last resort do we consider selling debt to a collection firm," Julie Campbell, vice president of corporate communications for the Wells Fargo Bank Northern and Central California Region, said in a written response to New Times. "As a regular course of business, we work to identify ways we can improve our policies and procedures and work closely with our regulators to adjust debt collection practices as the regulatory environment evolves. In addition, we hold ourselves and the vendors we work with to high standards of quality. We work with a small number of debt buyers whose practices meet or exceed our requirements."
Stieger argued that the system can be beneficial to consumers because debt buyers aren't obligated to collect on the full amount, which allows them to reach a settlement for a lesser total payment. She said debt buyers rarely take consumers to court, estimating that about 3 percent of cases result in a lawsuit.
But when cases do end up in court, there is virtually a zero-percent chance the consumer will win. In SLO County, only about 1 percent of consumers who are sued ever show up to court, according to court officials, and in the remaining 99 percent of cases, the court will typically issue a default judgment to the debt collector. With a default judgment in hand, the collector can obtain a court order to garnish the consumer's wages, often for as much as 20 percent to 25 percent of the consumer's income, Loker said.
Chris Knoll, owner of the local legal document assistance firm We Help You Legal, has been providing advice to debtors for 23 years, and he said most consumers make the same mistake: They hide from the debt collector, not because they're deadbeats or trying to game the system, but because they're confused and scared.
"All they know is they can't afford to pay this damn debt," Knoll said. "I feel awful for the consumer. Yeah, they got themselves in this debt, but it wasn't intentional. It just happened to them; they're not bad people.
"It's this whole underground thing that most of us literally do not see the frustration and the stress that goes on in a lot of people's lives—and I've seen it. It's just disheartening."
Debt collection problems and lawsuits against consumers became such a widespread problem that in 2009 the Federal Trade Commission issued the report, "Repairing a Broken System." The report kicked off a series of discussions and roundtables to repair that system through new regulations and federal oversight, which was also incorporated into the 2010 Dodd-Frank Act.
According to the 2013 study, "The Structure and Practices of the Debt Buying Industry," in 2010 the FTC "received more consumer complaints about debt collectors, including debt buyers, than about any other single industry. Many of these complaints appear to have their origins in the quantity and quality of information that collectors have about debts."
As of press time, the FTC was soliciting comments for new rules related to debt buyers and debt collections.
This year in California, debt buyers became subject to the Fair Debt Buying Practices Act. Stemming from San Francisco Democrat Sen. Mark Leno's bill (SB 233), the act passed unanimously in both the state Senate and Assembly. Gov. Jerry Brown signed the bill into law on July 11, 2013, and it went into effect Jan. 1.
At the time the bill was signed into law, Leno said in a press release, "For years, the aggressive and deceptive tactics of debt buyers have gone unchecked in our state."
Under the new law, debt buyers must make certain documents available to consumers upon request. Furthermore, debt buyers are required to document settlement agreements in open court and are prohibited from receiving a default judgment on cases filed after the four-year statute of limitations. The law also prohibits a judgment against the consumer without authenticated business records that prove the debt buyer purchased that consumer's debt.
For Gillett, the barbershop owner mentioned earlier in this story, she said once she was able to work again, her phone was ringing so often that she stopped answering. Even after explaining that she needed a few months to generate an income again, following her knee surgery, Gillett said the calls kept coming. When she began receiving calls at work, she said she threatened to call the police, and the calls ceased.
"Then, in October, this lady comes to the door and she gives me a summons," Gillett said.
That was in 2012, and though Gillett was still trying to climb out of her financial hole, she said she eventually agreed to pay Cach as much as $50 per month, but the person on the other end of the phone insisted on $150.
"I felt that they were refusing a reasonable payment," Gillett said.
Unlike most consumers, Gillett fought back. She sought legal help, though she couldn't afford a dedicated attorney, and paid $400 to get assistance filing court documents in her defense. That money could have better gone toward paying down her debt, she said, "but when I filed, immediately, as soon as the papers were in court, they called me: 'Let's talk about this; let's make a payment arrangement.'"
They were able to agree on a payment plan of $50 per month for a few months, then up to $75, which she's still paying down. Today, years after her ordeal, Gillett said she is financially stable again, and she's once again receiving offers for new credit cards in the mail.
She throws those offers in the trash.
"I tell people all the time, 'Get yourself a credit card, get a minimum amount,'" Gillett said. "'And don't be afraid to talk to them, because most of them, they all want the same thing: They don't want to kill you, they just want your money.'"
She chuckled to herself.
"Because if you're dead, then they don't get your money."
Contact Senior Staff Writer Colin Rigley at 
crigley@newtimesslo.com.