San Luis Obispa doesn't look like much from the outside not yet at least but behind the heavy red front door rests something truly unique. The refinished farmhouse from 1913 is filled with all things relaxing and indulgent. Joanne Winsell bought the property in October 2005 with her husband Dennis, who's studied aromatherapy for more than a decade. The pair worked with the original wood features and created an atmosphere of pastoral elegance. In December, Winsell opened her own version of paradise.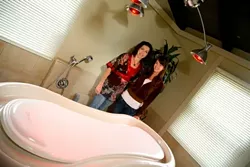 PHOTO BY JESSE ACOSTA
ENJOY IT: Joanne Winsell, pictured here with her daughter Natalie, offers pampering and relaxation to San Luis Obispo guests
# The spa features two massage rooms and four masseuses who specialize in hot stone and prenatal massage. They offer a special class for moms, demonstrating how to massage an infant and how to pamper themselves, too. Actually, everything at San Luis Obispa is about pampering. During massages and spa treatments, there's a strict no talking policy for the practitioners so the clients can fully relax.
Winsell herself acts as the sole esthetician, though her best friend will be joining her soon to help fill those shoes. Winsell considers her role at the spa as the natural culmination of her skills and experiences. From her job as an international flight attendant to her work as a nurse, she's found herself naturally in positions of care for other people. Frankly, she loves it. Her spa treatments are both classic such as the seaweed wrap and bordering on eccentric such as the wine wrap followed with champagne rose body butter, and the chocolate wrap with white chocolate body butter. She developed the latter two with her husband for detox and weight loss, respectively. Winsell incorporates light into all of her treatments for a greater sense of contentment while she goes to work in the Central Coast's only Vichy shower room.
All guests are encouraged to relax with some organic treats or hot tea. For aromatherapy lovers, San Luis Obispa has a complete essential oil bar and natural perfumes to create custom-scented lotions, bath suds, and body splashes. The gift shop also carries original gifts to pamper all ages.
Walk-ins are welcome for massages. Facials and microdermabrasion are by appointment. San Luis Obispa is located at 4151 Vachell Lane in SLO. Stop by Monday through Friday from 10 a.m. to 6 p.m. or Wednesdays and Saturdays till 8 p.m. with an appointment. For more info, call 541-6772.
Kylie Mendonca compiled this week's Strokes and Plugs. Send your business news to kmendonca@newtimesslo.com or rmiller@newtimesslo.com.