Fresh strawberry-basil flavored water, a silent auction, and a shiny new 28,000-square-foot building greeted hundreds of supporters who attended the Nipomo Community Medical Center dedication ceremony on March 1.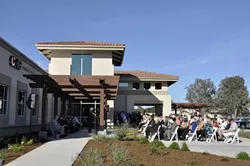 PHOTO BY CAMILLIA LANHAM
HERE'S TO YOUR HEALTH : The brand new, 28,000-square-foot, $9 million Nipomo Community Medical Center opens its doors to patients on March 11, brought to you by Community Health Centers of the Central Coast, the Affordable Care Act, and about 7.5 million in stimulus funding.
The ceremony kicked off a weekend of open house festivities at the newest addition to the family of more than 25 medical centers that make up Community Health Centers of the Central Coast (CHC). The facility was built on the existing Nipomo CHC medical campus at 150 Tejas Place, and the new building opens its doors to patients the week of March 11.
CHC Chief Executive Officer Ron Castle said the $9 million facility wouldn't have been possible without the Affordable Care Act and $7.5 million in stimulus funding allocated toward the project. CHC financed the rest of the project from reserves and financing.
He said the building was designed as a "super-center," with the idea that 12,000 to 14,000 more people will need access to the Nipomo CHC because they will receive health insurance as part of health-care reform.
The center is larger and more comprehensive than other CHC centers. It offers the majority of services a patient would need under one roof, and patient processing is designed to expedite service, meaning less wait time for people.
Castle said it's a model they'd eventually like all their centers to follow.
"The network that we have now [serving] 80,000 could jump to 120,000 under the Affordable Care Act," Castle said. "We're really building a system one piece at a time."
While they won't be putting up any more new buildings at their existing Central Coast CHC sites anytime soon, the long-term goal is to remodel centers with the "super-center" idea in mind: more services under one roof and the ability to care for a higher volume of patients in a shorter amount of time.
CHC's first medical director, Dr. James Dorr, told a crowd at the dedication ceremony that the new facility was a far cry from where CHC began in the 1970s: a house converted to a medical facility where the bedrooms were exam rooms, the closet was the pharmacy, and the kitchen housed the dentist.
He said it's both comforting and exciting to see the evolution of CHC in this brand new building designed to accomplish so much.
"It is stunning, but it's not just because it's new," Dorr said.
For more information about Nipomo Community Medical Center, visit communityhealthcenters.org.
Fast facts
The surf won't be all that's glassy at the annual Cayucos Sea Glass Festival. Check out why collecting sea glass is so popular up and down the coast. You'll get your fix, alright. The event will attract vendors from around the country, showing off and selling their sea glass creations. Renowned author Richard LaMotte, a Discovery Center booth, and mermaids will also be featured, as will local food, drinks, auctions, and live music. Tickets are only $3. The event runs from 10 a.m. to 5 p.m. on March 9, and 10 a.m. to 4 p.m. on March 10 at the Cayucos Vet's Hall at the foot of the pier. For more information, call 995-3681. …
Hey, ladies! This one's for you, but you have to hurry. SLOCASA, Meathead Movers, the SLO Country Club, and Bloom N Grow are sponsoring Girl's Night Out, a cocktail party no gal should miss. Feast on some tapas, wet your whistle at a no-host bar, partake in a little raffling, and dance your butt off. Something to catch your attention: The guys from Meathead Movers will be on hand in their tuxedoes to lavish you with attention. The best news: Money goes to support abused and neglected children in SLO County. Ladies' Night starts at 6 p.m. on March 7 at the SLO Country Club (255 Country Club Drive) in SLO. Tickets cost $60, but are worth the price. For more information, call 541-6542, or visit slocasa.org.
Camillia Lanham, staff writer for New Times' sister paper, the Sun, compiled this week's Strokes & Plugs. Staff compiled Fast Facts. Send items for consideration to strokes@newtimesslo.com.