After becoming Public Enemy No. 1 following a massive clear cut of native tree habitat, the owners of Justin Vineyards and Winery apologized for what happened on their property and asked for the community's forgiveness.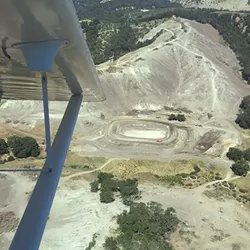 PHOTO COURTESY OF MATT TREVISAN
SO SORRY: This photo of a Justin Vineyards and Winery property was paired with a Google Earth image of the same view before acres of oaks, manzanitas, and madrones were cleared out, sparking widespread outrage. The company has since cancelled plans to continue additional tree clearance to make way for a 230-acre vineyard.
Public outcry erupted in early June after aerial photographs documented the clearing of several acres of oaks, manzanitas, and madrones on Justin's 375-acre property near Willow Creek Road west of Paso Robles. The company planned to plant approximately 230 acres of vineyards, according to a company spokesperson and the project's planting plan.
A June 24 statement from Lynda and Stewart Resnick, owners of Justin Vineyards and Winery's parent The Wonderful Company, announced those plans were cancelled and the company would implement several restoration measures and plant 5,000 oak trees throughout their Paso Robles area properties.
"We were asleep at the wheel," the statement read.
The incident received national attention and uncorked harsh criticism from the wine industry. Several restaurants in the area and elsewhere pulled the well-known label from their lists, and a boycott of all Wonderful Company products—including Wonderful pistachios and almonds, POM Wonderful, Fiji Water, Halos Mandarin oranges, Teleflora, and Landmark Wines—is gaining traction.
Local viticulturists and winemakers led the push for the company to halt their plans and are advocating for a native tree ordinance to make sure something like this won't happen again. The San Luis Obispo County Board of Supervisors indicated early support for such an ordinance and will consider an urgency moratorium on July 15.
"It's not the first time [the Resnicks have] trampled on our county, but you guys can make sure it's the last," said Willow Creek Road resident Diane Burkhart at a June 21 board meeting.
As of press time, SLO County Planning and Building Director Jim Bergman told New Times that the specifics surrounding the land's future were still under negotiation and not yet public. Bergman said that tentative plans include the land's donation to a well-known local land conservancy group with an endowment to fund the property's restoration.
Because county code enforcement determined that the county's grading ordinance was violated, Bergman said enforcement efforts will continue until the violations are remedied through the restoration plan. He also said that the department is making sure that adequate soil stabilization and erosion control is implemented.
Soil erosion and watershed impacts are a major worry for Neal Heaton, who lives immediately south and downstream from the project. The Heatons dry farm 20 acres of wine grapes and 20 acres of walnuts on land that's been in his family since the 1880s. Since first witnessing the tree clearance, they've worried the new vineyard and the deep wells feeding it—one was drilled beside their property line—would eventually dry up their water supply and end their ability to live and farm on the land.
"We can kind of take a sigh of relief that their project won't go forward back here," Heaton said.
-- Melody DeMeritt - former city council member, Morro Bay