Incumbent Katcho Achadjian was re-elected to his second term in the 35th District state Assembly seat, which represents all of SLO County and Northern Santa Barbara County. Achadjian, who previously was a three-term SLO County supervisor representing District 4, has been settling in to his mainstay reputation for area politics.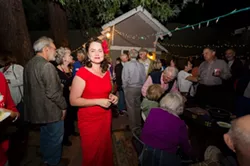 PHOTO BY KAORI FUNAHASHI
AMONG THE MASSES: Heidi Harmon didn't prevail as the challenger to Assembly member Katcho Achadjian, who was re-elected to a second term. Harmon drew on grassroots issues and imagery throughout her campaign, which she said was as much to bring out the issues as it was to run for the seat.
The assemblymember had to fend off challenger Heidi Harmon, a local artist and climate change activist. Harmon's campaign often drew from the hot-button issues of global warming and extreme weather—and the frustration felt by community members who would like to see more action on the matter from elected officials—to pick up steam. At times, Harmon turned the lens back to the incumbent, who owns three gas stations in southern SLO County and has a mixed record on votes pertaining to fossil fuels and climate change.
Achadjian, often viewed as a moderate Republican whose presence in Sacramento and recent legislation has attracted bipartisan support, prevailed in the end, earning 63 percent of the vote, beating Harmon's 37 percent.
Harmon stayed upbeat throughout the campaign, carrying a victorious tune regardless of the poll results.
"It doesn't matter what the election results are, we've won," she told the New Times at her election night party. "We've been able to change the conversation of this community. We've been able to refocus the discussion to focus on the defining issue of our time."
-- Melody DeMeritt - former city council member, Morro Bay