PIPESTONE SYRAH 2005 RESERVE PASO ROBLES:
Pipestone Vineyards owners and winemakers Jeff and Florence Pipes said this special wine was hand-picked from the rockiest, most difficult growing areas in their 11-acre vineyard. Aged in 100 percent French oak barrels, it shows only in smoky, toasty notes. This well-balanced wine is quite interesting in its layers of delicious flavors. It's a meld of wild blackberries and tart boysenberries with nuances of sweet spice and white pepper. A good choice for the table with equally powerful foods, try this with roasted meats like herb-crusted leg of lamb, grilled venison, or paella with spicy sausage and escargot. $40 retail and worth it for this special treat. Only available at the tasting room off Hwy. 26 West or online at pipestonevineyards.com.
DRY CREEK VINEYARD 2005 MERITAGE DRY CREEK VALLEY "THE MARINER":
From one of my favorite wineries in Sonoma County, this is only the second vintage of their premier blend and it's beautifully-crafted. Made of the five noble Bordeaux varieties, it's based on Cabernet Sauvignon and Merlot with Petite Verdot, Malbec, and Cabernet Franc. Although still pretty tannic it quickly opens, revealing delicious aromas and flavors of blackberries, plums, black cherries, and currants with notes of minerals, herbs, green olives, and light smoky, spice notes. Elegant enough to drink on its own now, but best on the table with prime rib, ribeye steak, rack of lamb, or grilled quail. Dedicated to the life of the mariner, hence its special designation, founder and owner David S. Stare is passionate about sailing. Available online at drycreekvineyard.com, it's $40 retail. It's a great gift for a dad or cousin who loves wine, or for yourself. Dry Creek wines are usually available at BevMo!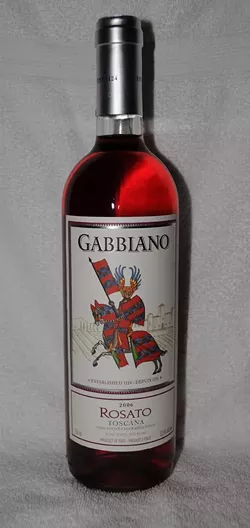 CASTELLO GABBIANO 2006 ROSATO CHIANTI:
What a surprise it was to discover this value-priced bottle of pink wine from Italy. I usually prefer the latest vintage when it comes to Rosé but this strawberry-hued wine is still lively. It tastes of strawberries, raspberries, and tart cranberries nicely highlighted hint of citrus and spice. I drink Rosé year round because it's so refreshing, and this is perfect as an aperitif before dinner. It's also a good choice with appetizers like chilled prawns, a crab quesadilla, or parmesan cheese crisps. It's a good buy at only $7 retail at Monterey St. Wine Co. ∆