Cal Poly's student-run radio station, KCPR 90.1FM, is sometimes horrible, sometimes brilliant, sometimes hilarious, sometimes stupefying. I've tuned in and thought, "Holy guacamole! What an awesome set!" and "Wow, what a charming and knowledgeable DJ." I've also tuned in and cringed. That's not necessarily a bad thing! The station has been home to everyone from Weird Al Yankovic to Neal Losey (now of KCBX) to Malik Miko Thorne (of Boo Boo's) to New Times photographer and resident metal head Steve E. Miller to even little old me, a DJ in the mid-'80s. We learned to love music even more, and I have a ton of fond memories from sitting among the stacks fishing out records to play.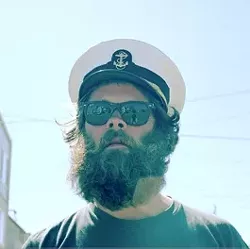 PHOTO COURTESY OF LITTLE WINGS
ALL ABOARD! : Kyle Field of Little Wings will deliver three performances during the KCPR Fall Flood Fest, a massive two-day music festival with a ton of acts at several venues. See him on Sept. 24 at the Cuesta Park barbecue, later than evening at Kreuzberg, and on Sept. 25 at Linnaea's Café.
Former DJs from all eras of the station will descend on SLO Town for a reunion that also coincides with a two-day KCPR fundraising event called the KCPR Fall Flood Fest with shows all around town.
The festival kicks off at Cuesta Park on Saturday, Sept. 24, from noon to 5 p.m. with The Shants, Sea Birds, Little Wings (Kyle Field accompanied by Mike Funk on drums), The Booker Tease, and Abstract Butta Fingers. That evening, the party moves to Kreuzberg for music by Little Wings, Bob Thayer & Joe Lewis, The Shants, and Mel Russo. Also that evening, the San Luis Obispo Museum of Art will be host to Bottle (in a reunion show), Man/Miracle, The Marquees, and Blackstrap Molasses.
On Sunday, Sept. 25, Kreuzberg kicks things off with a lunchtime show with Natalie Alyse, This, and Quinn DeVeaux (solo acoustic). Meanwhile, Linnaea's will offer music from noon to 10 p.m. with sets by The Shants, Sea Birds, The Dead Volts, Siblings, Dedications, Sparrows Gate, Little Wings (with Sparrows Gate backing up Kyle), West, The Marquees, Nattlesnakes, Blackstrap Molasses, Australian for Kids, and Lostribe (a hip hop act from Sacramento). And if that wasn't enough, SLO Brew will have Zion I, Dengue Fever, Quinn DeVeaux & the Blue Beat Revue (featuring members of the Booker Tease), Waters (featuring Van from Port O'Brien's new band), Grand Lake, and Los Rakas.
Whew! That's a ton of music, and when you buy a $25 ticket at Boo Boo's or through ticketweb.com, you can go to all these shows.
"It all began with the alumni fundraiser," said Carver Cordes, who organized the festival. "When I realized we were going to put a big reunion together, I wanted to get involved. For me, the gold standard was the 1999 reunion (around the 30th anniversary) where hundreds of DJs got together and partied like it was THEN. We kept the formula close to the same by offering alumni shifts on the air and having a barbecue get together in Cuesta Park on a Saturday afternoon. Back then our general manager lived in what used to be a dairy farmhouse on the outskirts of town. Later that night we had a big party in his barn. It was truly epic and educational as all the DJs from the past were more than willing to share their valuable experience and expert advice on subjects like fundraising, programming, and event planning. It was great to see familiar faces and meet the folks who set up the transmitter, built the studio, and developed KCPR's eclectic, alternative music format."
For former DJs, working at KCPR was an invaluable experience, and Carver wants to make sure that experience is there for future Cal Poly students and music lovers.
"I wanted to have another event like that, but I felt the stakes have been raised since many college stations around the country have had their licenses sold out from underneath them by cash-strapped universities looking to cash in on their spot on the dial for a quick buck without taking into account how much more valuable a local radio station with live DJs is to a community, especially in this day and age of music-free MTV, Clear Channel monopolies, bland ad-centered programming with narrow playlists, and automated back-announcing. As cool as services like Pandora are, they can't compare to a DJ introducing you to some new artist that doesn't already sound like music you already listen to, and you certainly aren't going to hear music you don't already own on your iPod. I never want to see this happen to KCPR. Instead of waiting for something like this to happen so that we all have to pitch in for legal fees in what might be a futile battle with a corporation with deep pockets, I propose we show the university that KCPR has strong community support and that we don't want it go anywhere."
PHOTO COURTESY OF DENGUE FEVER
CATCH THE FEVER : Dengue Fever brings sparkling alt-rock to SLO Brew on Sept. 25 as part of the KCPR Fall Flood Fest.
KCPR has also been a boon to the local music scene, presenting live on-air shows as well as sponsoring local gigs.
"Many artists found their voices while living in San Luis Obispo," Carver noted. "M. Ward, Little Wings, Port O'Brien, Norfolk & Western, Bobby Birdman, the Graves, Scissors For Lefty, For Stars, Bodies of Water, and many others played some of their first shows at KCPR—sponsored events when they lived in town during their formative years. The world today would be different without these artists and their influence. I for one don't even want to think about the possibility of some kind of Back to the Future II-style bizarro, dystopian, alternate reality where everything was the same except that Alfred Yankovic was just a mild-mannered architect with an accordion collecting dust in his closet while pop stars made ridiculously expensive, self-important music videos for songs that had lyrics that rhymed with some kind of food without any sort of humbling public scrutiny. Seriously, perish the thought.
"If you want to help," Carver finished, "the best thing you can do is to buy a ticket to the KCPR Fall Flood Fest for $25. If you can't make it, buy it for a friend or relative who can. The shows are all ages and anyone can attend, so this would be a great way to introduce an impressionable youth to some of the eclectic music we all became addicted to at KCPR."
Brew to the rescue!
SLO Brew hosts several noteworthy shows, starting with Blindside and Write This Down on Thursday, Sept. 22 (7 p.m.; all ages; $15 presale or $16 at the door). Blindside is a scorching Swedish rock quartet.
Paul Thorn, always a welcome sight, plays Friday, Sept. 23 (7 p.m.; 21-and-older; $17 presale or $19 at the door), to support his excellent last CD Pimps & Preachers.
Sean Hayes plays Saturday, Sept. 24 (7 p.m.; all ages; $17 presale or $20 at the door). "I write songs and sing in bars," he says in his bio. "Somewhere out there in the great bigness there is a Black Hole singing and eating up little baby stars. So be careful of mean people backed up by whiskey."
And don't forget Zion I on Sunday, Sept. 25 (5 p.m.; all ages; $25), when KCPR presents the Fall Flood Festival show with Dengue Fever, Quinn Deveaux & the Blue Beat Revue, and Waters.
On Tuesday, Sept. 27, one of my favorite live acts returns to town for the first time in a long while. Wait for it … Southern Culture on the Skids is coming back for a deep-fried show of swampy country rock (7 p.m.; 21-and-older; $12 presale or $14 at the door). Their new album, Zombified, continues their tradition of writing clever, infectious tunes and delivering them with more camp than a Boy Scouts Jamboree.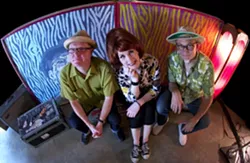 PHOTO COURTESY OF SOUTHERN CULTURE ON THE SKIDS
DEEP FRIED! : On Sept. 27, one of my favorite live acts, Southern Culture on the Skids, returns to SLO Brew to lay down some swampy country rock.
Finally, on Wednesday, Sept. 28, check out MC Chris (7:30 p.m.; all ages; $12 presale or $13 at the door), with MC Lars, Mega Ran, and Adam WarRock.
More music …
There's a ton more shows happening this week and not much space to tell you about them, but here are a few notables:
Songwriters at Play has local Americana act History of Painters at The Porch on Thursday, Sept. 22 (6:30 p.m.; all ages; pass-the-hat). Nashville's Phil Lee plays two shows: Sunday, Sept. 25, at Sculpterra (1 p.m.; all ages; pass-the-hat) and Monday, Sept. 26, at The Spot (7 p.m.; $10). The Karen Tyler Trio plays Kreuzberg on Tuesday, Sept. 27 (6:30 p.m.; all ages; pass-the-hat).
Lynt Magazine, the raunchy little tome that pops up around town every three months or so, is presenting the Downtown Meltdown on Friday, Sept. 23, at the Broad Street Tavern beginning at 7 p.m., with music by Jody Mulgrew, Idiosyncracy, Peter Yelda, and Tim Jackson. Be there or be square!
Rumble is a new act that serendipitously formed when Enso front woman Katrina Resewehr was asked to play Cambria's car show earlier this month. She put together an act on the fly. "There was no practice; we just did our homework," she said. "The day before I was asked if another person could sit in; I figured why not? This can't get any more startling than the fact that in five days we're playing in front of 500 people." Needless to say, they pulled it off, and more gigs came flooding in. Hear covers of Sly & the Family Stone, James Brown, Ted Nugent, Mavis Staples, Lou Reed, Van Morrison, Bill Withers, KC & The Sunshine Band, Joe Cocker, Bob Marley, Aretha Franklin, The Beatles, Grand Funk Railroad, Rolling Stones, Billy Preston, and many more when they play Cayucos Tavern on Friday, Sept. 23, from 9 p.m. to 1:30 a.m. and Mozzis Saloon on Saturday, Oct. 1, from 9 p.m. to 1 a.m.
PHOTO COURTESY OF ANA POPOVIC
GUITAR GODDESS : Blues slide guitarist and vocalist Ana Popovic headlines the SLO Blues Society show on Sept. 24 in the SLO Vets Hall.
The SLO Blues Society has an awesome double-header for you on Saturday, Sept. 24 (8 p.m.; 21-and-older; $20 at the door), at the SLO Vets Hall, with guitar goddess headliner Ana Popovic, who's touring in support of her newest album Unconditional. If you like slide blues, she's not to be missed. As an added bonus, Cadillac Angels will open the show, dashing into town to support their first blues album, Kicks Like a Mule, an awesome collection of guitar-driven tunes featuring frontman Tony Balbinot's smoky vocals.
Coalesce Bookstore presents a CD release party featuring Bianchi & Conroy (vocalist Jim Conroy and accordionist Jim Bianchi), who'll perform jazz standards from the '40s, '50s, and '60s—from Duke Ellington to Thelonius Monk. Check them out from 2 to 4 p.m. on Sunday, Sept. 25 ($10; 772-2880).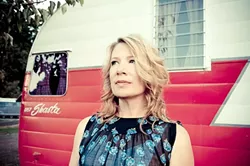 PHOTO COURTESY OF SUSAN JAMES
AMERICANA GIRL: Singer-songwriter Susan James plays Frog and Peach on Sept. 29.
New Times political cartoonist Jerry James isn't the only one with talent in his family. His sister Susan James is a gifted singer-songwriter, and she rolls through town on Thursday, Sept. 29, to play an 8 p.m. show at Frog and Peach in support of her new album Highways, Ghosts, Hearts & Home, which recently climbed to No. 10 on the Jamband charts. The album's 11 original Americana songs have "expanded her lyrical and musical reach through a psychedelic, country-folk lens, with her songs addressing life, love, hope, apparitions and eccentricities."
There's even more going on out there, but alas, I'm out of space.
Keep up with Glen Starkey via twitter at twitter.com/glenstarkey, friend him at Myspace.com/glenstarkey, or contact him at gstarkey@newtimesslo.com.