Here's an important truth bomb to throw into our wedding issue: You and your partner's special day is likely to generate a ton of trash.
Well, maybe not a ton, but a lot. A single wedding with 100 to 120 guests typically creates between 400 and 600 pounds of waste, according to a Huffington Post article on the subject. Multiply that number by 2.5 million, the estimated number of weddings each year, then throw in all of the CO2 emitted from guests' car and air travel, and we've got some real environmental impacts on our hands—just to say our "I dos."
Don't take this as a Debbie Downer (OK, it kind of is) or a guilt trip. Weddings are definitely special, and if any event is worthy of a little collateral damage to the planet, it's your wedding.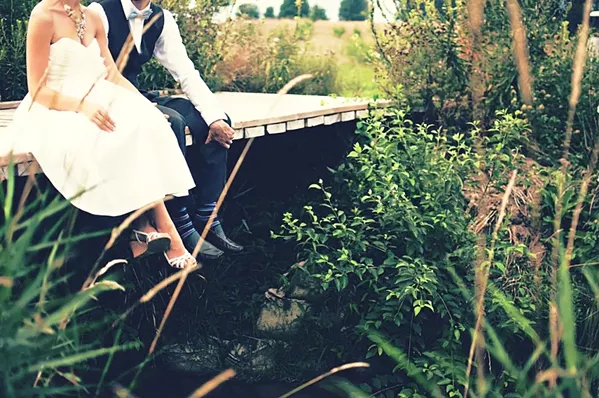 Photo Courtesy Of Nparekhcards
HAPPY PLANET, HAPPY COUPLE A single wedding typically generates between 400 and 600 pounds of trash. But there are some tips and tricks to lessening your big day's environmental impact.
But there are some tricks and techniques you can deploy to help reduce the environmental footprint. We got San Luis Obispo-based wedding planner Samantha Josette Ward to give us a few suggestions, and the internet also chipped in.
Ward's first tip: Just elope! Keep it simple, intimate, cheap, and eco-friendly all at once.
"It's not a tradition, but it is on trend right now," Ward told New Times. "Get married, take beautiful photos, and go out to dinner."
If a full shindig is your destiny, here are a few sustainable planning tips: Use recycled or biodegradable paper stationary for invitations. There are several companies, including Botanical PaperWorks and Of The Earth, that sell paper infused with seeds, so your guests can save the date and then literally plant their invitations! Also remember to shop locally for flowers, décor, and food. Finally, consider choosing an outdoor venue that can naturally dazzle without too much added stuff or lights.
"Just pick a venue that is naturally beautiful—a garden, overlooking the ocean, in a vineyard—and does not require a lot of decor or flowers," Ward said.
For the big day, try to make each material choice recyclable, compostable, or otherwise sustainably minded. It could be the wedding dress, the food and booze, the silverware and glassware, the light source (candles vs. electricity), or the keepsake, like making the place cards the guest favor (or another neat idea found on theknot.com: give out seed packets to take home). Ward also suggests repurposing the flowers and décor that get used for the ceremony, for the reception party.
"I do this a lot in weddings," she said. "While guests are enjoying cocktail hour, we do the shift. It saves budget as well, which is never a bad thing."
If there's leftover food at the end of the night, donate it to a local food bank. Or at the very least, compost it!
Another component of a wedding to make an environmental impact: the gift registry. Use the opportunity to research sustainably sourced products from environmentally conscious companies that would love your business and also make for great wedding gifts. If you're feeling super woke and generous, take it a step further: Create a list of your favorite nonprofits that guests can to donate to instead.
While weddings will probably never be a net-positive for the environment, they don't have to be a waste! Δ
Assistant Editor Peter Johnson wishes New Times was printed on plantable paper. Reach him at pjohnson@newtimesslo.com.