Once upon a time, Erik Austin, founder and director of Kelrik Productions, fell in love with a musical.
When he was young, he went to Cheap Thrills and bought a copy of the soundtrack to Stephen Sondheim and James Lapine's award-winning musical, Into the Woods.
"I've loved that show forever," Austin told New Times over the phone. "I bought the CD and obsessively listened to it."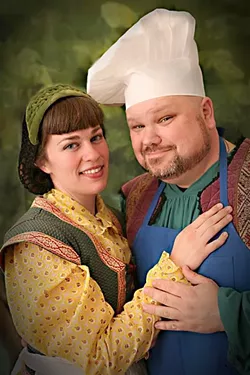 PHOTO COURTESY OF KELRIK PRODUCTIONS
BAKED GOODS: Christian Clarno (right) and Lizz Premer (left) play the Baker and his wife, two of the central characters in Stephen Sondheim's musical, who make a deal with a witch so they can have a child.
Austin's not the only one into Into the Woods. It's arguably Sondheim's most popular and complex musical, combining the familiar characters from childhood fairy tales—Little Red Riding Hood, Cinderella, Jack and the Beanstalk—with a dark and twisted dose of reality.
The story revolves around three wishes and a witch. At the center, you have the Baker and his wife. All they want is a child, but they've been unlucky in their attempts. Then, there's Cinderella, who only wishes to attend the king's festival. And rounding out the ensemble, you have Jack, whose milky white cow runs dry of its namesake.
One day, the Baker and his wife are visited by their neighbor, a vengeful witch who explains why they can't have children. Years ago, she placed a curse on their house when she found the Baker's father pilfering parsnips, beans, and other goods from her garden. In order to lift the curse, the Baker and his wife must find the witch a "cow as white as milk, the cape as red as blood, the hair as yellow as corn, and the slipper as pure as gold" by midnight at the end of three days. And so, they enter the murky and mysterious woods alongside Red Riding Hood on the way to her grandmother's house, Cinderella on her way to the ball, and Jack on his way to sell his beloved milky white.
PHOTO COURTESY OF KELRIK PRODUCTIONS
WITCHY WOMAN: Alison King (pictured) plays the Witch, who tells the Baker and his wife she will lift the curse she placed on them if they bring her a cow as white as milk, a cape as red as blood, hair as yellow as corn, and a slipper as pure as gold.
Of course, there is more to these woods than fairy tale magic. Ravenous wolves, violent giants, and an overwhelming atmosphere of woe permeate this foreboding forest. Nothing is as it seems. And it's this subversive take on the familiar that has made Sondheim's work endure since the show's Broadway premiere in 1987. At the 1988 Tonys, it picked up 10 awards including those for Best Musical, Best Original Score, and Best Book. Just last year, as anyone with working eyes and ears knows, Disney adapted the show for the screen with Emily Blunt, Chris Pine, and Meryl Streep as the witch.
Like the Broadway production, the film was a massive success, pulling in audience members who wouldn't normally attend musicals of this caliber and complexity. Austin hopes the recent buzz will help draw crowds to this beloved show.
"It's the fourth time I've done the show," he said. "And Kelrik's done this twice before. With the success of the movie coming out, so many people who loved that Disney movie know it now."
And even though both Kelrik and Austin have done this show before, Austin maintains this production brings something fresh.
"We've changed the sets a lot," he mentioned. "The costuming too. It's a completely different cast. And with the new casting, I think they bring a different shape to the role."

TO GRANDMOTHER'S HOUSE: See Kelrik Productions' 'Into the Woods' on April 17 to 19 at the Cuesta College Cultural and Performing Arts Center. The show starts at 7 p.m. on Friday and Saturday. On Sunday, it begins at 2 p.m. Ticket prices range $20 to $40. For more information, visit kelrikproductions.org.
Indeed, there's ample room for interpretation and surprise with Into the Woods. It's one of those unusual musicals that's as dense and intricate as its titular thicket. There are no clear villains or heroes. The witch, though duplicitous and cruel, is also a protective mother (albeit one who keeps her "daughter" trapped in a tower). And the music mirrors the complexity, humor, and depth of the characters.
Within the same act, you have "Stay With Me," a stirring lament sung by the witch about childhood innocence, and "Agony," an amusing showcase of dumb bravado sung by the two princes (Cinderella's and Rapunzel's)—all of which are set to a moving, propulsive, and catchy score.
After all these years, it's clear Into the Woods hasn't lost its allure or its potency.
"I think it takes all these characters that you knew as a kid and puts them into a different story we all know," Austin explained of the show's appeal. "We all know Jack and the Beanstalk and Little Red Riding Hood. Somehow, we know them. That's what I love."
Arts Editor Jessica Peña is lost in the woods. Send help to jpena@newtimesslo.com!