PHOTO COURTESY OF KENNY LOGGINS
HE'S GONNA GET FOOTLOOSE!: Kenny Loggins plays his hits and more on July 12 at Vina Robles Amphitheatre.
Because Caddyshack is pretty much my all-time favorite comedy, I will forever have Kenny Loggins' song "I'm Alright" cycling through my head whenever I think about the film. That may be reason enough to see the Grammy Award-winning singer-songwriter and guitarist perform at Vina Robles Amphitheatre with special guest Blue Sky Riders this Saturday, July 12,
at 8 p.m. ($42.85 to $76.75 at ticketmaster.com).
Loggins is also the voice of the disc jockey in Grand Theft Auto V's Los Santos Rock Radio, where his song "I'm Free (Heaven Helps the Man)" appears. How's that for some crazy trivia?
Loggins lived in Detroit and Seattle as a kid before his family settled in Alhambra, where he attended San Gabriel Mission High School, forming his first band Second Helping shortly after. They released three singles in 1968 and '69 on Viva Records. Loggins then started playing guitar for "The New Improved" Electric Prunes in '69 before writing four songs for the Nitty Gritty Dirt Band, which appeared on Uncle Charlie & His Dog Teddy. In his early 20s, he joined the band Gator Creek with Mike Deasy. Real fame came in 1970 when he formed Loggins and Messina with Jim Messina, formerly of Poco and Buffalo Springfield—an "accidental duo" since Messina was only supposed to be producing Loggins' debut solo album, but ended up doing so much more, they joined together and started touring.
Solo fame came in 1977 with the album Celebrate Me Home that featured "I Believe in Love." In 1978, he had another hit album with Nightwatch that included "Whenever I Call You Friend," a duet with Stevie Nicks. Keep the Fore followed in 1979. By this point, Loggins was in his groove. He wrote the song "What a Fool Believes," which was a huge hit for Michael McDonald, and won a Grammy for Song of the Year.
The next decade found Loggins' songs in one hit movie after another: "I'm Alright" in Caddyshack, "Footloose" and "I'm Free (Heaven Helps the Man)" in Footloose, "Meet Me Halfway" from Over the Top, "Danger Zone" and "Playing With the Boys" from Top Gun, and more.
All told, 12 of his albums have gone platinum and beyond. Songs such as "This Is It" and "Don't Fight It" with Steve Perry are iconic. He's still writing and still popular on adult contemporary radio.
Country act Blue Sky Riders (a trio with Loggins, Georgia Middleman, and Gary Burr) will open the show. Their most recent CD, Finally Home, was released last year. All three sing lead amid the three-part harmonies. This ought to be a great show!
Never too late!
CV Wells has one of those well-worn, comfortable voices—gritty enough to sound authentically country, rich enough to add power to a ballad, and emotive enough to communicate beyond words.
It's hard to believe he's the same performer whose first audition was a total disaster. He'd started playing guitar at 17 and by 18 was playing in folk clubs, despite what he describes as "extreme stage fright."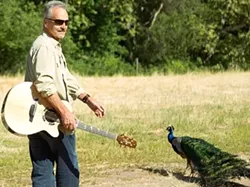 PHOTO BY ROBIN GODFREY
LATE BLOOMER: After an early career in music followed by a 20-year hiatus, singer-songwriter CV Wells is back with a great new album he'll release July 13 at Willow in Nipomo.
By his early-20s, after submitting songs to recording companies in L.A., a producer flew him to audition for a recording contract.
"I was shaking so badly and had so little self-confidence, I didn't even sing one of my own songs, my voice cracked, and I fell apart at the audition," CV says. He was offered a "staff songwriter contract," but no recording contract. Meanwhile, his wife left him, took their son with her, and he couldn't get joint custody unless he showed a stable income and home life. Needless to say, the songwriter contract was left unsigned.
"I did write a few whiney victim songs in that era, which I laugh at today," CV says.
Music was relegated to the backburner. He took a day job, but eventually started a band and broke into the Bay Area music scene. The band reached its peak when they were invited to share the bill with Santana and other area acts, but they broke up a few weeks before the show.
"Music seemed like a cruel mistress to me," he says, "and I just didn't think I could take another heartbreak."
Like a lot of creative people, he handled his problems in exactly the wrong way. He ran to Lake Tahoe, took a casino job, and devolved into gambling, drugs, and booze.
"I wanted to leave music and the heartbreak behind. The casino life offered many temptations to help me forget."
Thankfully, his desire to see his son on a regular basis was enough incentive for Wells to clean up his act. He started another band and began playing the casino circuit. However, despite making a lot of money, he remained unfulfilled by music.
"I had to play popular dance numbers whether I liked the songs or not. I wrote new songs, but never had the confidence to play them for my band or anyone. Once again, I was turning my back on my own music."
Then, he quit it all again. Working a full-time day job and singing six nights a week from 10 p.m. to 4 a.m. finally took its toll. He put his guitar away. But like any good fable, this story has a happy ending.
His new album, Back From Nowhere, is a testament to the idea that's it's never too late to pursue your dreams. After a 20-year break from music and performance, CV was coaxed back into the music scene at the SLO Little Theatre's No Shame events that allow performers five minutes each.
He started writing songs again, and then he got the chance of a lifetime when Grammy-nominated producer Reggie Griffin (Bee Gees, Carly Simon, Chaka Khan, Joan Jett and the Blackhearts, the Isley Brothers, Roberta Flack, Babyface) agreed to produce his new album.
Griffin told CV he had a short window to produce the album, so CV hotfooted it to Griffin's secluded Hawaiian studio, where they knocked out 10 tracks with CV on lead vocals and rhythm and fingerstyle guitar with Griffin adding lead electric and acoustic guitars, bass, saxophone, keyboards, drum programming, and backing vocals.
It took a while, but CV finally discovered he had to trust his instincts and have confidence in his music. The 10 tracks, all written by CV save the final song "Calling Me Home," written by his friend Roslin Sinclair (who also did his album artwork), are engaging, heartfelt, and well produced. Working in the Americana, folk, R&B, indie pop, and reggae genres, CV proves there's nothing wrong with having musical multiple personality disorder.
See CV Wells perform this Sunday, July 13, from 3 to 6 p.m. at CD release celebration at Willow (1050 Willow Rd., Nipomo). He'll be joined by Santa Maria-based multi instrumentalist Terry Lawless, who played keyboards for U2 for a decade. Bring an extra $13 and buy a CD!
Get your pride on!
PHOTO COURTESY OF DAVID HERNANDEZ
DREAMBOAT!: Singer, actor, model, and American Idol contestant David Hernandez headlines the Pride in the Plaza event on July 12 in the SLO Mission Plaza.
After taking a week off to celebrate America's birthday because—you know—the owners of SLO Brew are American heroes, the Brew is back with a couple awesome shows, starting with the annual Central Coast Pride 2014 Drag Show this Friday, July 11 (6:30 and 9:30 p.m.; $20; 21-and-older). Featuring Tommi Rose & the Playgirls alongside stars of RuPaul's Drag Race, this titillating display of gender-bending performances is always a hoot. Visit slopride.com to see all the great events happening this weekend, including Pride in the Plaza on Saturday, July 13, from noon to 5 p.m. in the Mission Plaza with performances by David Hernandez, Joe Stevens, Reese Galido & The Betrothed, The Tipsy Gypsies, Tommi Rose, Ethylinna Canne, and emcee Bridget McManus.
SLO Brew opens its doors on Saturday, July 12, for Robert Francis & The Night Tide (7:30 p.m.; all ages; $12 presale or $13 at the door). His fourth album, Heaven, almost never was.
According to his bio, "Following the release of the critically lauded third album, Strangers In The First Place, in 2012, Robert nearly abandoned his music career after a near nervous breakdown derailed his supporting tour of the album. Immersing himself in drugs and alcohol, he shaved his head and moved to Michigan with a girl he'd met on the road, unsure of his future. That is until his passion for music came calling again, allowing him to find new inspiration in these experiences and setting the path toward a new album."
PHOTO BY DANA POINT
AMERICAN ROCK: On his new album Heaven, Robert Francis proves he can write songs in the spirit of Bruce Springsteen and John Mellencamp; see him July 12 at SLO Brew.
Artists have got to art it up, eh?
"I'd never known a life other than one consumed by music," he said. "I had to lose myself in order to rediscover who I was in the beginning. I was able to do that in Michigan, but eventually left to start over and pursue a series of songs that kept showing up in my dreams."
The new songs are solid American rock—at times haunting, at other times relentlessly invigorating. I dig this guy's sound, and his narrative tunes are guaranteed to engage. This dude's got "rock star" written all over him. Vikesh Kapoor will open the show
More music …
Truth About Seafood has been tearing up the summer concert season, and they continue on with two shows this weekend. They'll bring their spring-loaded original rock to BarrelHouse Brewing Co. in Paso on Friday, July 11, from 5 to 8 p.m. and to Sea Pines Resort in Los Osos on Saturday, July 12, from 2 to 6 p.m. Both shows are free!
Keep up with Glen Starkey via twitter at twitter.com/glenstarkey, friend him at facebook.com/glenstarkey or myspace.com/glenstarkey, or contact him at gstarkey@newtimesslo.com.