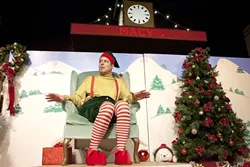 PHOTO BY STEVE E. MILLER
A LOW-KEY SORT OF AN ELF: SLO Little Theatre Managing Artistic Director is Crumpet—aka humorist David Sedaris—in the one-man-show 'Santaland Diaries.' Joe Mantello's adaptation of Sedaris' essay (on working as an elf in Macy's SantaLand) is directed by Suzy Newman.
My first job was my worst job—I worked at McDonald's for two weeks when I was 17, and the novelty of having a job got me through the first week."
And so SLO Little Theatre's Managing Artistic Director Kevin Harris, playing Crumpet the elf in The Santaland Diaries, recounts his most dire job.
"In the middle of my second week, I was assigned my first eight-hour shift. Only two hours in and I just couldn't even imagine how I was going to get through the next six hours. It was one of the worst experiences of my life—I thought I was going to lose my mind," continued Harris.
David Sedaris wrote his essay "SantaLand Diaries" in 1992 after a stint working as a Christmas elf in Macy's department store. As a 35-year-old. The tale recounts his experiences, as he describes not only the patrons of the store, but his co-workers, the other elves, the various Santas, and numerous managers. After Sedaris read excerpts from the piece on NPR, it became a hit and helped launch his career as a humorist. "SantaLand" is a universal story, that of working terrible jobs, and Sedaris' experience as Crumpet the elf epitomizes this. He is having the very worst time of his life, whilst working at what is supposed to the cheeriest place on Earth. Stuck in a most artificially happy environment, Sedaris' dark humor is inherent.
Joe Mantello adapted the essay for the stage in 1996, and the production has been hugely well received since. A key attraction of Sedaris' writing is his tendency to gravitate toward a profane, satiric literary style. As though to highlight this, SLO Little Theatre is presenting Miracle on 34th Street directly before the show, offering a severe counter-balance to Sedaris' content. This was a deliberate choice by the artistic team at the theater to create a festive juxtaposition, and serves to heighten Sedaris' cynicism. This one-man play demands a different theatrical reality that doesn't exist on the radio show at all. The performance has as many sound and lighting cues as Miracle on 34th Street, which runs for two hours. The show relies heavily on light and sound, but this proves essential to convey the entire month that Sedaris spent as Crumpet the elf. The use of light and sound depicts the time lapses, and indicates to the audience the passage of time and the different moods that are necessary to make this piece come to life. I was fortunate enough to sit in on a rehearsal with director Suzy Newman and Harris a week before the show. I had to clamp my hand over my mouth more than once in order to stop my spluttering, compulsive laughs from disturbing the rehearsal. I was curious as to how the elf costume would aid or hinder Harris' performance. Wouldn't it get too hot?
The costume designer had offered to make the elf outfit more comfortable for Harris, he said. Yet, he'd opted out, saying, "It really helps with the quirkiness of the character, and the emotional discomfort he feels throughout his entire time at Macy's."
It is an enormous challenge to remain alone onstage for the duration of the performance, essentially performing a monologue whilst dressed as an elf, but Harris is truly superb.

THIS WAY TO SANTALAND!: Santaland Diaries plays Fridays and Saturdays following Miracle on 34th Street (tickets must be purchased separately) at 9:15 p.m at the SLO Little Theatre, located at 888 Marsh St. downtown. Tickets are $20; visit slolittletheatre.org or call the box office at 786-2440,
The nuances of Crumpet that Harris weaves into the role are what make this an explosive performance. His facial expressions are key, made apparent by one scene where Crumpet is reflecting on the "forced merriment" of returning elves: "Everything these elves said had an exclamation point at the end of it!!!" With his eyes bulging and his face stretched into a garish smile to convey the absolute maximum of joy, Harris physically embodies the relentless cheer he is expected to convey.
Sedaris' ironic style is translated beautifully through Harris. Crumpet opts to replace "Can you close your eyes and make a very special Christmas wish!" with "You must be exhausted—isn't this a school night?" or "I know a lot of people who would kill for that little waistline of yours." Crumpet laments he won't be able to provide the "grinding enthusiasm Santa is asking for. I think I'll be a low-key sort of an elf." Sedaris, like the great Raymond Chandler, is a master of short, simple syntax. Yet it is Harris' talent that brings the tale to life. His seamless transitions between vivid sketches that swing between irony and exasperation are a tribute to the range and complexity of Sedaris' writing.
The piece also provides a window into the human condition. It is not necessarily a period piece, but the various Santas act as a catalyst for flagrant racism. When working as a "pointer elf," in charge of guiding customers to the various Santas, Crumpet recounts how one lady mouths at him the request, "White—white like us." The elves have been instructed to feign innocence and remind the customer that there is only one Santa. Furthermore, a lady protests that her black Santa "isn't black enough." Another says, "We would like a traditional Santa. I'm sure you know what I'm talking about." In an age and culture where perfection is deemed essential, having artistic control and demand over the "correct color" Santa seems to have become an assumed right.
It's a thought-provoking concept, and Sedaris does not shy away from controversial topics. I was curious as to how Harris would interpret the blatant homosexuality that is woven into the story. After all, Sedaris was working in the late 1980s, after just moving to New York. He is trying to navigate being an unattractive gay man who doesn't really fit in with other gay men, and this is written into the very essence of the piece. His crush on fellow elf Snowball is undeniable.
Harris notes, "Although that isn't what the story is about, you can't avoid it. It's such a huge part of his experience and his general cattiness. His very voice and sardonic wit and the way he looks at people. I would say that his voice has become iconic with gay wit over the last 20 years—walking through life with one cocked eyebrow, evidently judging everyone."
An interesting theatrical device is Harris changing into his elf costume onstage. To an overtly jaunty festive tune, with the lights muted on stage, he strips down to his underpants (to some appreciative catcalls from the audience), and layered up in his new work attire: Green velvet knickers, a yellow turtleneck, red and white stockings, red shoes with bells and a stocking cap decorated with spangles. Dressed in his dashing new garments, Crumpet recounts how, on Macy's opening day for Santaland, a man approaches him and says, "You look so fucking stupid." He replies, "Thank you!" as though Crumpet had misunderstood and thought he had said, "You look terrific!" It is a superb insight into how Crumpet repeatedly carves humor out of humiliation. On Crumpet's final day in the store, a woman shrieks at him, "I'm going to have you fired!'" Crumpet muses that it doesn't really get much worse than wearing an elf costume. He wants to retort, "I'm going to have you killed."
The customers begin to merge into a steady representation of humanity, namely the most unsavory aspects. This is depicted by Crumpet who starts a wonderful sketch waving aimlessly on the elf island, noting some new visitors: "It was a large group of retarded people and after watching them for a few minutes I could not begin to guess where the retarded people ended and the regular New Yorkers began. Everyone looks retarded once you set your mind to it." This is accompanied by a manic dance to a Christmas ditty by Harris. With his head lolling, and tongue and hands waggling, he looks like a Christmas toy that has been wound up too tightly and is jerkily combusting. It visually depicts the humiliation of an intelligent man, so far from his initial hopes of starring on One Life to Live.
In his essay, Sedaris found redemption in creating art out of a humiliating experience. Onstage, Harris' performance deftly navigates this awful place that is destroying his character's soul, masterfully weaving together the multiple narratives with an insane smile on his face. The standing ovation Harris received on the opening night proved a fitting accolade for a wondrous performance.
Contributor Clementine Gray can be reached via Arts Editor Anna Weltner at aweltner@newtimesslo.com.