Representatives from People for the Ethical Treatment of Animals (PETA) brought their dog-and-pony show—minus the actual dog and pony, which would be cruel—to Grover Beach on June 23 to protest Kentucky Fried Chicken's alleged mistreatment of factory foul. The longstanding campaign against the fast-food giant makes claims of deliberate cruelty and neglect of the birds, which aren't currently protected by federal laws.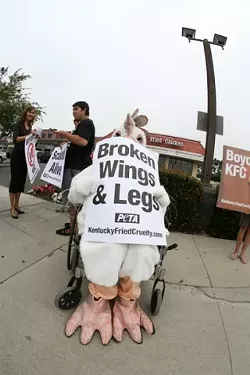 PHOTO BY JESSE ACOSTA
FOR THE BIRDS : PETA activist Kelsey Gibb hopped into a chicken suit and rolled around downtown Grover Beach on June 23 in protest of animal rights abuses allegedly perpetrated at Kentucky Fried Chicken's factory farms.
# The three national PETA reps joined up with local group Animal Emancipation Inc.—largely known for its protest of the annual Santa Maria Elks Rodeo—and set up a picket line along the north sidewalk of Grande Avenue just in time for the lunch crowd. At 11:15 a.m., protestor Kelsey Gibb of Idaho donned a chicken suit and rolled around in a wheelchair at the intersection of Grand and Oak Park Boulevard.
While PETA prepared the spectacle, a KFC assistant manager, who refused to identify himself, told the protestors they had to move off the sidewalk immediately in front of the restaurant. The group didn't comply—and Grover Beach Police made a brief appearance, but left after finding no laws in rift. The restaurant management said that it had received no advance notice of the protest.
The picket line successfully deferred some customers, but other Grover Beach residents patronized the restaurant in counter protest of PETA's often-vivid shock tactics. One KFC-bound mother screamed and pulled her child away when he reached for a flyer extended by one of the protestors.
"Close-minded people bother me,� local activist Peggy Koteen said when asked if the common reaction ever dissuaded her from protesting. "It really doesn't matter if it's this, or gay and lesbian rights, or anything else.�
The organization's beefs with the chain's poultry farms include the purported clipping of beaks; feeding and caging practices that lead to bird injuries, which go untreated; and slaughter by scalding.
PETA campaign coordinator Lindsay Rajt staged similar protests over the course of the weekend in Santa Barbara, Palm Springs, and San Bernardino.