IMAGES COURTESY OF SALON 544
UNICORN! : Chiara Thomas, age 4, donated her image of a unicorn.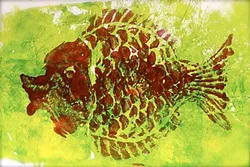 IMAGES COURTESY OF SALON 544
FISHY! : Morgan Howlan, age 5, created Red Fish, Green Fish.
Anyone who's attempted to carry his or her artistic ambitions into adulthood has inevitably hit that fussy stage, usually in high school, where frustration over a lack of control and an inability to draw "perfectly" leads most of us to abandon art.
It also seems that those who do carry on with their pursuit of creativity eventually attempt to return to their childish roots. Exhibit A: Picasso also said, "I spent four years learning to draw like Raphael, but it has taken me a whole lifetime to learn to draw like a child."
There's something about the freedom of children's art—that lack of pretension, that joyful naiveté—that amazes adults. We gaze upon the frenzied, often messy, always exuberant work of children with wonder and amazement.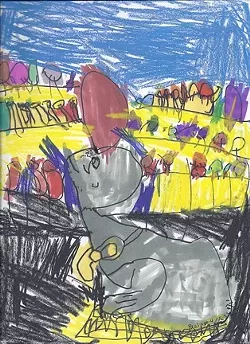 IMAGES COURTESY OF SALON 544
TRICKY! : Four-year-old Paul Miser created this image of a circus seal balancing a ball on its nose.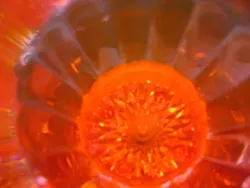 IMAGES COURTESY OF SALON 544
SHINY! : Paul Miser, age 4, also captured this abstract image he calls Sunshiny Cup.
On Friday, Oct. 1, you can get an eyeful of kids' art and an opportunity to help an organization devoted to kids when Salon 544 is host to a "Children's Art After Dark Silent Auction" from 6 to 9 p.m. at 544 Higuera St. in SLO Town. Local kids, ages 4 to 11, donated all the work; proceeds from the silent auction benefit the therapeutic child development programs of the SLO Child Development Center. Feel free to bring the kids, because Salon 544 will also offer children's activities from 6 to 7:30 p.m.
In case you don't know, since 1971, the SLOCDC "has been dedicated to breaking the cycle of child abuse in our community by providing a network of prevention, intervention, and treatment services to protect children and heal, support, and strengthen families," according to the organization. "Since 2005, our scope of services has broadened to include referrals to families at risk of potential abuse and neglect, as well as those who have suffered trauma, domestic violence, mental illness, substance abuse and/or exposure, extreme poverty, and other
IMAGES COURTESY OF SALON 544
ROBOT! : Eight-year-old Sevryn Jiminez created this mixed media image of a robot.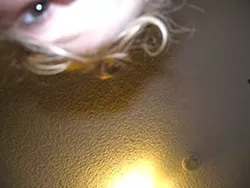 IMAGES COURTESY OF SALON 544
THE EYES HAVE IT! : Four-year-old Vera captured this self-portrait called Vera's Eye.
circumstances that pose a risk to the strength and unity of the families in our community. Beginning in 2008, SLOCDC became a parent participation program, knowing that long-lasting family support begins with supporting parents. The services at SLOCDC range from child development and after-school programs to child and family therapy and case management services."
Kids helping kids? It's pretty hard to argue with that.
Glen Starkey takes a beating and keeps on bleating. Keep up with him via twitter at twitter.com/glenstarkey, friend him at Myspace.com/glenstarkey, or contact him at gstarkey@newtimesslo.com.