Remember youth? Warm summer afternoons spent galloping your bicycle down the street, the thwack, thwack, thwack of the playing card against the spokes? The wind in your hair? The freedom of the open road? Remember how much you loved your bike, and your belief that the bike loved you in return? Meet two grown-ups who still feel that way.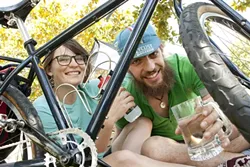 PHOTO BY STEVE E. MILLER
HITTING THE ROAD : Lauren Cook and Brant Haflich plan to learn about water issues in southeast Asia from the saddle of their bicycles.
Lauren Cook and Brant Haflich are gearing up for an extended tour of Southeast Asia, during which they plan to study regional water habits. And while there, they'll travel solely by bicycle.
Cook and Haflich plan to pedal to various sites where nonprofit organizations, such as Engineers Without Borders, are already working on water projects.
"Water is the crux of everything. Without clean water […] quality of life, overall, is going to be heavily diminished," Haflich said, explaining why he wants to study how small, rural communities source and operate their water systems. "My major [environmental engineering] has a strong emphasis on water treatment […] so looking at water strikes close to home for me."
Cook (a former New Times intern) is interested in witnessing first-hand cultural disparities in regard to water.
"I just think it will be an interesting way to see the world; to look at the world on such a simple level," she said.
When asked what they loved about cycling, Haflich (a co-founder of the SLO Bike Kitchen; a type of "community toolbox" for bike maintenance and education) stated he likes the autonomy and ease of riding a bike: "I can get somewhere faster than most people who have a car; who have to go find a parking spot, pay the meter, all that stuff."
Biking is also a very humble mode of transportation. "Bikes say, 'Hi, I'm a hobo,' not, 'Hi, I'm a rich American,'" Cook joked.
Though they plan to live and travel by third-world means, Cook and Haflich won't be without some nifty first-world gadgets. One, deemed "The Plug," is a hub generator system powered by rotating bicycle wheels and will power lights for night riding, a camera, and a GPS system, and will re-charge batteries for use in a Steripen—a drinking-water purification system.
Cook and Haflich had their rides custom designed for long-distance comfort and durability: Cook's bike by German manufacturer Tout Terrain, and Haflich's bike by local designer John Cutter of Cutter Designs. "We call them our Bike-a-Begos," Cook said.
For Cook and Haflich, this trip is about priority; both having and not having. Both recognize how fortunate they are to be in a position where they don't have many obligations—such as the need to find a job to pay off student debt—that would keep them from exploring the world. However, as Haflich explained, he's made this trip a priority and adjusted his lifestyle so such an expedition would be a possibility.
The trip will be more than a vacation; Cook and Haflich hope to stimulate their intellect through projects and raw, hands-on experiences; it will be an "education by bike." Upon their return, they hope to share the knowledge they acquire while abroad, Cook mentioning presentations, and Haflich saying he'd like to compile a book.
The adventure starts June 11 with a cross-country ride to New York. From there, Cook and Haflich will fly, with bikes and gear, to Hong Kong. After that, there are no definitive plans. They expect to be abroad for a year, if not more. You can track Cook and Haflich during their journey on their blog: smittenbycycles.org.
Fast fact
Want to prove your own bicycle-machismo? A seven-day San Francisco-to-Los Angeles ride in the name of AIDS/HIV research and prevention should give you saddle sores to be proud of. The ride is 545 miles and not a race. About 2,200 participants will represent 16 different countries, 44 states, and range in age from 18 to 80. The event, June 3 to 9, is expected to raise $11 million to support the L.A. Gay and Lesbian Center and the San Francisco AIDS Foundation.
For more information on AIDS /LifeCycle visit aidslifecycle.org.
New Times Intern Ana Korgan complied this week's Strokes & Plugs. Send suggestions to strokes@newtimesslo.com.