Matthew Vaughn returns to direct this sequel about Eggsy (Taron Egerton), a rough-around-the–edges street kid who in the first film (Kingsman: The Secret Service, 2014) was recruited into a super secret training program for British spies, after which he stopped a global threat posed by a tech genius. This time around, the spy organization's headquarters is destroyed and the world is held hostage by a drug lord (Julianna Moore), so the Brits team up with an equally clandestine American spy organization called Statesman to save the world. Co-written by Vaughn and Jane Goldman, the film is based on the comic book series The Secret Service by Mark Millar and Dave Gibbons. (141 min.)
Photo Courtesy Of Twentieth Century Fox
EYE SPY (Left to right) Eggsy (Taron Egerton), Harry Hart (Colin Firth), and Whiskey (Pedro Pascal channeling his inner Burt Reynolds) team up to save drug users from the U.S. President.
Glen People read reviews to determine if they should see a film, so let's answer a few questions. Is it worth the price of admission to see Elton John do a flying karate kick in slow motion while smiling at the camera? I ask because for me, that was the film's highlight. The film also boasts two pugs, one that gets blown up (sad face) but the other is a puppy. Cuteness! Is that worth the price of admission? Do you miss Burt Reynolds? I ask because Pedro Pascal as an American spy, code name Whiskey, is doing a passable Reynolds impression. Basically, this new Kingsman installment is more Austin Powers than James Bond. It's a ridiculous exercise in excess that can't seem to decide whether it's a serious film or a spoof, and instead it feels like both and neither. To its credit, the film does have some semi-serious commentary on the War on Drugs. Poppy (Moore) tries to extort the American president (Bruce Greenwood) into legalizing drugs so she can come out of hiding. She taints her illegal drug supply with something that will kill users in about three days, but she'll release the antidote if drugs are legalized. Hmm? See any holes in this scenario? The president sees it as a way to get rid of all drug users, but his Chief of Staff Fox (Emily Watson, slumming) reminds him that a lot of good people use drugs, too, people's children, parents, friends ... and chiefs of staff! With the president poised to let millions die, Eggsy and his new American friends are all that stand between worldwide slaughter and saving the illegal drug trade's clientele. Yes, it's pretty morally confused. In between are a lot of loud fights, gun battles, car chases, and explosions. If that sounds like something you'd like to watch, have at it. I found it oppressive and dumb.
Anna Poppy seems to have a firm grip on the drug market—from casual pot smokers to full-on addicts, no one is safe from the weird blue rash and the death that follows. She's built a 1950s nostalgia-laced jungle wonderland, complete with henchmen and robot dogs, and a meat grinder that works wonders at separating flesh from clothing and bone when a whole body gets thrown in. I know, I know, of all the cockamamie nonsense in this film to get caught up with, the meat grinder is the least of my problems. Still, it's a ridiculous notion and everyone knows it. What the first Kingsman film had in charm and wit, the second lacks almost wholly. The characters are likeable enough, and the villains are acceptably evil, but it strays so far into ridiculousness that it becomes an adventure in eye rolling. Of course the American counterparts to the Kingsman are a bunch of backwoods moonshiners complete with 10-gallon hats and electrified lassos, all named after spirits like Whiskey and Tequila. There just wasn't much in this film to sink your teeth into, and the middle of the road reviews on both IMDB and Rotten Tomatoes make a lot of sense—there is lots of action but little substance.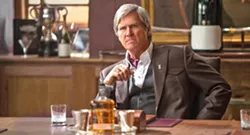 Photo Courtesy Of Twentieth Century Fox
WASTED Jeff Bridges is one of several fine actors given little to do in this bombastic sequel.
Glen "Manners maketh man. Do you know what that means?" Colin Firth's character Harry Hart asks in both the original and this sequel. It's a question that should be directed to director/co-writer Vaughn, who's insulted his audience with this bombastic mess. Yes, the film boasts an impressive cast, but it gives them nothing to do. Aside from Watson, it wastes the talents of Jeff Bridges and Halle Berry. Channing Tatum shows up for a scene and then is cryogenically frozen for half the film. Aside from Elton's slo-mo karate kick, the only other moment of joy is when Mark Strong as British agent Merlin breaks into John Denver's "Take Me Home, County Roads" to draw the bad guys in before he triggers a land mine. Is that worth the price of admission? Personally, I could have waited to stream this one, but I'm not sure I wouldn't have turned it off before getting to those two small, miraculous moments amid this silly mess.
Anna The good moments are few and far between, that's for sure. You've named the two standouts with Elton John and Merlin's John Denver shout out, but they hardly justify the other two hours and 20 minutes that the film takes up. The insult to injury really is that this cast is capable of putting out some pretty great performances, but this script underserves them left and right. It isn't short on action, and at least Vaughn didn't dwell on character introspection too much, but when he did things became boring pretty quickly. It's ridiculous, sort of in a fun way, as long as you don't engage your brain too much in the process. I can't tell whether the ending was trying to set up for yet another installment down the road, but if so, let's just hope the gents head back to England and get back to their James Bond spoofing roots, and forget whatever it is Golden Circle was trying to accomplish. I can see saying yes to this film once it hits a streaming service, but is it worth the cold, hard cash you work so hard for to see it in theaters? Probably not. It's already going to take up a couple of hours and most likely leave you feeling less than satisfied. Δ
Split Screen is written by Senior Staff Writer Glen Starkey and his wife, Anna. Comment at gstarkey@newtimesslo.com.