PHOTO COURTESY OF CHRIS ISAAK
SMOOTH OPERATOR : Legendary crooner Chris Isaak plays Oct. 3 at Avila Beach Gold Resort during the season closer, complete with a fireworks display.
I remember clearly when Chris Isaak's 1984 album
Silvertone
came out. It made the same sort of splash as Jack Johnson's 2001 debut
Brushfire Fairytales
. Like Johnson, Isaak was deadly good-looking with a to-die-for voice and musical sensibilities that seemed otherworldly.
For those who missed Isaak's debut, they were introduced to his cool, retro sounds when tracks from his first album appeared on the soundtrack to David Lynch's 1986 cult classic Blue Velvet. A star was born, and right around 1990, Isaak made the first of three or four trips to SLO Town, where he wore custom-made suits festooned with tropical foliage designs and played under strings of tiki lights to swooning throngs of women in D.K.'s West Indies Bar. Those were magic shows, people.
Since then, Isaak has established himself as a major talent, releasing many more albums, including his third, Heart Shaped World, with the track "Wicked," which Lynch used for his film Wild at Heart. His song "Baby Did a Bad, Bad Thing" was used by Stanley Kubrick for his last film, Eyes Wide Shut. In fact, his music has been used in dozens of TV shows and films.
Isaak also had his own TV show and has acted in nearly a dozen films, and his music continues to garner new fans with albums such as San Francisco Days, Forever Blue, Baja Sessions, Speak of the Devil, and Mr. Lucky.
The dude's über-cool and a total legend! And on Sunday, Oct. 3, you can see Chris Isaak in concert at the Avila Beach Golf Resort during the season closer and fireworks finale. Special guest Amos Lee—whose style encompasses soul, jazz, and folk—will open the show. Two great crooners, at the beach, with some complimentary food and wine, and a fireworks display? Sounds like a sweet way to kiss summer goodbye.
Tickets aren't cheap at $85 a head ($185 if you want a full gourmet dinner), but this promises to be something special. Visit savorcentralcoast.com or call 1-800-768-6653 for tickets.
SLO Brew rising
As of Friday, Oct. 1, SLO Town's Downtown Brew is no more. Don't worry! The club itself isn't disappearing, only re-adopting its long-awaited original name, SLO Brewing Company, which hits the ground running with a string of shows starting with California reggae act Rebelution (7:30 p.m.; all ages; $20 presale or $22 at the door), with Through the Roots opening.
On Friday, Oct. 2, welcome back folk, rock, and soul artist Martin Sexton (7:30 p.m.; 21-and-older; $20 presale or $22 at the door), with Americana starlet Leslie Stevens opening. Sexton's original sound and expansive voice will blow you away, and Stevens' menagerie of vintage country rock, Laurel Canyon folk, and haunted gypsy jazz will make you swoon.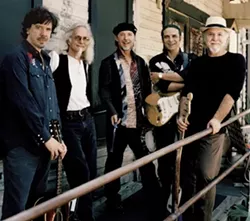 PHOTO COURTESY OF THE SUBDUDES
SLO BREW RETURNS : The Subdudes deliver their cool Americana sounds to the newly rechristened SLO Brewing Company on Oct. 3.
On
Saturday, Oct. 3
, Americana soul rockers
The Subdudes
hit SLO Brew (6:30 p.m.; 21-and-older; $23 presale or $25 at the door). Now, eight years after regrouping, the band is better than ever, evidenced by their amazing eighth studio recording,
Flower Petals
. Too. Awesome. For. Words.
On Wednesday, Oct. 6, more reggae awaits with Rootz Underground (8 p.m.; 21-and-older; $12 presale or $13 at the door). This edgy, raw, natural-sound roots act delivers socially conscious reggae, rock, and dub.
You may also want to mark your calendar for The Expendables on Oct. 8, Hazel and Vine on Oct. 9, and The Dirty Heads on Oct. 10.
SLO Brew is back with a vengeance!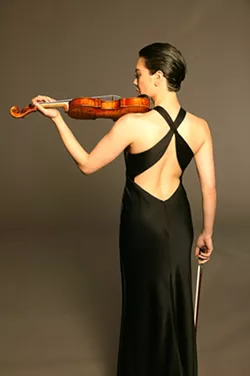 PHOTO COURTESY OF THE SLO SYMPHONY
VIOLIN VIXON : Acclaimed guest violinist Anne Akiko Meyers joins the SLO Symphony for a concert on Oct. 2 in the Performing Arts Center.
Fifty ways to love your symphony
After last month's SLO Symphony Pops by the Sea concert, the organization has been elevated to godlike status in my book. Now they're about to commence their 50th anniversary season with an opening gala celebration of music, education, and community on Saturday, Oct. 2, at 8 p.m. in the Christopher Cohan Center. Maestro Michael Nowak directs acclaimed guest violinist Anne Akiko Meyers in an inspiring musical program featuring Maurice Ravel's Tzigane, Ralph Vaughan Williams's The Lark Ascending, and Gustav Mahler's magnificent Symphony No. 1.
Tickets range from $17 to $68 (756-2787 or online at pacslo.org). Student rush tickets are offered at half-price in all sections after 7 p.m. at the door. There'll also be a "Friends & Family 50th Anniversary Celebration" at 11:30 a.m. outdoors on the PAC Plaza, just before the "No Ties Allowed! Free Dress Rehearsal" at 1 p.m.—a great way to see the show if you just can't afford the ticket price. The celebration includes kids activities from the SLO Children's Museum and Monart, along with the SLO Symphony Musical Petting Zoo and performances by Performance Athletics Gymnastics.
"Symphonic Forays," a pre-concert discussion of the musical program with Dr. Craig Russell, is offered for all evening concert ticket holders at 7 p.m. in Harman Hall.
Don't miss your chance to see this incredible local treasure!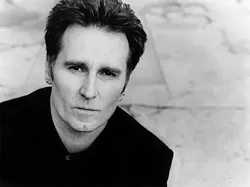 PHOTO COURTESY OF JOHN WAITE
WAITE IN THE HARBOR : Bad English frontman John Waite (pictured) headlines the Morro Bay Harbor Festival on Oct. 2; Coco Montoya headlines Oct. 3.
Harbor Fest!
Now in its 29th year, the Morro Bay Harbor Festival (Saturday, Oct. 2 and Sunday, Oct. 3) continues to deliver a great mix of big-name entertainment and great local acts against the harbor's rustic backdrop. With three stages of entertainment, kids activities, great vendors, beer tasting, and more, there're endless opportunities to have fun.
Visit mbhf.com for a complete line-up, but a few highlights include John Waite (The Babys and Bad English) on Oct. 2 from 2 to 4 p.m. on the Main Stage, Preachers Blues from 5 to 6 p.m. on the Abalone Stage, and the Cuesta College Jazz Ensemble (they've got a great new album out!) from 1 to 1:45 p.m. on the Starboard Stage.
On Oct. 3, the headliner is blues guitar great Coco Montoya from 2:30 to 4 p.m. on the Main Stage, Cadillac Angels from 1:45 to 3 p.m. on the Abalone Stage, and Big Rock Balalaikas from 1 to 1:45 p.m. on the Starboard Stage.
Pre-sale two-day festival tickets cost $10 (at Morro Bay's Albertson's by Oct. 1), or $12 at the door. Single day tickets are $8 at the door. Buy them at the gates at Beach Street and on the north end by the Power Plant.
The Harbor Festival is a nonprofit organization that donates proceeds to several other local nonprofit groups.
Rock the vote!
As a progressive, I'm disturbed by the malaise that's settled over Democrats who are dissatisfied with President Obama's progress. Many seem unmotivated to vote, and now we're at a crucial crossroads as an angry populace threatens to hand the government back to the douchebags (read Republicans) who got us into this mess in the first place.
Why? Because the young people who got out the vote to elect Obama have lapsed again into apathy. Well, snap out of it, kids! Don't let America become Palin country! Get in the voting spirit on Sunday, Oct. 3, when Rock the Vote comes to Mission Plaza (1 to 5:30 p.m.; all ages; free).
Proceeds from donations benefit the non-partisan student organization Get Out the Vote, and many candidates running for local office will be there to present their positions between bands.
Hear Still Time, PK, Rey Fresco, and drummer Ricky Rocks & DJ Bayati with a special performance by Kendal Naughton of Colorshow. Organizers are expecting upward of 2,500 attendees.
Remember, thanks to Obama and the Democrats, you can stay on your parents' insurance until you're 26 and you can't be kicked off an insurance policy because of a pre-existing condition. It may not be perfect, but Obamacare is better than nothing, which is what Republicans are offering.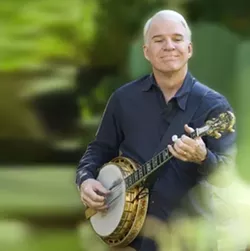 PHOTO COURTESY OF CAL POLY ARTS
BLUEGRASS FUNNYMAN : Comic, actor, writer, and musician Steve Martin plays tracks from his Grammy-winning bluegrass album Oct. 6 in the Performing Arts Center.
A wild and crazy guy
I love Steve Martin. After all, he made one of the greatest comedies to ever grace celluloid: The Jerk. In that movie, he sang a couple songs I still enjoy singing. "Oh, I'm picking out a thermos, for you
/ Not an ordinary thermos, for you/
 But the extra-best thermos, you can buy/ With vinyl, and stripes, and a cup built right in/
 I'm picking out a thermos for you/
 And maybe a barometer, too/ And what else can I buy, so on me you'll rely
/ A rear-end thermometer, too."
And then of course there's "Tonight You Belong to Me," "King Tut," and "Foggy Mountain Breakdown" with Earl Scruggs, which won the 2001 Grammy for Best Country Instrumental Performance.
And I haven't even got to this actor, comic, writer, musician's most recent honor, the 2009 Grammy for Best Bluegrass Album for The Crow: New Songs for the 5-String Banjo, which Steve Martin and the Steep Canyon Rangers picked up last year.
You can hear songs from that album and others when Martin and company play Wednesday, Oct. 6, at 7:30 p.m. in the Performing Arts Center's Cohan Center—which sadly may already be sold out when you call 756-2787. Go on. Give it a try. There might be a couple tickets left.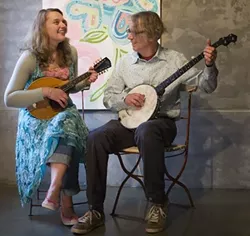 PHOTO COURTESY OF JENI & BILLY
GOOD COUNTRY FOLK : Appalachian roots duo Jeni & Billy play The Porch on Sept. 30.
More music …
On Thursday, Sept. 30, The Porch in Santa Margarita hosts duo Jeni & Billy, performing original songs inspired by Appalachian roots music (all ages; free). "Sharing the duties of songwriting, arranging, and performing, Jeni & Billy bring to the work very distinct musical backgrounds that both draw from the deep well of Appalachian roots music," according to bio material. "They tell the stories of miners, preachers, ramblers, lovers, and plain-living folks." Their debut album, Jewell Ridge Coal, is "a love letter to the forgotten coal mining community where Jeni grew up." They play as part of Steve Key's Songwriters at Play showcase starting at 6:30 p.m. See up to eight other singer-songwriters.
Amanda West, the Santa Cruz-based "Philosophical Folk Songstress," returns to the area with her partner Pete Solomon, touring in support of their newest endeavor, Truth, Love & Understanding, a new EP of original material. "The songs are a tribute to the beauty of committed relationship, and feature West and Solomon's multi-instrumental skills, richly textured harmonies, as well as special musical guests, Char and Robby Rothschild of the Santa Fe-based world music duo, Round Mountain," according to press materials about the new album. See her on Thursday, Sept. 30, at 7 p.m. in the SLO Down Pub; hear her Friday, Oct. 1, at 8:30 a.m. on Coast 101.3 FM during a live interview, and see her that night at the Gather Wine Bar at 7 p.m.; then hear her again on Saturday, Oct. 2, at 3 p.m. on KCBX 90.1 FM during Sonnie Brown's Songtown, and see her at 8 p.m. in Linnaea's Café.
The Yew Tree and Painted Sky Studio present Mountain Dulcimer player Neal Hellman at the studio on Friday, Oct. 1, at 8 p.m. (all ages; $18, available at The Yew Tree and Cambria Business Center). Hellman, a nationally acclaimed performer and teacher of the Appalachian dulcimer, has been active in performing, writing, teaching, and recording acoustic music for more than 25 years throughout the United States, Europe, and New Zealand. Expect Celtic, Shaker, early, contemporary, original, and even Beatles tunes. He'll also offer a dulcimer workshop, suitable for all levels, on Saturday, Oct. 2, from 10 a.m. until noon ($20; contact Terri at 927-0500).
Catch a little late-night music at Applebee's in Paso Robles this Friday, Oct. 1, when singer-songwriter John Krause performs a free acoustic show from 9 p.m. to midnight.
Reggae act The Dub Seeds returns to Frog and Peach on Friday, Oct. 1, for a 10:30 p.m. show. Grab a beer; feel irie.
My dog Elmer's dog Mavis was picked out by Elmer at Woods Humane Society, so I have a soft spot for the organization even through Mavis turned out to be Mussolini disguised as a cute Chihuahua/Cairn Terrier mix. Believe me, the trains now run on time in our household! Now Woods is holding a benefit on Saturday, Oct. 2, at 7 p.m. at the SLO Oddfellows Hall. Titled the "Wiggle Waggle Party & Dance," this fundraiser will feature dance lessons (both beginning East Coast swing and intermediate West Coast swing) followed by open dancing at 8 p.m. to local '60s-style rock act Sound Investment. Tickets cost $15 advance (Laura at 451-3333 or Cathy at 801-0895; $20 at the door), but bring some extra dough for food, wine, a raffle, door prizes, and a silent auction. This way Woods will survive so some other unsuspecting dog lover can be challenged by a Mavis-like dictator.
Astrum Lux Lucis of One World (R)evolution fame plays Linnaea's Café on Sunday, Oct. 3, (all ages; 7 p.m.) as part of The Rock Out & Recycle Tour 2010 that benefits Dogs Deserve Better, a nonprofit voice for all dogs living chained and penned lives outside.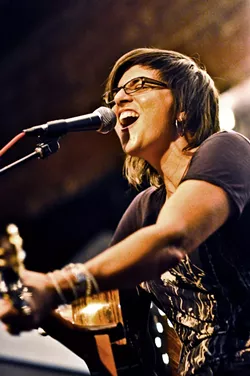 PHOTO COURTESY OF LAURA TSAGGARIS
SING IT, SISTER! : On Oct. 5 at the Steynberg Gallery and on Oct. 7 at The Porch, check out Laura Tsaggaris during Steve Key's Songwriters at Play showcases.
On
Tuesday, Oct. 5
, at the Steynberg Gallery ($5), and on
Thursday, Oct. 7
, at The Porch (free), check out Washington, D.C.-based rocker
Laura Tsaggaris
during Steve Key's all ages Songwriters at Play showcase from 6:30 to 9:30 p.m. If you dig Bonnie Raitt or Sheryl Crow, you'll dig Tsaggaris (pronounced "suh-Gair-iss"), too. She blends pop, rock, and Americana sounds into her critically acclaimed original compositions. Both shows also include up to eight others playing three-song sets. Boise-based artist Audra Connolly will also appear at Steynberg on
Oct. 5
in support of her debut album
Dear Friend
. Audra spent nearly two years recording the album, which includes 10 powerful songs that "reflect on love and friendship."
Keep up with Glen Starkey via twitter at twitter.com/glenstarkey, friend him at Myspace.com/glenstarkey, or contact him at gstarkey@newtimesslo.com.