Chris Kobayashi has always been a passionate, studious chef.
As a kid in Bishop, Calif., he gravitated toward hanging out in the kitchen with his Thai grandmother. The flavors she conjured were exotic for the rural area: chicken gizzards simmered in spices, cold tripe salad, and woks of aromatic stir-fried veggies charred over a blaze of fire.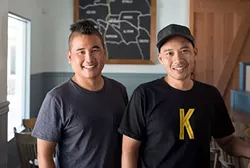 PHOTO COURTESY OF KITCHENETTE
BROTHERS IN FLAVOR : From left, Artisan owners Michael Kobayashi and Executive Chef Chris Kobayashi recently opened a new breakfast and lunch joint together in Templeton. With all of the flavor and none of the fancy, Kitchenette is serving up farm-fresh cuisine with a modern twist.
"It was oddball stuff for the area, but for us, it was the norm," Kobayashi said. "I became accustomed to different textures, and that's something I still think about when I create my food."
Growing up, Chris' brother, Michael, wouldn't have been caught dead wearing an apron. If he wasn't down at the river fishing with friends, he was probably charming the socks off someone.
"We always talked about opening a restaurant; Chris has always been a genius in the kitchen and I have always been the sort of person who liked to gather people together," Michael said.
Not much has changed since boyhood. Chris is still cooking up a storm at Artisan, the Paso Robles fine dining hot spot the brothers opened together about nine years ago. Michael still runs the front-of-house operations while simultaneously managing '80s rock legends Def Leppard (that's a whole different story, folks).
In 2015, the pair has combined their talents to embark on a new venture: Kitchenette, which opened in September on Main Street in Templeton. The casual, down-home hangout is serving up farm-fresh breakfast and lunch items with an emphasis on clean, simple, and local ingredients. Of course, every plate is touched by Kobayashi's attention to detail and creative use of color, texture, and bite.
Sink your teeth into this: The Avocado BLT is made with a house-baked potato bun and juicy heirloom tomatoes sourced from the nearby farm Chris and his wife, Shandi, planted nearly seven seasons ago. A fried local egg tops the sandwich, featuring a bright golden yoke that bursts with creamy flavor. It's not fancy, but—thanks to premium, fresh ingredients—it's certainly not your average deli sandwich.
This agricultural diversity is exactly what attracted the brothers to the Central Coast in the first place. Before they opened Artisan, Mike lived in L.A., where he forged a career in the music biz. Chris lived in the Bay Area, where he attended culinary school and soaked up the exciting sights, smells, and flavors of the area. Still, the Central Coast beckoned. With wine, agricultural bounty, and room to grow—it was a good place to make a new home.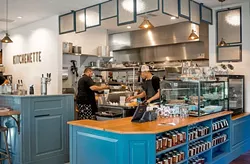 PHOTO COURTESY OF KITCHENETTE
KITCHEN'S WHERE THE HEART IS: Kitchenette brings fresh, local ingredients and order-at-the-counter convenience together for a casual, refreshing take on the deli experience in the heart of downtown Templeton.
The Bishop boys had watched their parents operate a successful hardware store growing up. Coming from a small town, they knew that the lines between "customer" and "friend" are often blurred. Regardless of how acclaimed Artisan became, the brothers never lost sight of their mission: to celebrate the flavors—and people—of the area with authenticity.
"With Artisan, and now, with Kitchenette, we've always had the mentality of fitting in with the community, not making the community fit around us," Michael said. "What we're thankful for is our local fan base. You see the same people coming in and out of Kitchenette every day, and we are so grateful."
If you think "fan base" is a weird thing to call your patrons, just consider what Michael does as a music manager. To him, his brother is "the rock star talent." The restaurants are like albums—masterpieces. Each plate is like a song.
While you might expect wild boar tenderloin with fennel risotto at Artisan, Kitchenette offers up deli-style sandwiches like the lamb dip with pimiento goat cheese, a Kitchenette cheeseburger with special sauce, a turkey Banh Mi with house-made country pâté, and ready-to-go spicy Vietnamese salad with turkey, herbs, roasted peanuts, glass noodles, and chili vinaigrette (already a favorite in Templeton).
Breakfast is served from 8 a.m. to noon daily, and Michael said he sees all walks of life clamoring for a bite the minute the doors open. Hearty fare includes linguica and yellow corn grits with braised kale and soft poached egg, and beer braised corn beef hash with sour cream, cabbage, and friend egg. Sweet fiends will swoon over the croissant French toast with crème fraiche, cinnamon apples, and rum soaked raisins. Many items are vegetarian, and even a vegan can find a tasty array of options (Chris himself is a vegetarian).
According to Michael, it was important that the food be as comforting and welcoming as the service. Come as you are, and you'll never leave hungry.
As he likes to say of his hiring practices, "You can't train warmth!"
Indeed, that warm and fuzzy feeling snuggled its way into my gut as I sat at a table drinking freshly squeezed orange juice. Everyone seemed to be congregating at the eatery this particular morning: the weathered farmer; the young mother; blue-collar folks looking for strong, locally-roasted coffee and an elevated breakfast burrito.
"We've had friends say they don't go to Artisan very often because it's a bit too fancy for them, and that was part of the motivation for Kitchenette," Chris said. "Good food doesn't have to be fancy, and you don't have to have a really upscale environment to have well executed, responsible food."
Food for the people
Get your hands on fresh breakfast items from 8 a.m. to noon (early birds can snag coffee and house-made pastries and coffee at 7 a.m.) Lunch items, including creative sandwiches and salads, are served from noon to 2 p.m. Wine, beer, and cold pressed coffee are available to wash it all down with. The restaurant is open Monday through Sunday and located at 105 S. Main St. in Templeton. For more information, go to kitchenettetempleton.com or call 400-1006.
Hayley Thomas gets warm and tingly over fresh-squeezed juice and bacon at hthomas@newtimesslo.com.