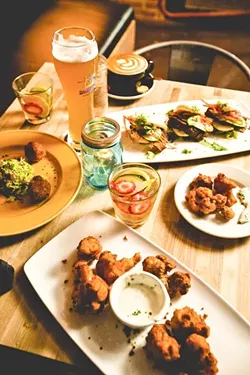 PHOTO BY HENRY BRUINGTON
MORE THAN MEETS THE EYE: (Clockwise from top) Frosty beer, freshly-brewed cappuccino, bao pork belly sliders, vegan hot wings, white wine sangria, more hot wings with house-made vegan blue cheese dipping sauce, and parmesan pepper risotto balls, pictured. Everything you see here (except for the coffee, which is available at the Kreuzberg coffee counter) is served up at Kreuzberg's new lounge area, which springs to life after 6 p.m. Wednesday through Saturday.
To understand Kreuzberg, CA's new lounge, we must first jet set to Kreuzberg, Berlin. Every time Kreuzberg, CA Coffee Company Co-owner James Whitaker returns to the eclectic neighborhood, he discovers a new, titillating layer to its allure. During a recent trip, the Cal Poly alum found himself hanging out at a buzzing late-night restaurant that, before 10 p.m., appeared to be nothing more than a signless, abandoned building. Of course, the former city tour guide is hep to the jive.
Like the Land of Oz, nothing in Kreuzberg is what it seems to be. A previously bombed out, five-story warehouse might boast an art gallery, club, and a bar, but also a "real bar" in the basement—if only you dare to explore. Whitaker and fellow co-owner Chris Tarcon were exploring the region by bike in August of 2010 when a novel idea hit them both like ein ton der ziegel (that's German for a ton of bricks).
"We looked at each other and said, 'Let's go for it. Let's bring this to SLO,'" Whitaker said.
The result, of course, is Kreuzberg, CA, San Luis Obispo's edgy coffee shop, café, and "book bar," which first opened on Monterey Street in November 2010, and eventually expanded to its current 5,000-square-foot Higuera Street location in 2011.
The space is a true hangout: packed with dusty tomes, mismatched art, and surreal, thrifted lamps hanging from the ceiling. Serving up intelligently-made, "poor-but-sexy"-priced breakfast, lunch, and dinner items named after literary greats like Kafka and Dostoevsky, the coffee shop and café has forged a deep loyalty with laptop-toting students and cool "old" people alike (myself included in the latter camp).
As if opening their own in-house coffee roasting station last month wasn't enough, the business partners have pushed their initial dream even further to include a new offering simply dubbed, "the lounge." Open Wednesday through Saturday, this darkly-lit, artfully-refurbished space may be connected to the main Kreuzberg building, but—much like "the real bar" in Whitaker and Tarcon's actual Kreuzberg, Berlin adventures—it does not play by the same rules. Case in point: On Friday and Saturday, the joint remains open till 1 a.m. Yes, people do hang out that late when the space is swanky and the food is good.
A unique, ever-rotating menu executed by full-time chef James Voisinet boasts $8 to $11 "pub gastique" plates, including addicting parmesan pepper risotto balls and adult mac 'n' cheese, complete, with sophisticated accouterments like candied pecans, grilled veggies, and grass-fed beef (you can also go "bum style," with hot dogs and potato chips). Carefully curated local and international wine, craft beer, and sake is served up alongside $16 Fromagerie Sophie cheese plates topped with bread, nuts, fruit, and other naughty nibbles.
To round out the experience, you might even catch an interesting music or poetry performance while perched in the cozy, candle-lit mezzanine. When I visited the lounge after 8 p.m. on a recent Wednesday, I found a vibrant crowd bellying up to the hook-shaped bar while Mitchell Shira's quirky open mic night rolled on.
"The lounge goes back to what we experienced in Kreuzberg, Berlin," Whitaker said, a frothy late-night cappuccino in-hand. "It's really about the idea that you don't have to be so bland or boring; a business can be more than just one thing."
The food itself is also deliciously beguiling. Before biting into a plate of crispy, tempura-battered "vegan hot wings," I asked Whitaker what could possibly be inside. Tofu? Air? After dipping a bite in rich, house-made blue cheese sauce, I was impressed by the meaty texture and decadent crunch. With a mischievous smile, Whitaker explained that the "wings" are actually cauliflower.
I can say without a doubt, that this was one of the best wings—veggie-based or otherwise—that I have had all year.

LIVE LOUNGE STYLE: Current Kreuzberg Lounge hours are Wednesday and Thursday from 6 to 11 p.m. and Friday and Saturday open 6 p.m. to 1 a.m. Hours are subject to change, so check the business out on Facebook before you head out for the night.
The lounge's bao pork belly sliders are a bit more straight-forward (the pork belly is actually pork belly), but it's still totally mind boggling when you consider that you're sitting inside of a lounge inside of a coffee shop. This, my friends, is fine dining served up "still poor, more sexy" style. After pigging out on the steamy, sticky bun bread topped with tender pork, pickled onion, jalapeno, cucumber, and cilantro salad, I was stacked. However, if I had saved any room at all—and had perhaps been in the company of my sweet-monger husband—I would have ordered the Foreplay: A slice of decadent chocolate cake served with two flutes of Barolo Chinato, a fortified desert wine sourced from Northern Italy and said to be one of the country's finest aphrodisiacs.
Whitaker said the sensual offerings and punchy presentation are simply an extension of "the Kreuzberg way."
So, why did this dream take so long to completely materialize? Since opening the coffee hub in 2010, the duo have made a massive mark on downtown SLO: Together, Whitaker and Tarcon opened and sold Sidecar restaurant, opened Sal's Paradise sandwich shop, and acquired Batch. In the midst of all that commotion, Tarcon started a family. Still, Kreuzberg has remained the pair's favorite "business baby."
"This is our original business and we care about it so much," Whitaker said. "We wanted to go back to the beginning and really refocus our energy here."
Construction on the lounge area took about three months, and coincided with renovated restroom facilities as well as the new coffee roaster area, where roaster Shawn Clark hand picks the best beans from South American and African co-ops. A wall now divides the main coffee shop from the lounge.
"It was really like putting lipstick on a pig," Whitaker said, adding that Tarcon is in charge of on-site construction. "Most of what we had was façade and interior design-type things; and we do everything on a shoe-string. It's just how we operate."
Touches of faux exposed brick, old school ceiling medallions, and an enviable array of antique furniture (yes, there is an "area 51"-style warehouse filled with the friends' shared antique finds) prove that "hip" doesn't have to mean "elitist."
In fact, you can plug your laptop into a plush corner of the lounge anytime during Kruezberg's normal business hours and knock out a few emails.
"At heart, we're coffee shop guys," Whitaker said. "We've always wanted Kreuzberg, CA to be a multi-use space. Now, we have the coffee shop, the roaster, and this new speakeasy bar. This was the concept from the beginning; spurred from the idea that a café can be more than a café. It can be more than one entity, and it can serve more than one purpose."