Rock 'n' roll has historically been a very dude-centric endeavor. Sure, there've been lots of iconic female rockers, but for every Janis Joplin and Chrissie Hynde there are 100 leather pants-clad, guitar-slinging rock guys.
Three years ago, Shea Kelly, a music teacher at TeVelde Conservatory of Music and member of the (mostly) female rock act Hot Tina, decided she wanted SLO County to join the list of communities that host an annual Ladyfest, an event that highlights all the women working locally in music and the arts.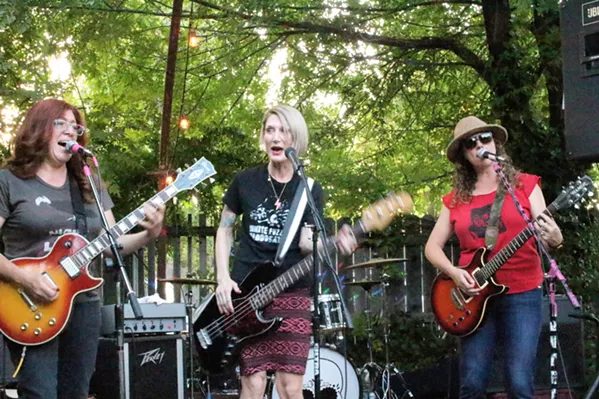 Photo Courtesy Of Hot Tina
ROCK GODDESSES Hot Tina—featuring (left to right) Shea Kelly, Alexandra Wenzl, and Rose Hall—headlines the third annual Ladyfest, a daylong, female-centric music festival at the SLO Guild Hall on July 22.
The first-ever Ladyfest occurred in 2000 in Olympia, Wash., and since then Ladyfests have sprouted around the world from Amsterdam to New Zealand. Kelly's first attempt three years ago was such a rousing success that she made it even bigger last year with three stages, a beer garden, food trucks, and a whole heckuva lot of music played by all-female or female-fronted acts.
Next Saturday, July 22, Ladyfest III returns to the SLO Guild Hall (2 to 11 p.m.; all ages; $10 or free for kids 10 and under). It's a great way to connect to a community of music and art lovers. The friendly vibe, delicious refreshments, and terrific music make it a not-to-miss event.
According to Kelly, the festival is "held to inspire women from all walks of life to create music and art for themselves and their community."
This year's performers include Erin Inglish, Ynana Rose, Arthur Watership, Hot Tina, Hayley & the Crushers, Bearcats, Sunshine & Stardust, Noach Tangeras, Amaris Laurette Taylor, Mutt, Maya Songbird, Sweetie Darling, Donna Lu, Stephanie Walker-West, Reese Galido, The Monroe, Khristian Singleton, The Ladyfest Choir, Melody Kleimen, Jennifer Martin, Nicole Holst, Casey Chadwell, Sierra & Michael, Emily Franklin, Amie Richie, Janine Ehrlich, Lee Ann Vermelum, Lauren Riffle, Off Center and the Holes, Nataly Lola Plotter, Sera Melini, and Miss Leo. You can learn more on the event's Facebook page listed under Ladyfest III.
The following day, Sunday, July 23, Bang the Drum hosts the Ladyfest after-party from 1 to 6 p.m. with Sierra & Michael, Erin Montgomery, Maya Songbird, and DJ Stephanie Walker West spinning between sets.
These events are also fundraisers for local causes.
"Each year Ladyfest donates all proceeds raised through ticket sales, raffles, and beer sales to a local nonprofit to further benefit the community," Kelly noted. "In 2015 and 2016, we donated $4,000 to MUSE Arts Education, a local nonprofit, that gives musical scholarships to people suffering from severe physical disabilities and financial hardships."
This year, Transitions Mental Health Association, a San Luis Obispo nonprofit, is the beneficiary
"TMHA is dedicated to eliminating stigma and promoting recovery and wellness for people with mental illness through work, housing, community, and family support services," according to organizers.
Ladies rule! They also know how to throw an awesome community party! Come out and join the fun!
If I had a pony ...'
Photo Courtesy Of Lyle Lovett
LOVE LOVETT Lyle Lovett & His Large Band play the Performing Arts Center on July 19, bringing his amazing music, wit, charm, and hairdo.
Lyle Lovett has so many great songs! The eccentric Texas singer-songwriter started performing in 1980 but really burst onto the scene in 1986 with his eponymous debut and its chart-topping single "Cowboy Man." His next album, Pontiac, is simply a classic, with songs such as "If I Had a Boat," "Give Back My Heart," "I Loved You Yesterday," "She's No Lady," "M-O-N-E-Y," and "She's Hot to Go."
Then there's his amazing cover of "Stand by Your Man" from his third album, Lyle Lovett & His Large Band, or his gospel side in Joshua Judges Ruth—the man can't make a bad record!
Of course, for many he'll always be a weird-looking, skinny dude with a tangled pompadour, who improbably was married to Julia Roberts in the '90s. He's also an actor who appeared in films such as Robert Altman's The Player, Short Cuts, and Prêt-à-Porter.
This Wednesday, July 19, Lyle Lovett & His Large Band returns to the Performing Arts Center (7:30 p.m.; all ages; $67 to $111 tickets at pacslo.org).
With 14 albums that mix country, swing, jazz, folk, gospel, and blues, a gift for storytelling, four Grammy Awards (and 17 nominations), Lovett is The Man!
Of baseball and NOLA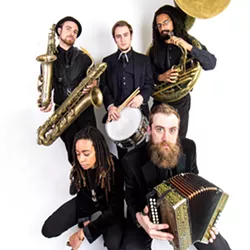 Photo Courtesy Of The Dirty Bourbon River Show
CIRCUS ROCK The Dirty Bourbon River Show plays the SLO Bluesapalooza pre-game concert on July 15, in Sinsheimer Stadium, before a Blues Baseball game.
Do you like the food and music of New Orleans by way of Tom Waits? Do you like delicious spicy foods? Do you like baseball? Then you're going to love the SLO Bluesapalooza pre-game concert on Saturday, July 15 (noon; all ages; $15 adults and $5 kids, available at clarkcenter.org), in Sinsheimer Stadium (900 Southwood Dr., SLO).
Promoted by Good Medicine Presents, the event features music by the Dirty Bourbon River Show, a New Orleans theme, Cajun food by Ribline, and musical petting zoo by the SLO Youth Symphony. Tickets also get you into the 6 p.m. game.
Dirty Bourbon is a really amazing horn-and accordion-driven ensemble that plays what they call "circus rock." Their songs are a hoot—campy, clever, and thematically dark. Check out, for instance, some of their videos; "Ezmerelda" is a great place to start.
Bring the family, bring the sunscreen, and bring the antacids for a day of good old American fun and baseball stadium food!
Fez Moz!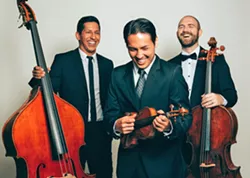 Photo Courtesy Of Simply Three
CLASSY POP Simply Three plays the Clark Center on July 21, as part of Festival Mozaic, which runs July 19 through 30.
Festival Mozaic, which begins this Wednesday, July 19, and runs through Sunday, July 30, is proof positive that classical music can be every inch as subversive, outrageous, and irreverent as rock 'n' roll.
The festival has too many events to list, so you'll need to visit their website at festivalmozaic.com to see it all, but one example is their Fringe Series concert of Simply Three on Friday, July 21 (7:30 p.m.; all ages; $40 to $70), at the Clark Center.
The classic crossover string trio plays arrangements of classical and popular music not to mention original compositions. Expect old-school training with a new-school sound from Glen McDaniel, Nick Villalobos, and Zack Clark.
Mid-State fun
Photo Courtesy Of Lionel Richie
SUPER STAR The great Lionel Richie headlines the first night of the California Mid-State Fair on July 19, playing the Chumash Grandstand Arena.
It's time to fry your ass off at the California Mid-State Fair, which runs Wednesday, July 19, through Sunday, July 30.
Wednesday, July 19, Lionel Richie plays the Chumash Grandstand Arena (7:30 p.m.; all ages; $51 to $101 at midstatefair.com). The man has an Oscar, a Golden Globe, four Grammy awards, not to mention a slew of hits such as "Endless Love," "Lady," "Truly," "All Night Long (All Night)," and a bunch more. Also on Wednesday, hard rockers Blue Öyster Cult play the Fort Frontier Stage (6:30 and 8:30 p.m.; all ages; free with your fair admission).
On Thursday, July 20, the Zac Brown Band plays the Chumash Grandstand Arena (7:30 p.m.; all ages; $51 to $131). The country rock act's newest, Jekyll + Hyde, is another platinum-certified album and the band's fourth consecutive No. 1 debut on the Billboard 200 chart. Contemporary Christian singer-songwriter Phil Wickham plays the Fort Frontier Stage on Thursday (6:30 and 8:30 p.m.; all ages; free with your fair admission), and the Natalie Haskins Band also plays the Mission Square Stage (7 p.m.; all ages; free with fair admission).
Check their website for their entire lineup, at midstatefair.com.
Power trio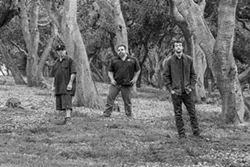 Photo Courtesy Of Down By Three
ALT-ROCK DELUXE Down By Three will release their debut album on July 20, in Rancho Nipomo.
Down by Three is releasing their self-title debut album, and it's solid! Fronted by guitarist-vocalist Josh Bledsoe, the power trio also includes bassist Kevin Robertson and drummer Jimmy Maldonado.
Bledsoe's got a classic rock voice and a very percussive guitar style. The songs themselves have a lot of texture—some sound like grunge-era rock, others are bluesy ballads—but the overall sound is alt-rock.
"Wherever You Go" has a breezy Cali rock feel while "Home" is a deeply emotional love song. The lyrics are literate narrative songs that draw you in, and the band itself is tight and crisp.
You can see them live next Thursday, July 20, when they play an album release party at Rancho Nipomo (6 to 8 p.m.; all ages). It should be a cool party; you can tell these guys are down-to-earth dudes.
"We're all a pretty modest group that loves playing music and laughing, not necessarily in that order," Robertson said. "I think about the only diva moment we have had is when I asked that we try not to spill the beer."
More music ...
Photo Courtesy Of The Honey Whiskey Trio
PITCH PERFECT The Honey Whiskey Trio brings their amazing harmony vocals to Linnaea's Café on July 14, playing folk and bluegrass.
Award-winning guitar master Ed Gerhard is playing the Coalesce Bookstore and Garden Chapel on Friday, July 14 (7 p.m.; all ages; $22 tickets are 772-2880). Whether playing six-string, 12-string, slide guitar, or acoustic Hawaiian lap slide, that guy is awesome and wicked funny with his audience patter.
If you dig harmony vocals—and who doesn't—you're going to be floored by the Honey Whiskey Trio, which plays Friday, July 14, in Linnaea's Café (7 p.m.; all ages; pass the hat). Folk and bluegrass tunes turn deliciously lush when these ladies begin blending their voices together in pitch-perfect splendor. In 2013, after only five months together, they won the Harmony Sweepstakes National Competition, also winning Audience Favorite at both the regional and national sweepstakes.
Reggae act the Babylon Rockers, who do a mix of originals and covers from every era and area of the reggae world, play several local shows this week: Friday, July 14, from 4 to 8 p.m. at the Avila Beach Farmers Market followed by a 9 p.m. to midnight show at Mr. Rick's in Avila Beach; and then Saturday, July 15, from 3 to 5:30 p.m. at the Siren in Morro Bay followed by a 9 to 11 p.m. show at Rooney's in Orcutt.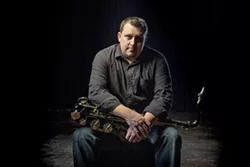 Photo By Matt Perko
JAZZ MASTER One of the West Coast's top tenor sax players, Jeff Ellwood, plays the Famous Jazz Artist Series on July 16, at Painted Sky Studio.
The Famous Jazz Artist Series hosts tenor saxophonist Jeff Ellwood this Sunday, July 16, at Painted Sky Studios (6:30 p.m.; all ages; $20 general admission or $10 for students; email charlie@talsanmusic.com or call 927-0179 for reservations). Ellwood is known for his work with Tony Bennett and Stevie Wonder.
New venue in Paso?
Paso Robles' historic Fox Theater has lain derelict for quite a while. It was purchased by Alex and Monica Villicana of Re:Find Distillery with the idea of making it into a location to manufacture handcrafted spirits, but they never managed to get it off the ground.
Now the Villicanas are in talks with Todd and Korie Newman of Good Medicine Presents to try to create a performance venue. The idea is to have a brewery and tasting room in the front and an auditorium in the back, as well as a large balcony. I'll let you know as plans progress, but it would be an amazing asset to the Paso music community. Δ
Keep up with New Times Senior Staff Writer Glen Starkey via twitter at twitter.com/glenstarkey, friend him at facebook.com/glenstarkey, or contact him at gstarkey@newtimesslo.com.